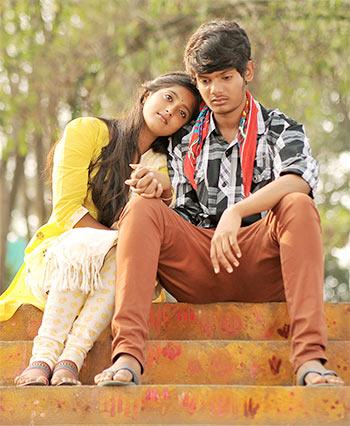 Telugu director Raj Madiraju last outing Rushi may have received some critical appreciation but the film didn't go down well with the audience. The film did pick up some awards, though.
Now, three years later, Madiraju is back with Andhra Pori, the Telugu remake of the superhit Marathi film Timepass.
In this exclusive interview with Radhika Rajamani/Rediff.com, Madiraju talks about Andhra Pori (starring Akash and Ulka Gupta) releasing this Friday, teaming up with Ramesh Prasad of Prasad Productions again and his future plans.
How did you get to direct Andhra Pori, the Telugu remake of the Marathi film Timepass?
Prasad garu and I had been toying with several ideas. Rushi did pick up some awards but it wasn't a commercial success I almost froze at the thought of doing a rom-com.
In between, we got news of the release of Timepass in January 2014. We saw the film in February and loved it.
We organised a show of Timepass for 70 people – youth and some directors - and got their feedback. Then we thought of remaking it.
What did you see in the Marathi film that you thought was worth remaking?
Its simplicity. It was so simple and that takes you by surprise.
Every moment is etched. The beauty is it lent itself to flexibility.
Would you not have preferred to do your own story?
I would have, but when I saw Timepass I felt it was mine.
I am not a fan of remakes. One should go through the whole process to make a film.
I had hundreds of thoughts and I made the film from scratch. I told Ravi Jadhav (director of Timepass) that it is no more a remake!
You have teamed up with Ramesh Prasad of Prasad Productions yet again. Is it because he produced your first film Rushi and you share a certain comfort level with him?
It really gave me great pleasure. I was honoured that Prasad garu gave me this project even after the commercial failure of Rushi.
He was there at every point.
How did you adapt Timepass to Telugu?
The soul is there. It is about first love; we did not change it. The atmosphere we created is different.
We shot it in Kothagudem (in Khammam district of Telangana). I grew up there and I have an affinity to that area.
The film takes you back to 1993. There is an emotional connect – it took me back to my younger days.
The hero is a tapori; the heroine is tender, but she takes the upper hand in the relationship.
There is honesty in the characters. We did not change that. Only the backdrop is different. There are forests, a river, temples, and coal mines in the area around Kothagudem and we exploited and depicted that beauty.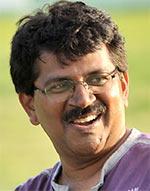 This film is about a teenage romance. Is it a slice of life film?
You can say that. Everybody will identify with it. Everyone will remember his first love.
The film will trigger the emotion of love. It is about teenage love and the parents-kids issue. We take it back to the 1990s when things were different.
You cast Ulka Gupta and Akash in the lead roles. Did you not get a Telugu heroine?
We tried Telugu girls but either they were too refined for the role or not inclined to act.
We undertook a huge exercise to choose the girls. It was more or less the same for the boys. We had several auditions for boys and had almost chosen one boy when we heard that Puri (Jagannadh) wanted to launch his son Akash.
We auditioned Akash and he did reasonably well. His accent and body language was a bit of a worry but we chose him.
Ulka was in Hyderabad for the shoot of Rudramadevi when we met her. There is a power and aura around her. She is a bubbly metro girl.
This role was, however, different. I narrated the story and asked her to send a video. On seeing it, we felt she could be modulated.
Did you have a workshop for these actors?
Yes, we had a four-week workshop which included acting and dance.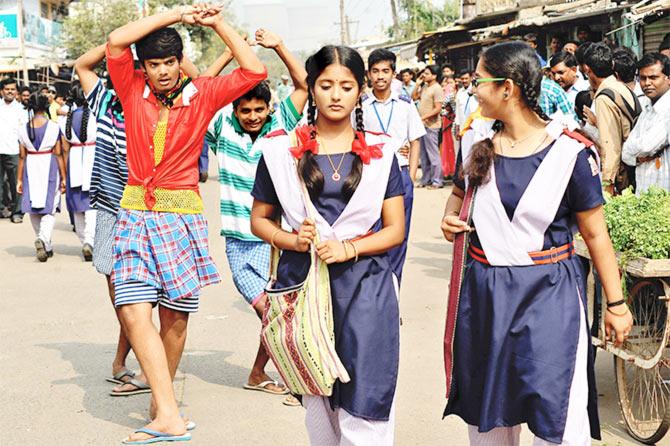 Image: A still from Andhra Pori
Are you happy with the performances?
They were fantastic. Both surprised us. They were quick to grasp. They were good with their expressions.
Why is the film titled Andhra Pori?
The hero is from Telangana and the girl is from Andhra and so it is Andhra pori (girl).
Will the film appeal to people other than the youth?
Even I could identify with it. Memory is what triggers one. People do have memories.