'When I first started, frivolous plot points would interest me. Today, they have to be issue-based. Like Dishoom.'
'I am playing a boy, but by the end of the film, people will feel I am a man.'
Macho-talk from Varun Dhawan.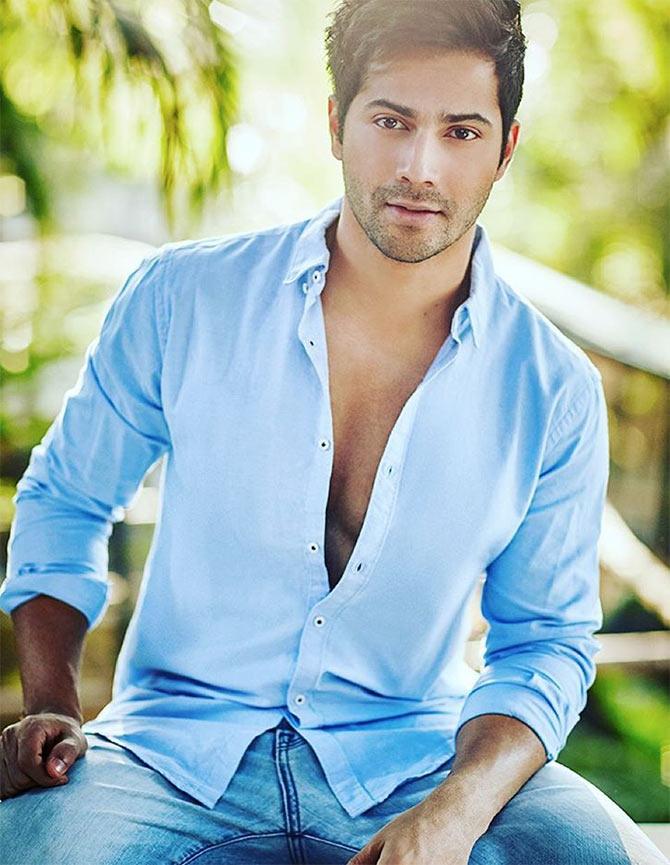 IMAGE: Varun Dhawan/Instagram
The Pokemon Go fever has hit Varun Dhawan.
"Catching the Pokemons is more important to me than being active on social media," the actor confesses.
The other thing that's important to him is his new film Dishoom, directed by his brother Rohit Dhawan, and co-starring John Abraham and Jacqueline Fernandez.
Varun plays a cop from Pakistan, named Junaid Ansari.
"I had to believe that I am Junaid. Post pack-up, Rohit and I wouldn't speak. We didn't have a connection because I couldn't be his brother on the sets," Varun says.
To get the nuances of the character right, he trained with his driver.
"My driver is a 65-year-old man from Islamabad, who has been away from his country for many years. I haven't been away from home, but my character has," he adds.
As he sips kokum juice sprinkled with basil seeds -- which Varun says is a good fat burner -- he tells Jahnavi Patel/ Rediff.com what Dishoom means.
A lot has been said about the action sequences in Dishoom. Were they difficult?
It's very cool, where the action is concerned.
The film is called Dishoom but dishoom doesn't only mean punching someone. It can happen in other ways, like it can be a mind game. In the film, Wagah (Akshaye Khanna) plays mind games with Kabir (the Indian cop, played by John Abraham) and Junaid.
The action sequences were very risky. For the type of infrastructure we needed for them, we had to go to Morocco and Abu Dhabi.
There's a bike sequence, which was very scary for Jacqueline and me because I am in the middle of two bikes -- John's and Rahul Dev's -- and holding Jacqueline in the middle. If I had dropped her, she could have fallen. We were riding under a cave, so it was dicey.
There was a lot of safety equipment -- I had thigh and shin guards.
For a boat sequence, I trained in Abu Dhabi.
The helicopter scene is the most dangerous thing John and I have ever done.
With every film do you have to go the extra mile?
Every film has to have something extra today. But the most important thing in a film is emotion.
If the emotion connects, if Kabir and Junaid's camaraderie connects with the audience, Dishoom will click.
I am playing a cop for the first time. I really respect the armed forces. If they ask me for a photograph, I go out of my way to give it to them.
So playing a character like that was a big responsibility.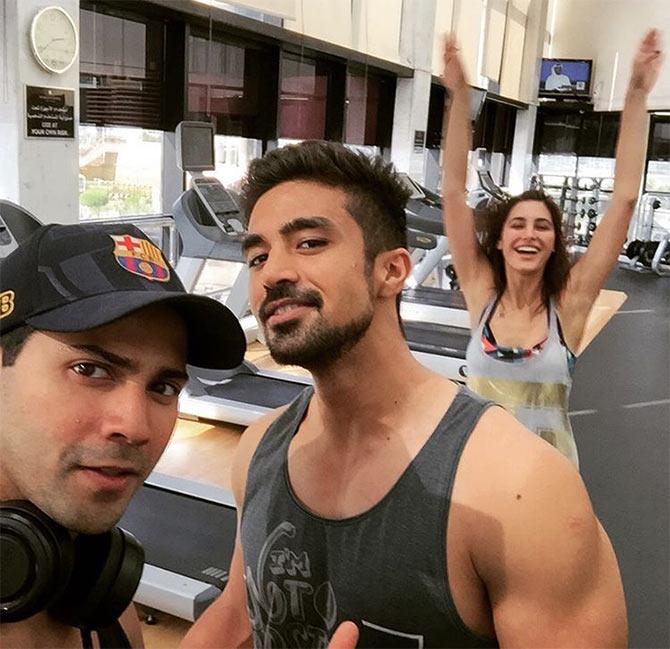 IMAGE: Varun works out with his co-stars Saqib Saleem and Nargis Fakhri. Photograph: Varun Dhawan/Instagram
John has said that he had a watchful eye on all of you on the sets and wanted you all to eat right.
Jacqueline is super fit as well. She is probably bit more disciplined than John where food is concerned. She gets her own food.
Saqib and I, being the age we are, eat everything and fool around.
John liked what we ate and would offer us protein bars.
When Nargis (Fakhri, who has a cameo in the film) was with us for three days, she did a good impression of John.
Jaaneman Aah has got a good response from the audience.
The structure of Jaaneman Aah is from the 1990s. To do a song like that in 2016 is a new thing. That's why it has made so much noise.
I like the song because it is really danceable and has a lot of energy. But I didn't expect it to do this well.
Parineeti Chopra should get credit for it and for the way she is looking; she has worked so hard on it. She told me, 'You don't show your body because if you do, people will get distracted and you will cover me in the song.'
People have really appreciated this pairing. If something interesting comes our way, we will definitely work together again.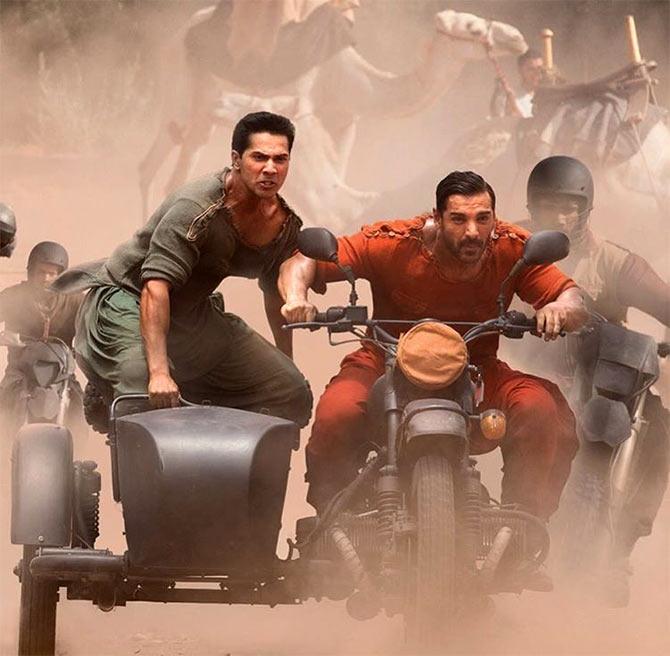 IMAGE: A still from Dishoom. Photograph: Varun Dhawan/Instagram
How do you decide on your films?
The plot is the most important thing.
When I first started, frivolous plot points would interest me. Today, they have to be issue-based. Like Dishoom.
India's top cricketer gets kidnapped and then I am somehow in charge of getting him back. That was interesting.
The character is not frivolous, he has a goal.
I am playing a boy, but by the end of the film, people will feel I am a man.
I love variety.
How much does the Rs 100 crore club matter to you?
I am in my own club and I am enjoying myself there.
The club that I want to be in is where people say that you made a good movie, we liked it and enjoyed going for it with our kids and family.
The other clubs I don't believe in.
I just want to be in the good movie club as of now.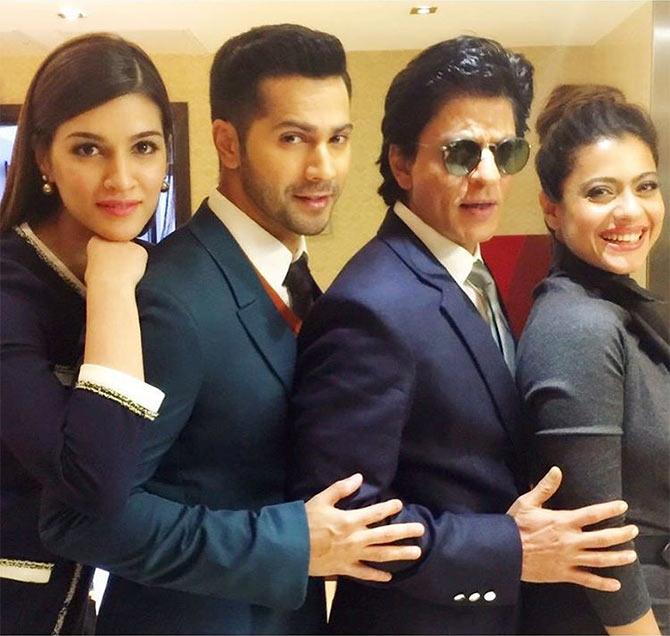 IMAGE: Varun with his Dilwale co-stars Kriti Sanon, Shah Rukh Khan and Kajol. Photograph: Varun Dhawan/Instagram
Dilwale didn't live up to expectations…
Box office wise, Dilwale has done well.
I know a lot of people must have been disappointed with the film. I could have probably worked harder and been better but I was quite excited to work with the people in the film. I really admire them.
If some people didn't like my work, I will work harder to do better.
If someone told me that I didn't do well, I will own up to it. I won't blame anyone else.
The film did better overseas than it did in India, which is shocking.
You explored a dark space in Badlapur. Would you like to do something like that again?
Hundred per cent. But it will totally depend on the script. It has to be interesting.
I got interested in Dishoom because of the script.
Fears and concerns over security are very high in the world we live in. That's how I think Rohit got the idea (of Dishoom).
After people see the film, a lot of questions may be asked.
How is Badrinath Ki Dulhania shaping up?
Badrinath is going good. We have just done 30 per cent of it.
We will resume after I come back from the world tour (The Dream Team tour where Varun, and other actors, will perform in America).

Would you like to direct a film?
No, I don't want to direct as of now.
I am very happy just acting.
I am excited to work with the directors I have worked with.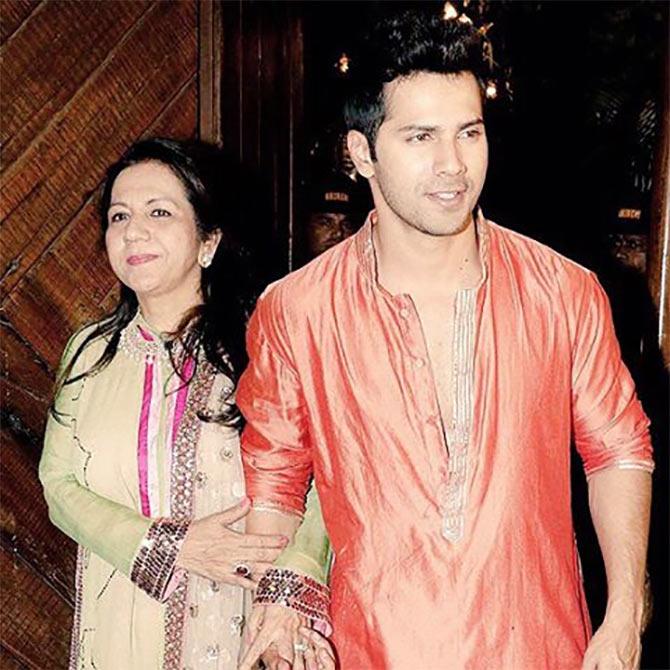 IMAGE: Varun with his mother Karuna Dhawan. Photograph: Varun Dhawan/Instagram
You do not like talking about your personal life.
I speak about my dad, mom, brother and dog.
I don't speak about it (dating) because I have learnt that a section of the media will continue writing what they want to write. So there is no point in it.
Let them speculate, I am cool with that.
Your filmography is a mix of content driven and commercial films. Is that a conscious decision?
Yes, there is a good mix. I do a film which is commercial but yet, has content.
That's why I keep stressing on the point that Dishoom has a story.
Dishoom has a brain and a heart, and people will see that on July 29.