'I am commercial by heart.'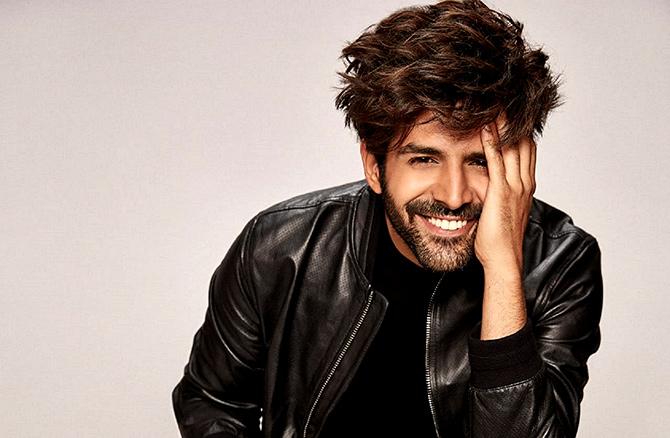 "Even 24 hours (in a day) are less for me. Because of this time constraint, people who are close to me think I have changed. And to make them understand takes extra time!", Kartik Aaryan, who plays the male lead in Pati Patni Aur Woh, tells Rediff.com Contributor Divya Solgama.
In your films, either you are troubling someone or you are getting troubled. What's different in Pati Patni Aur Woh?
Actually, I have done a lot of women-centric films that people don't know, be it Akaash Vani, Kaanchi: The Unbreakable or Tanuja Chandra's short film Silvat.
But my work has been highlighted in films like Sonu Ke Titu Ki Sweety, Pyaar Ka Punchnama, Pyaar Ka Punchnama 2...
So with respect to the characters I have played in such films, people generally feel I am being troubled by someone or giving trouble.
But I love situational comedies.
I am open to other (genres) as well, like action films.
Pati Patni Aur Woh is a kind of situational comedy with a relatable factor.
The audience now expects you to be a part of such naughty comedies.
Comedy films have commercial value in them, and I am commercial by heart.
I love massy films.
My films usually have a mixture of content and commercial, and I don't want to let go of this in my career.
No matter what kind of arty film I choose, I will make sure to add some commercial value to it.
It feels nice that such kinds of films are coming and I am getting a chance to do them.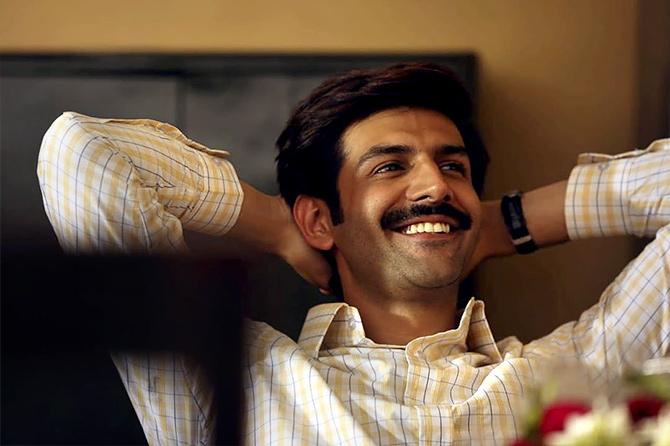 There is a dialogue in the trailer that talks of marital rape.
The trailer was shown to many people before it released and no one pointed out this dialogue.
We did not make the film to hurt anyone's sentiment.
We understood that something went wrong and some people got offended with that dialogue, so we deleted that dialogue from the trailer, and the film.
The scene is also being rectified.
I am one of the few actors in the industry to have done a film on marital rape (Akash Vaani), and it got so much love.
We know our responsibilities.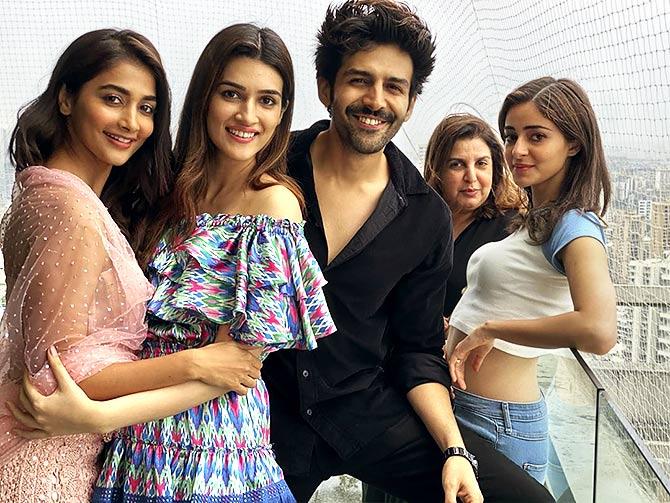 You reprise Sanjeev Kumar's role from the original.
The original movie was iconic and Sanjeev sir is one of the legendary actors of Indian cinema.
No one can fill his shoes.
In fact, no one can fill anyone's shoes while working in any remake.
I am Kartik Aryan, trying to make my name in the industry. I wish people remake my films in the near future.
Pati Patni Aur Woh is a completely different film.
We just took the title and basic storyline. The characters are very different.
It's a modern take of the classic.
Have you retained the Thande Thande Paani song?
Yes.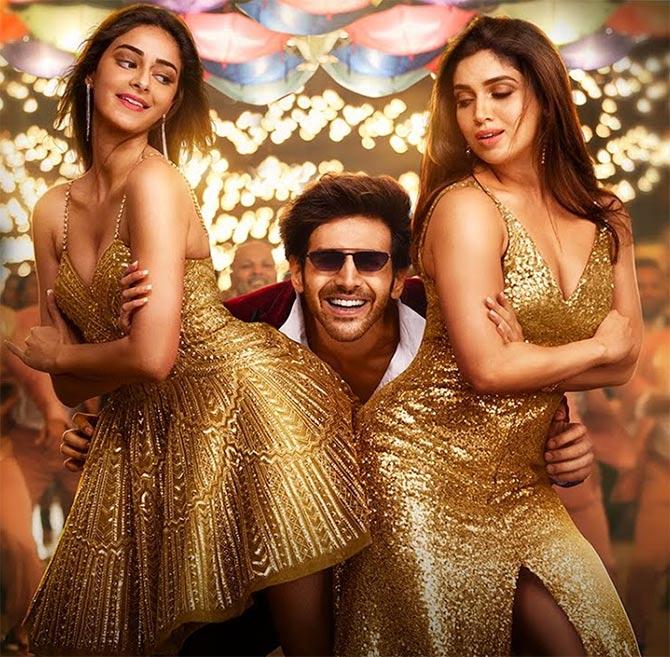 The Govinda song Ankhiyon Se Goli Maare has been recreated. How was that experienced?
It was amazing!
It's an tribute to the iconic song, to Govinda sir and to Raveena (Tandon) ma'am.
We have grown up listening and watching these '90s songs.
Farah (Khan) ma'am has choreographed this song, and that was another experience altogether.
She is so entertaining, one needs to work with her.
Matching the steps of Govinda sir and Raveena ma'am is very difficult, but we were happy to do it.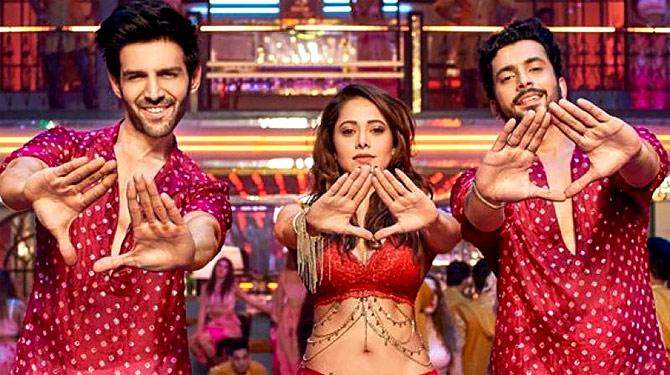 Does stardom come with a price?
I am not paying any price.
I am very happy with whatever I am getting in life.
I have always been a happy child; I was happy during my struggling days also.
But yes, there is a price.
I used to have a lot of time two years ago, and be with my friends and family.
Now, even 24 hours (in a day) are less for me.
Because of this time constraint, people who are close to me think I have changed. And to make them understand takes extra time!
There was a time where I was waiting to go on a film set.
I had never imagined this constant work in my life, so I wish it continues.
You are also quite popular on social media.
I am a social media addict.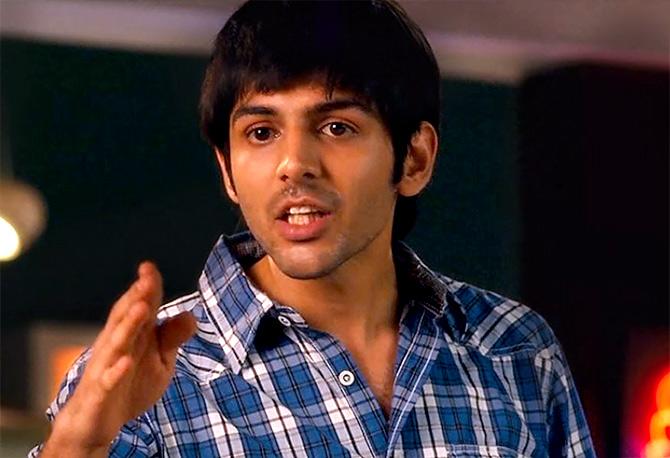 Everybody loves you today, but there was a time when the industry did not acknowledge your presence even after the success of Pyaar Ka Punchnama.
Pyaar Ka Punchnama and Pyaar Ka Punchnama 2 were both successful at the box office.
But my name did not become a household name.
People generally called me by my character's name or the 'monologue boy'.
They did not recognise me as Kartik Aryan.
I played the perfect hero role in Sonu Ke Titu Ki Sweety and that character became so popular that everyone connected with it.
That made my name a household one.
To add to that, all the songs in that film became chartbusters. Tera Yaar Hoon Main became an anthem.
Though the Pyaar Ka Punchnama movies were superhits, producers didn't have that belief in me to take me as a solo actor in their films.
I think I was not mature at that time; I was just 20 when I debuted.
Sonu Ke Titu Ki Sweety brought me into the zone of a commercial actor and after that, the perception people had of me changed.
Luka Chuppi gave me more validation.
I am getting a lot of offers now.
Earlier I did not have any option, so I would do my best in whatever I was offered. Now, I am getting so many offers.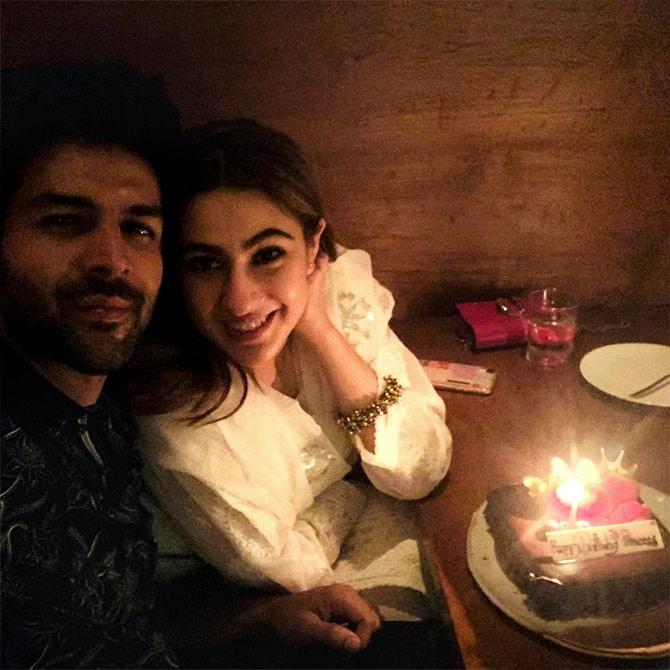 You are working with Imtiaz Ali in Love Aaj Kal 2. How is the experience?
I am quite excited because I am in love with Imtiaz sir.
I have been his fan right from his first film.
He has completely changed my thought process as an actor.
I am changed man now, ever since I started working in his film.
I didn't believe that I was shooting with Imtiaz sir for his film.
I cried when we shot the last sequence of the film.
I am really looking forward to the film, it's very close to my heart.
---
Divya Solgama loves masala entertainers as well as hard-core realistic films. Divya can be contacted at movies@rediff-inc.com
---