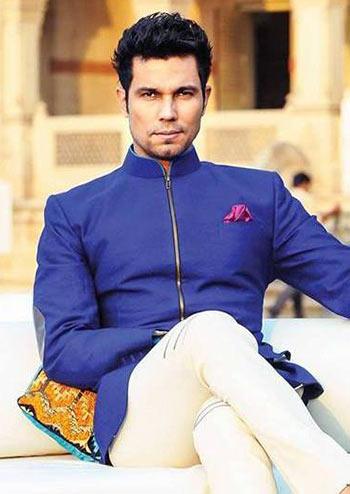 'All love stories are great and, within other stories, there are always love stories. You will very rarely find movies with only male or only female characters.'
'Most of my discussions happen with my friend Panchali Chakravarty, who is now my manager. I get a film and I say no. She says yes. We then sit and debate it out. Ultimately, it comes down to what I am really excited about.'
'One of the disadvantages of not being from a filmi background or filmi family is that you don't get career advice. But that, somehow, has (also) been a blessing in disguise because, had I had that advice, I wouldn't have done half those scripts or half of those beautiful roles.'
Randeep Hooda is a chameleon.
He can slip from being Charles Sobhraj to Raja Ravi Varma and you'll feel like you are looking at two different people.
In fact, as you see him slip from an emaciated Sarabjit in his last release to a bulked up mixed martial arts artiste in his next, Do Lafzon Ki Kahani, you'll be stunned at the transformation.
But he reserves his best transformation for the moment you personally meet him.
So, meet the man Patcy N/Rediff.com met – a man with a great sense of humour, an actor who loves his craft, a tenacious follower of dreams, an animal lover and, over and above all that, a Jat lad in touch with his roots.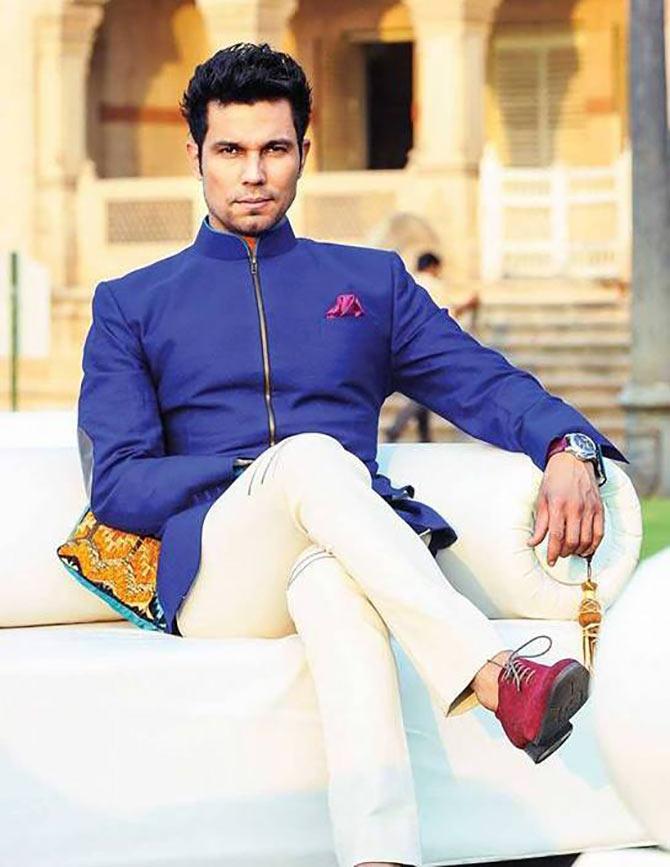 IMAGE: Randeep Hooda. Photograph: Randeep Hooda/Facebook
Is your first romantic movie?

That's what I thought but now I remember that, many years ago, in the first phase of my career, I had done a movie called Ru-Ba-Ru, which is also a bonafide romantic story.
I am in the second leg (of my career now).
Why do you think you are not offered romantic movies? Or is it that you don't take up such offers?

I find my roles romantic; my romance is with my roles.

Even in Sarbjit, the kind of letters he wrote to his wife and the way he was with his wife was very romantic. But the movie was not about their love story.

Similarly, my most romantic character has been in Jannat 2. In that movie, Emraan (Hashmi) has got his own thing going on with Esha Gupta and Bhatt saab had come up with this idea that I play a drunk cop. This cop calls his landline phone from a pay phone just to listen to his wife's voicemail message over and over again and cries, sitting in a public booth. I think that is, by far, my most romantic role.
But, again, that movie was not about my love story (laughs).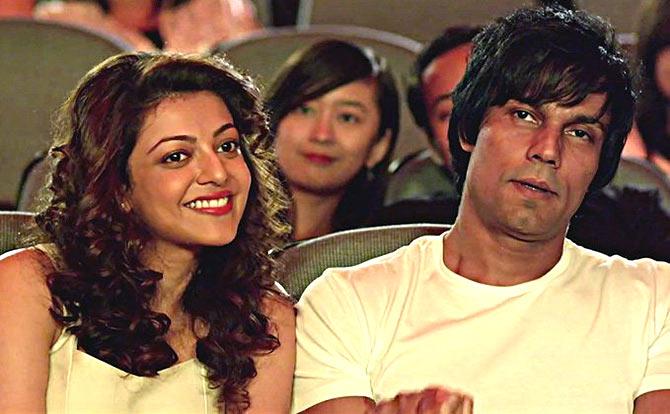 IMAGE: Kajal Aggarwal and Randeep Hooda in Do Lafzon Ki Kahani
Do you see yourself as a romantic hero? Would you want to do an out-and-out romantic role?

Why not? All love stories are great and, within other stories, there are always love stories. You will very rarely find movies with only male or only female characters. There are always love stories and they are the most relatable stories as well. And they are the stories which, through the medium of cinema, you fantasise about.

I think Do Lafzon Ki Kahani is a fantasy, though it is set in a real space. It is the fantasy almost every young man has had when he starts doing push-ups or starts feeling that attraction towards the opposite sex. At that time, every young man fantasises about knowing some kind of a martial art and being strong in front of their friends, or the whole school, and saving their girlfriends from others on the basis of their fists and strength.

Similarly, young girls have these fantasy where they feel that they are with a person/ man/ boyfriend/ husband, who will protect them from anyone who even looks at them in a wrong manner. She also has this fantasy that her man will do anything, including laying down his life, for her.

That forms the basis of the fantastical part of Do Lafzon Ki Kahani. It is very relatable because it is presented in a very simple way.

The guy, who has been a fighter, is doing many jobs now and you'll find out the reason why. One day, when he is working as a parking attendant, a beautiful and talkative blind girl, Radha (Kajal Aggarwal), walks into his cabin and his life just takes a turn.

They meet because of Fate and there is a bigger fate involved in them; that's the relatable part of the film.
Have you, in real life, ever gone and rescued your girlfriend in school or college?

Yes, I have. And I have also been party to fighting for girls who were my friends's fantasy girlfriends… those girls didn't think my friends existed. But the fight is on because some other guy was katoing chakkars (making rounds) of her house. We've gone and broken our arms and heads over somebody who didn't even know we existed (laughs).
All this happened when I was in Rohtak (Haryana). It was very funny. Some friend would come and say, "Arre, I saw that boy taking rounds of my girlfriend's (the girl didn't even know this boy existed) house and we boys would say, "Really? We will fix him" (laughs heartily).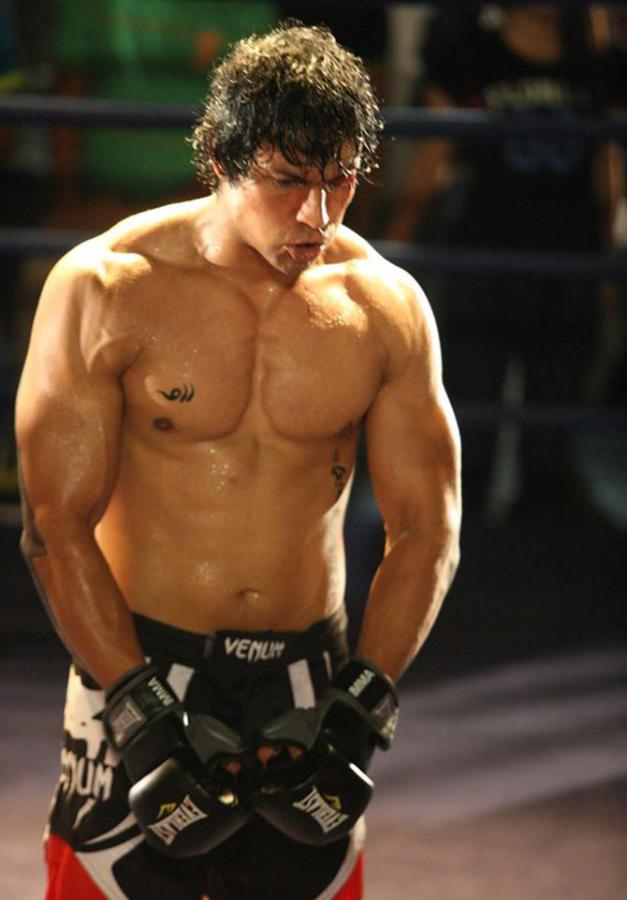 IMAGE: Randeep Hooda in Do Lafzon Ki Kahani
In this movie, you've choreographed some mixed martial stunts with Irfan 'Inferno' Khan.

Irfan is a superfight league fighter. All the fights in this film are choreographed by both of us. One fight is choreographed by a guy called Sameer.
I didn't come up with that idea; I didn't want to do it at all (laughs).
I was so involved with the training for mixed martial arts. I did it two hours of it every day and followed it up with two hours of body building. I used to watch a lot of fights on television and discuss it with my trainer. That's how it came about.

I had no wish to choreograph anything. But this happened because we were so into it and wanted it to look real.
You recently tweeted that you had gone from '65 kgs to 95 kgs'. After you lost so much weight for Sarbjit, how did you gain that weight back?

Actually, I had put on 95 kgs of weight for Do Lafzon Ki Kahani. Then, I shed 30 kgs for Sarbjit. I managed to lose the last 20 kgs in about 30 days.
Is that humanly possible?

It is possible. My sister is a doctor of metabolic diseases, internal medicine, obesity and hormonal replacement, etc. She helped me with this process. She was monitoring me the whole time. She gave me a diet which I had to adhere to.

But I overdid it (laughs), like I over do everything, without her knowledge.

It could have been hazardous for your body.

Oh, it has been. I am a bit foolhardy and that's what holds me in good stead in life. I do a lot of stupid things. Thoda Jatpana barkaraar hain (refers to the fact that he belongs to the Jat community, which is known to be boisterous in nature).
Which reminds me… in one of your earlier interviews, you had said people in Bollywood think you are a very explosive Jat. Have you changed over the years?

I hope I have (laughs). But that stays there. I am not explosive. That's a wrong term. It's just the way we talk or our sense of humour… the tonality of our voice is generally aggressive though I've used different tonalities of voice in different movies.

I think I should go back to Charles (Sobhraj; Randeep's film on the serial killer, Main Aur Charles, released in October, 2015) and speak very softly and (starts imitating the voice). Then I would have a better career and better relationships (laughs) and things would be marching to my tune.
I think I have mellowed down
After Kick, you are working with Salman Khan again in Sultan. Why did you take up that role since you've said it is a small one?

I did it because it is a very nice script, helmed by Abbas (Ali Abbas Zaffar) who is very credible director. But had it not been a Salman film, I would have probably not attempted it.
So your relationship with Salman is that good?

Yes, because we have always have fun together; we're a riot.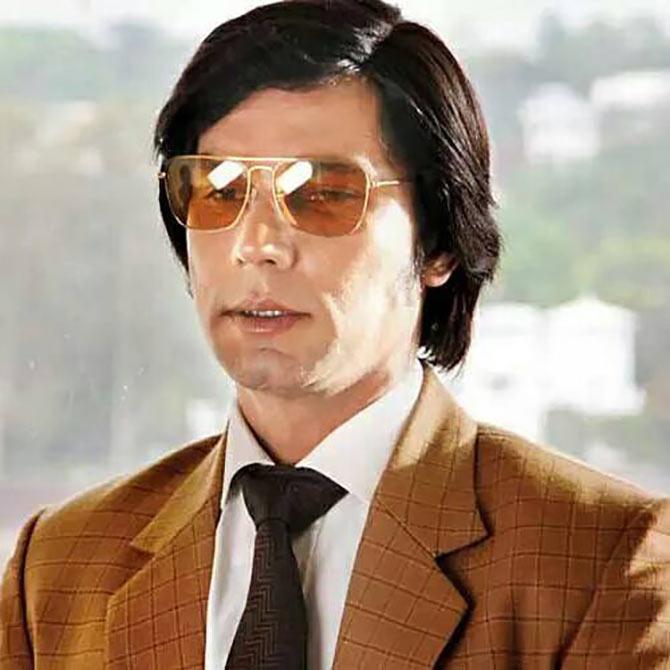 IMAGE: Randeep Hooda in Main Aur Charles
You've done some very good movies like Main Aur Charles, Highway, Saheb Biwi Aur Ghulam and now Sarbjit. How do you select your films?

Most of my discussions happen with my friend Panchali Chakravarty, who is now my manager. I get a film and I say no (laughs). She says yes. We then sit and debate it out. Ultimately, it comes down to what I am really excited about.

Besides, it's not like I have got a plethora of scripts and people are standing outside my door with bags of money. It is just that these are the scripts that I get and I try and choose the best among them. Once I've chosen a script, I try and make the most of it (laughs).

I had not planned to have these different scripts. It just happened.
In a month, how many scripts are offered to you?

Very few.
So it must be difficult?

I don't know. The ones I want to do kind of come to me.

Yes, there are a few options for me to choose. There is a lot of instinct and good luck involved in it. You cannot really plan your career. At least, that's what I feel.
One of the disadvantages of not being from a filmi background or filmi family is that you don't get career advice. There is a way of making your career in this industry by choosing certain kinds of films, and this and that... (At the same time) Somebody may advise you but it still might not work.
I had no such advice. That, somehow, has been a blessing in disguise because, had I had that advice, I wouldn't have done half those scripts or half of those beautiful roles. I would have missed out on that.
Do you think Beeba Boys should have released in India?

Oh, for sure. It is essentially an Indian film.

I think releasing it in only in Canada, and that too only to a targeted white audience, was not the right decision.
Are there plans of getting Beeba Boys to India?

I hope so, because it is, at heart, a very north Indian heartland film.
I first met you in 2005 when you were doing D…

(interrupts) Really? I don't remember.

At Ram Gopal Varma's office...

Which was called Factory at that time and where I was paid Rs 35,000 a month for three years. I was employed by Factory, which was a studio system.

So, after 11 years, how much have you changed as an actor? We also have to count Monsoon Wedding.

Monsoon Wedding was not bad for me, because that was where I found Naseeruddin Shah. But I don't think that was my acting debut. I just did it for a lark.

I was dying to act, I got the role and I did it. Then I thought this is not what I was supposed to do. So I don't really count Monsoon Wedding. I was just a guy who was bedridden by an accident and who got a part.

I don't know how much I have changed.
Now that you are popular, how have you changed as a person?

As a person, I am the same.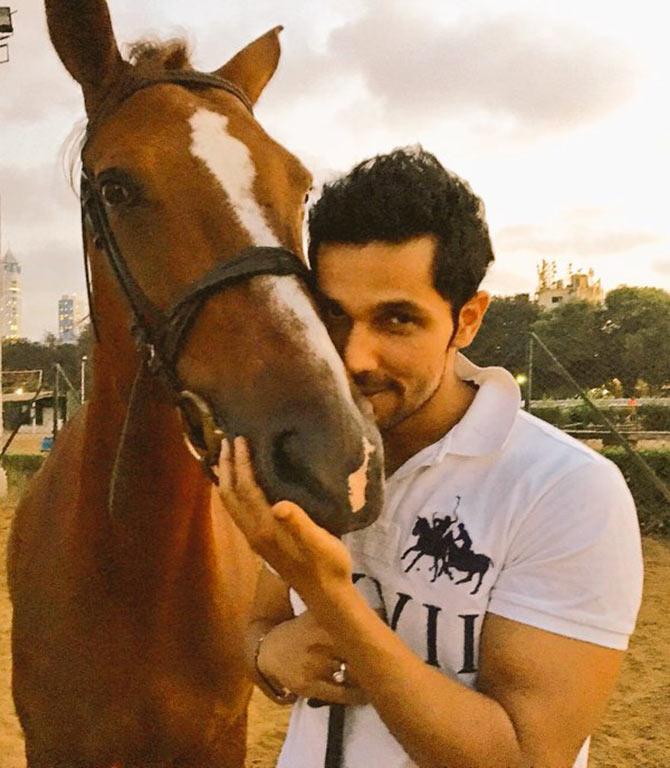 IMAGE: Randeep Hooda. Photograph: Randeep Hooda/Twitter
Do you do the same things that you did 10 years ago?

Yes. I used to act in school and sometimes direct plays. I used to ride horses. At 39, I am still riding horses (laughs). I am doing the same things. At that time, I didn't have horses but now I own them.

I think one grows as an actor with every film. I guess I have done some 25 odd films and I am really hoping that I have grown (laughs).
How did your love for horses start?

Actually, it started with Sholay. That train chase sequence... that's all I remember about the film. As a child, I thought it was a very boring film until the horses and the bullets came.

Ghulami cemented my love for cinema. Then I saw Clint Eastwood on a horse in The Good, The Bad And The Ugly, on a big screen in school and thought. "Wow!"

My Nana(paternal grandfather) was a good rider and owned horses. He was a tehsildar (revenue officer) and he had two horses for his tours. I have heard stories about him.

But it was Clint Eastwood sitting on a horse that made me like horses. Then, I just wanted to sit on a horse. Now, I am into it professionally -- dressage and show jumping. I train my horses from scratch. I've not gone beyond it for a while as I can't be regular because of my acting career.

It is an all consuming sport where you are constantly learning. Your sporting equipment is a live, sensitive and beautiful animal. You want to look after it. Even if it gets a sneeze, it can affect your performance.

There has to be a rhythm between the two of you so you have to train the horse and yourself. You have to train the jodi (team). Compared to that, acting is a piece of cake (laughs).
I heard you've adopted some sick horses?

I have adopted orphaned horses that were being looked after by an organisation called Friendicoes. They were finding it difficult to keep them -- a horse is a very expensive animal to keep -- and I wanted to help them.

I adopted nine three-year-old babies and I got them to my club in Gurgaon. In a way, I helped my club too. I also advertised for Friendicoes and spread the word that they need donations.
They are a genuine organisation so I've donated money myself and got my friends to do the same. I want to continue associating with Friendicoes for other animals as well. But the last three months have been busy; I've had a film releasing every month and an appendicitis operation and I've been recovering from the weight loss.

After this release, I have some time on hand and I am trying to do a lot of things for those people.
I am also a brand ambassador for another organisation, Prayaas, headed by Mr Amod Kant. It helps delinquent children. Mr Kant played Main in Main Aur Charles. I get the kids from Prayaas to my club so they can be with nature and those animals.
I try and do all these things, but I have got to look after my day job as well.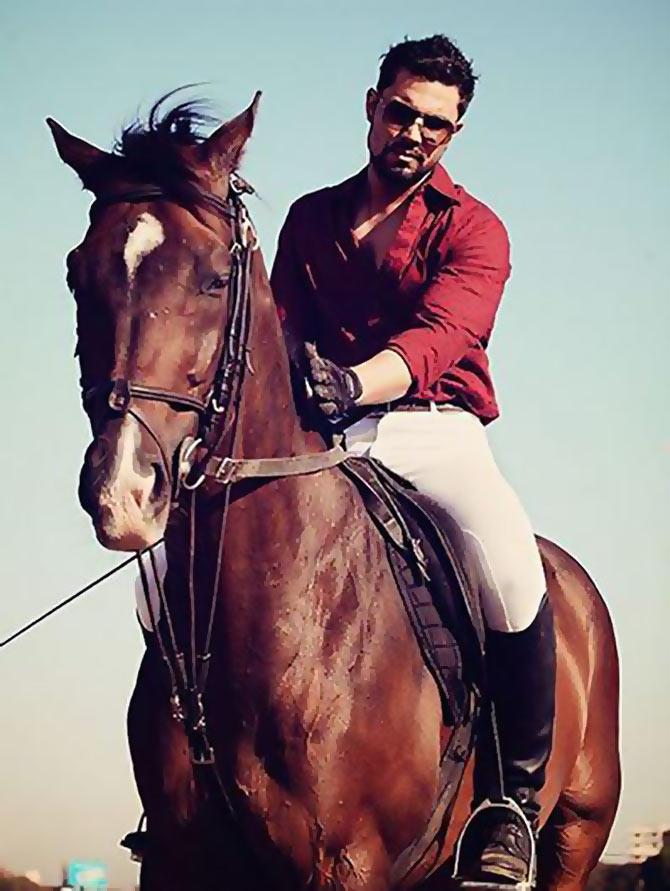 IMAGE: Randeep Hooda. Photograph: Randeep Hooda/Twitter
You'll be working with Vishram Sawant (director, D) again in Shooter?

I don't think it is called Shooter anymore

You started your career with him.

Yes. I also did Risk with him, which is one of my most favourite films along with D.

What kind of equation do you share with him? Both his films have not done well at the box office.

I learnt a lot as an actor in those movies. They were my first taste of being able to transform my thoughts into another person all together, because that movie was shot over a year and half and I did nothing else but that.

So I became that bloody cop and I think that's why I am really good at cop roles (laughs).
Do you feel obliged because he was the one who gave you a break?

I don't know if it is an obligation. I don't think he needs to be obliged. I think it is just like, 'C'mon lets have some fun,' because it's a fun thing for him too. It always fun to work with him because our levels of experimentation are similar, which is not always a good thing (smiles).
What do you mean by 'levels of experimentation'?

Like stretching ourselves in terms of filming, the performance, the characters. It's like preparing and workshopping a whole film with him.
Is there any film in your career that you regret doing today?

No, not really. All of them have taught me wonderful things. They have given my wonderful experiences.
I usually forget what I do in a shot. I only remember what else is happening (laughs)... the experiences. That's the fun part.
Though I am not the most sociable person on the set, I really enjoy myself.

Kajal doesn't share your opinion. She's worked with Akshay Kumar and Ajay Devgn but says you were the best co-star.

Maybe because we are nearer in age and it was also raining a lot in Kuala Lumpur, so we had to kill time. If we had kept on shooting, then probably we wouldn't have become such good buddies.
What were your fondest memories of the shoot?

While shooting for Do Lafzon Ki Kahani, it rained a lot. I watched the whole bloody series of Game Of Thrones while doing this film. Ate a lot of food. You can tell Kajal your budget and the kind of food that you want to eat and she could probably tell you, in a second, which restaurant to go to (laughs).

My parents, my brother and my bhabhi (sister-in-law) came there. I pampered them and did a lot of shopping for them. That's what I remember.

Plus I was in the hospital after breaking my toes while shooting. Learning how to walk in front of a camera as if there is nothing wrong with me... I remember all those things.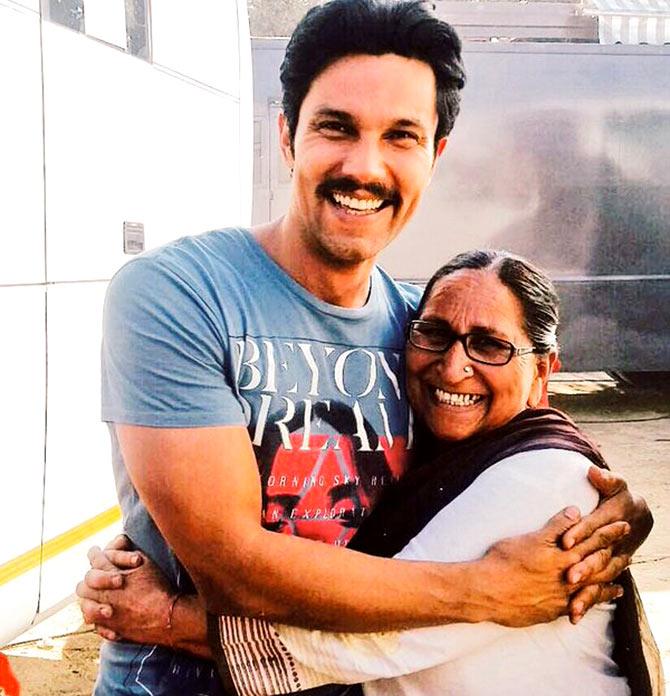 IMAGE: Randeep Hooda with Dalbir Kaur. Photograph: Randeep Hooda/Twitter
What are the best things that you remember while shooting those 25 odd movies you say you've done?

Dalbir Kaur saying that when she dies I should give khanda (shoulder) to her body.
That was the real reward because the memory of his death is so alive in their minds. It was my privilege and good fortune to be able to recreate Sarbjit for them, to see him come alive for them and portray him so close to what he was, without meeting him. I think that is a great memory.

And also Charles Shobraj's action (shows the thumbs ups); all the people who knew him would ask how I knew this.
Both of them were real characters.

I wonder what Raja Ravi Verma (Rang Rasiya) would have thought of me (laughs). Maybe he would say, 'You did not live up to my reputation, you amateur (laughs again).
We hardly saw you during the promotions of Sarbjit. Why?

Was it the case? No, I went wherever they asked me to go.
Now that you are busy with movies, do you miss your first love, theatre?

Oh yes, I do miss it. My last play was two years ago. It was called Arms And The Man, written by George Bernard Shaw, directed by Naseeruddin Shah. It is actually written by George Bernard Shah and directed by Naseeuddin Shaw (laughs at his own joke).
Anyway, that play was shut down. I played the buffoon villain, not the leading man, and I really enjoyed that part. Naseeruddin Shah is thinking of reviving it so may be I will return to that. Plus I have got another idea that I want to do but I will think about all that after the release of Do Lafzon Ki Kahani. I just need some breathing space.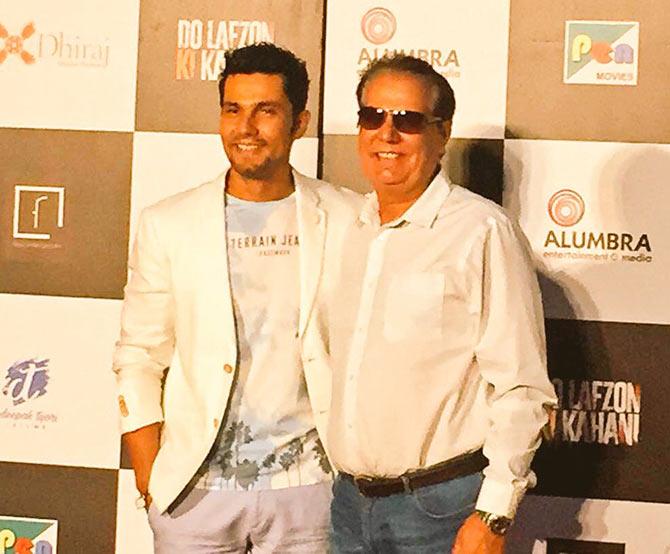 IMAGE: Randeep Hooda with his dad Ranbir Hooda. Photograph: Randeep Hooda/Twitter
What does your family think about your success?

I think they are very proud of me. They were really scared and apprehensive about me taking up acting as a career because they did not know anybody here and they were quite aware of the fact that you have to know people here to get somewhere.
But they gave me the comfort of being independent and not having responsibilities towards them. They left me free, which is a very big bonus for a young person trying to make a career in a field that nobody in the family has explored earlier. That was the great boon I got from them.
I think they are really proud of me now and, yes, my dad is my biggest critic.
After Sarbjit, he asked me, 'Where are you going to go from here? You jumped the gun too early little, boy.'
I said, 'I will go further now.'
Are there films that your father did not like?

No. I mead he does criticise the movie and me but there is nothing where they have told me, 'Arey, yeh kyun kiya (Why did you do this)?'
In fact, my father was very supportive when I did Bombay Talkies (Randeep played a homosexual in the film). I told everybody that I was doing this role and a lot of my well-wishers in the industry told me, "You should not do it."
So I asked my dad and told him this might have... And he said, "What do you mean? You are an actor. You should be able to do everything, if you feel like doing do it." So I did it plus. I also did it because it was celebrating 100 years of cinema. And because I want to test myself.
Do you think you are adequately paid?

(Thinks a little) Ahhhhh no, I don't think so. But then, I also feel I am getting paid for something that I would do for free (laughs)… which kind of extinguishes that fire. Not being rewarded enough to this is the biggest reward.
What next?

Most of my roles blindside me on a Tuesday afternoon, but something will hit me.