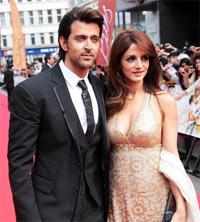 Hrithik Roshan put an end to all speculation over his marriage by issuing an official statement. He stated that he and his wife Sussanne were ending their 13-year marriage.

A statement from the actor confirms:

'Sussanne has decided to separate from me and end our 17 year relationship. This is a very trying time for the entire family and I request the media and the people to grant us our privacy at this time.

'I do not wish this news to disempower my fans and the people about the institution of marriage in any way. I am a firm believer in

this institution and respect and honour it at the highest level... And once again, I thank my fans for all the concern and prayers for my health, my treatment is going well and I should be able to resume my life in every way very soon. Thank you.'

The couple, who had married in December 2000 in Bangalore, have two sons -- Hrehaan, seven, and Hridhaan, five.

The two were believed to have been living separately for a couple of months. They have not made any public appearances recently either.

In September, Sussanne's sister Farah Ali Khan had denied all rumours and tweeted: 'It's not true. They are not splitting. There will always be gossip mongers galore to add more masala. Celebrities will always be food for gossip. Don't believe everything you read. Its a pity the media lives off personal lives. Get a life!'

In the picture: Hrithik Roshan and Sussanne.