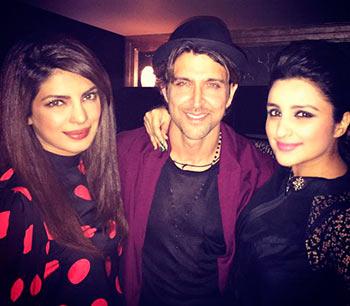 A look at the top tweets from your favourite Bollywood celebrities:
Hrithik Roshan, who turned a year older on January 10, celebrated it with the likes of Varun Dhawan, Alia Bhatt, Parineeti Chopra, Priyanka Chopra (in pic here), Zayed Khan and others at Exo at the Palladium Hotel in South Mumbai. From the looks of it, this was a grand and fun party for the newly single Bollywood star!
Parineeti Chopra took to Twitter to share a picture from the celebrations and tweeted: 'What a happyy party last night!! @iHrithik is one of the sweetest people and hosts :)'
As for Hrithik, he thanked his fans and wrote: 'Thank you....thank you. Thank you beautiful people!! Today I celebrate not myself but all of you.'
Roshan is currently working on Ashutosh Gowariker's upcoming film Mohenjo Daro.

***
Prakash Jha: India should be proud of Lunchbox
Ritesh Batra's critically-acclaimed film Lunchbox has been nominated for the British Academy Film Awards (BAFTA) and several Bollywood celebrities took to Twitter to congratulate the team. Here's what they said:
Karan Johar: Huge congratulations to team #lunchbox on the #BAFTA nomination!! So proud to be associated with the film!!!
Shekhar Kapur: Really well deserved BAFTA nomination for #lunchbox congratulations.
Prakash Jha: India should be proud of #Lunchbox. The standard for 100 cr. movies. Shaabash
Rajkummar Rao: Super thrilled... BAFTA Nomination for #Lunchbox.Thank u for making our country proud.
Ranvir Shorey: Congratulations to the team of the exquisite, 'The Lunchbox', on the BAFTA nomination! So well deserved.

***
Priyanka Chopra pays tribute to her dad
Priyanka Chopra, who recevied an award at the recently held Renault Star Guild awards 2015, took to Twitter to remember her father.
She shared a picture of herself and wrote: 'Thank u #starGuildAwards for the acknowledgements tonight.. #MaryKom is for my dad.. Thank you for watching over me. Congratulations to team #MaryKom for winning 5 tonight. @OmungKumar @SaiwynQ ,Sanjay Sir and everyone who made this possible.'
Chopra is currently shooting for Sanjay Leela Bhansali's Bajirao Mastani. 'Toooo early to awake after sleeping so late..and I'm still late!! Waaaah!! I'm coming Sanjay Sir! #BajiraoMastani calling !' she added later.

***
Dolly Ki Doli gets UA certificate
Upcoming romantic comedy Dolly Ki Doli, which is all set to release on January 23, has got an UA certificate from the Central Board of Film Certification.
Confirming the news, producer Arbaaz Khan tweeted: '#DollyKiDoli censorship done ! Gets UA certificate without any cuts :):):)'
The film stars Sonam Kapoor, Rajkummar Rao, Pulkit Samrat, and Varun Sharma.
***
Sonakshi Sinha takes time off
After Tevar, Lingaa and Action Jackson, actress Sonakshi Sinha is finally enjoying her time off. 'Havent gotten out of bed allllll day! Cozy, comfortable, nowhere to go to. Haven't felt so peaceful in a while :)' she posted.
Sinha hasn't signed any new films yet.

***
Rahasya poster out!
Manish Gupta's much-delayed film Rahasya, was inspired by the Aarushi murder case, is all finally going to release on January 30.
Actress Tisca Chopra, who is starring in the film, shared the first official poster and tweeted: 'Here's 'Rahasya' releasing 30th Jan.. Block your date now!'
The film also features Kay Kay Menon, Ashish Vidyarthi, Mita Vashisht and Ashwini Kalsekar.