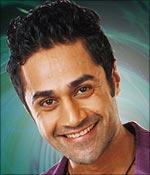 Hrishant Goswami managed to stay in Bigg Boss for eight weeks before he got evicted over the weekend.

The 2004 Gladrags Manhunt winner was doing quite well on the show, and his exit surprised the housemates.

But now Hrishant will not have to deal with Dolly Bindra, who made her way back into the show last Saturday.

Hrishant talks to Rajul Hegde about his time in Bigg Boss.

You seemed surprised after your name was announced for eviction.
Honestly, I didn't expect to get evicted. I hoped to stay till the end.
I had a blast inside the house. I got to meet great people like the Great Khali, Pamela Anderson and Manoj Tiwari. I knew Ashmit Patel from before -- we had worked together for a gym calendar earlier -- but we bonded well in the house. I would like to keep in touch with all these people.
You were very happy when Pamela entered the house.
Yes. I have grown up watching Baywatch. My best moment on the show was meeting her -- living under the same roof as her was a fantasy come true! She couldn't believe that I was a huge fan and had even bought a book of her pictures when I was a boy.
What do you take back home from this show?
Living in the house has been an amazing learning experience. I got to know about my strengths and weakness. I need to tone down a bit. I do get carried away with what people say and react violently at times.
I am also very particular about certain things. Like when I do work, I expect others to work with the same commitment, which is not possible. I need to be flexible in life.
Veena Malik confessed that she was in love with you. But then she was seen getting intimate with Ashmit Patel.
If Veena is cozying up with someone, that's her wish. Who am I to comment on that? She is a sweet and honest girl. I was never attracted to her and told her that. Right now I want to focus on my career and am not looking for a relationship.
What do you have to say about the fight between Samir Soni, Dolly Bindra and Shweta Tiwari?
The situation could have been controlled but Samir took a personal stand which had very little to do with helping Shweta. We told him not to (interfere) but he didn't listen.
Who did you like the least in the house?
Shweta Tiwari. She was not sporting enough. She didn't like my jokes.
Dolly has re-entered the house. What's your take on that?
Good for her! She will keep the viewers entertained.
Entertained?
Yes. If they didn't like her, why would they vote her back on the show?
I didn't approve of her language and loud voice either. She tried to confront me too. But I put her in her place. After that, she didn't fight with me. You need to give respect to get respect.
Who do you think will win?
I want Ashmit or Seema Parihar to win the title. Seemaji has been through a lot. And she needs the money. She deserves to win.
What next?
I want to become an actor. I hope this show has got me the kind of visibility that I haven't been able to get for so many years. I had a few film offers before I went on Bigg Boss but nothing worth while. Now that I am out, I want to meet people and get some good offers.