'The show's success has only gone on to reinforce my belief that the best way to tell a story is with honesty, love and conviction... easier said than done in our industry!'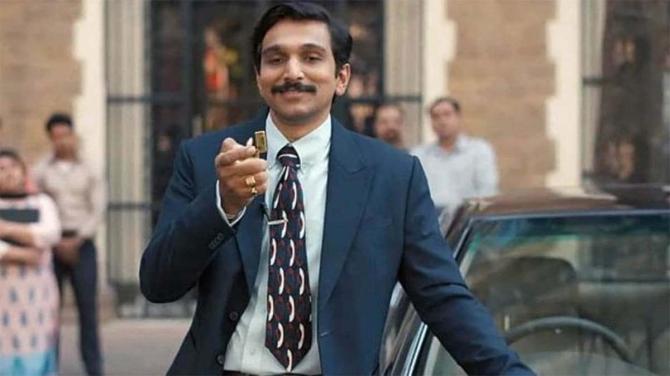 As Scam 1992: The Harshad Mehta Story completes one year, Subhash K Jha speaks to Director Hansal Mehta about the series's success.
Did you ever expect Scam 1992 to become such a cult show?
Of course not. I knew that we were making something very special and that, while it was at times a difficult process, the end result would be gratifying.
But this kind of success and adulation is something none of us expected -- and should never expect. Expectations weigh you down.
The show's success has only gone on to reinforce my belief that the best way to tell a story is with honesty, love and conviction... easier said than done in our industry!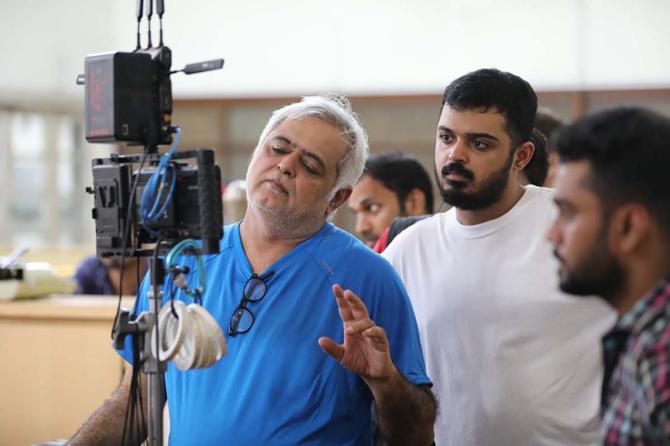 Tell me about its genesis. I believe the idea of a Harshad Mehta biopic was with you for long.
I wanted to tell his story as a film way back in 2005, but, of course, there were no takers; neither actors nor producers were interested in either me or the story.
So it was put on the back-burner as was another one of my scripts, Omerta.
In the meanwhile I made some terrible choices for the rest of that decade until Shahid happened. But I am digressing.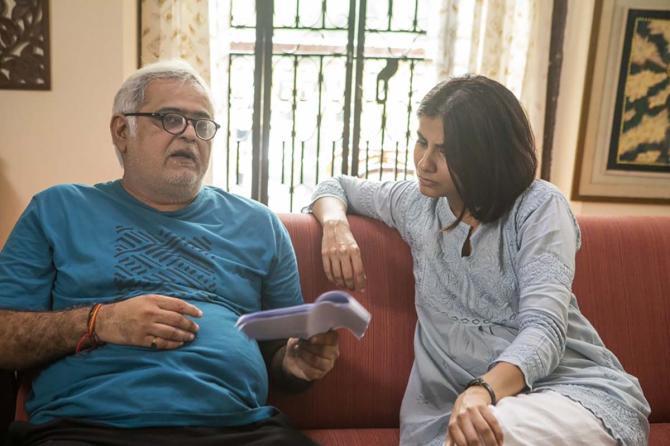 Please continue.
My agent, Ashoo, connected me with (CEO) Sameer Nair who had just started executing his vision for Applause Entertainment.
Sameer offered me this story and I jumped at it. There is a time for every story and I think this was the best time and best partner to tell this story with.
My Gujarati roots and my personal connect with Harshad's world since I was a schoolboy were all part of this tale.
I was getting to relive my life, that too in the long form, something I'd been following with envy.
This was the correct time and format to tell this story.
Things fell into place and I'm thankful that Sameer Nair thought of me and that I was able to make this exactly the way it should have been done.
It was a long process, often tedious, often tense, but totally worthwhile, totally memorable.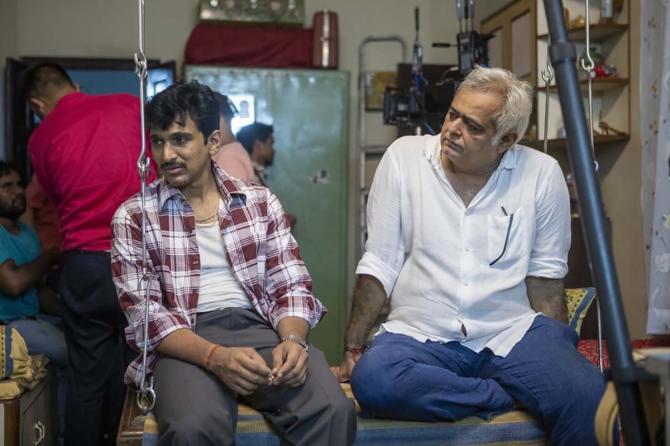 How did Pratik Gandhi come into the picture? What made you think of him?
I trusted my instincts and Sameer Nair backed me completely.
Mukesh Chhabra and his team proposed some names for Harshad and Pratik was who I chose.
I have yet to see his audition for Harshad Mehta. But I'd seen some of his theatre work and his Gujarati film Wrong Side Raju. I knew that he was a real actor, a fine actor.
I am not a stickler for physical likeness and mimicry of the real life character. I believe a biography is an exploration of the character and not a mimicry session. For that exploration you need a damn good actor... and a good director (laughs).
I was so desperate at the time to tell this story that, had Sameer rejected Pratik, I might have gone on to work with somebody more known at the time. It would have been a different show then.
Thankfully, Sameer backed my instincts and vision for the show.
The rest, as they say, is history!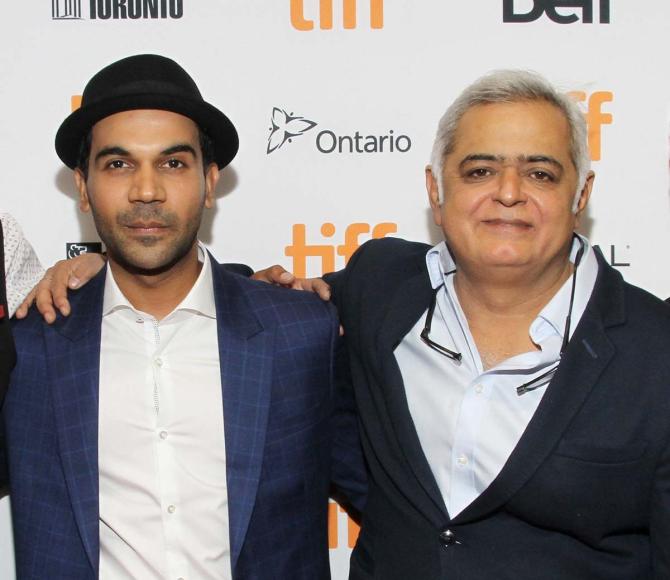 Today, when he is much sought after in Mumbai, do you feel proud of him the way you do of Rajkummar Rao?
Of course.
I see his journey with great pride. He will always occupy a special place in my life.
To see an actor of his calibre get his due is most satisfying and, in these unjust times, you feel like there is finally some justice in this world!
We talk regularly about the work he is doing and about life in general. We hang out whenever we find the time.
Rajkummar and I share a longer filmography and relationship.
With Raj, I found my voice. With Pratik, I found success. Answers your question?
To what do you attribute the series' vast popularity?
I think the exceptional writing, to begin with. I had a talented, diligent and eclectic team on the writing process.
The solidly researched script, brilliant characterisations and, then, all the elements of the show's making -- including casting, direction, cinematography, sound, editing, costumes, art, etc -- working towards a singular vision with passion, and things falling into place seamlessly, contributed to the final product.
And, of course, the exceptional music -- including the prodigy Achint Thakkar's cult title track and those beautiful Kabir Cafe songs.
It all just fell into place.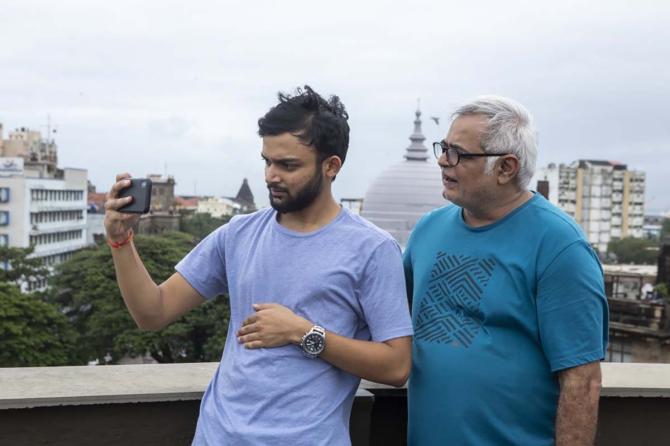 It's like the universe conspired to make it work.
It was magical. That's all I can say today.
Great crew, great producers and ultimately a fantastic platform (SonyLIV) to back the show.
I think the audiences connected with the world, the characters's journeys/aspirations and the emotional ride that the show offered with a regular sprinkling of entertainment!
Biopics are now the rule, rather than the exception, in our cinema. What is your take on cannibalising real-life characters?
I don't want to speak for others. But as I've told you often, I choose real life stories because there are so many untold stories of such incredible characters that I feel compelled to tell.
Ultimately, these are stories for me and no different from fiction.
Either way, I have to dramatise stories, create authentic characters and engage with audiences through my own cinematic language.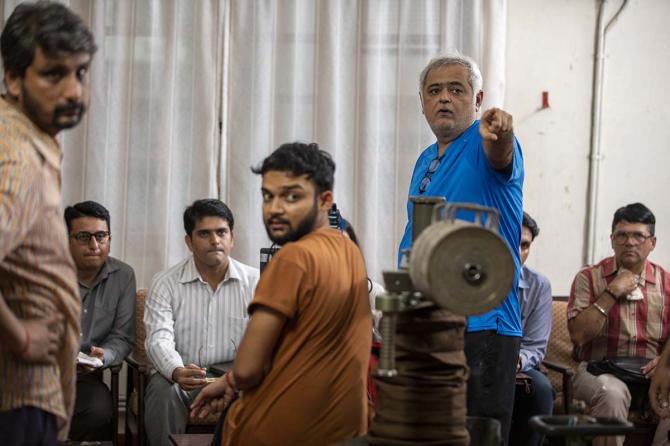 In no time at all, a certain formulistic staleness, and a star system, has crept onto the OTT platform. What is your take on this?
I don't agree in totality. But yes, anything that is mass produced will ultimately adhere to formula.
That is the nature of the beast.
The onus is on us as storytellers to use our success to power unique and clutter-breaking stories.
What are you working on now?
Multiple things. I am deep into the post-production of Faraaz, a film I've made for (producer) Anubhav Sinha.
I'm mentoring new shows, new voices, working with phenomenal talent to develop so many stories that I desperately want to have told to the world. I'm working on my next directorials.
It is a busy time, but also fulfilling. I have worked for 25 years to reach this time and I'm enjoying myself thoroughly!
Feature Presentation: Ashish Narsale/Rediff.com