'This is the first time when you see the story of the Azad Hind Fauj through the eyes of the soldiers.'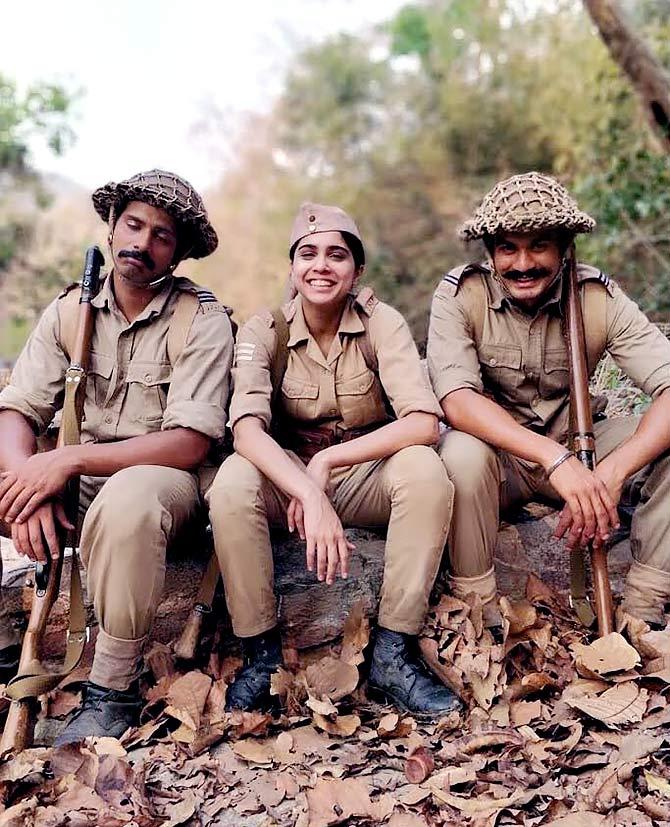 After making blockbusters like Ek Tha Tiger and Bajrangi Bhaijaan, Kabir Khan ventures into the digital platform, with Amazon Prime's Web series, The Forgotten Army.
Do you know he wanted to make a film on the same theme many years ago, and had even discussed the idea with Aditya Chopra?
"Aditya Chopra was very excited about the story, but we could not do it at the time because we felt it was an ambitious project. Finally, when I did it with Amazon, I said it was bigger and better because Amazon really supported me with a huge budget to mount it at a certain scale, which none of my films ever had," Kabir tells Rediff.com Contributor Mohnish Singh.
The Forgotten Army is based on your 1999 documentary of the same name. Where did you get the inspiration to make that documentary?
That's an interesting story.
Immediately after film school, I got an opportunity to work as a freelance cameraperson. I used to shoot a documentary film for the Discovery Channel called Beyond the Himalayas. It was sponsored by Mahindra and Mahindra.
The documentary was shot over four months, driving from what used to be the Soviet republics in Central Asia through Uzbekistan, Kazakhstan, then going into China and Tibet.
Two years after that I was told that Mahindra would mount another documentary.
This time, the team was planning to start the expedition from Singapore to Delhi, through Malaysia, Thailand and Burma.
Now that's the route the Azad Hind Fauj had taken during World War II.
I thought of making a documentary on it during that expedition.
Then began the search for people from the Azad Hind Fauj, which led us to Captain Lakshmi Sahgal and Colonel Gurbaksh Singh Dhillon.
They came with me, and we drove for three months, tracing the route which the Azad Hind Fauj had taken.
That's how the documentary got made.
You first shared this idea with Aditya Chopra, but things did not fall into place. When it got made, you said it happened better and bigger.
Aditya Chopra was very excited about the story, but we could not do it at the time because we felt it was an ambitious project.
Finally, when I did it with Amazon, I said it was bigger and better because Amazon really supported me with a huge budget to mount it at a certain scale, which none of my films ever had.
I have made some big budget films with superstars, but this scale is miles ahead of that.
Why I said 'better' was because the passage of 20 years allows you to take a step back and look at it objectively than say maybe in the first draft, when I was stuck to history or wanted to stick to just hard facts.
After 20 years, I understood that nobody knew this history.
So, for dramatic storytelling, I merged a couple of characters together and this helped the plot become more dramatic and move forward faster.
So the character of Sodhi, which Sunny Kaushal is portraying, is a combination of Colonels G S Dhillon, Prem Sahgal and Shah Nawaz Khan, three of the most celebrated officers of the Azad Hind Fauj.
The character of Maya, which Sharvari is playing, is a combination of Lakshmi Sahgal and her love story with Prem Sahgal. It also has elements of Janaki Thevar, who was second-in-command of the Azad Hind Fauj.
There have been some films on the same topic, like Samadhi (1972), Raag Desh (2017) and Rangoon (2017). How is The Forgotten Army different?
The main difference would be that the majority of work that has been done on the Azad Hind Fauj is done from the point-of-view of Netaji Subhas Chandra Bose.
But the documentary was about the soldiers, it depicted what happened to them.
This is the first time when you see the story of the Azad Hind Fauj through the eyes of the soldiers.
Of course, there will be the presence of Subhas Chandra Bose, but ultimately, it is the story of the soldiers.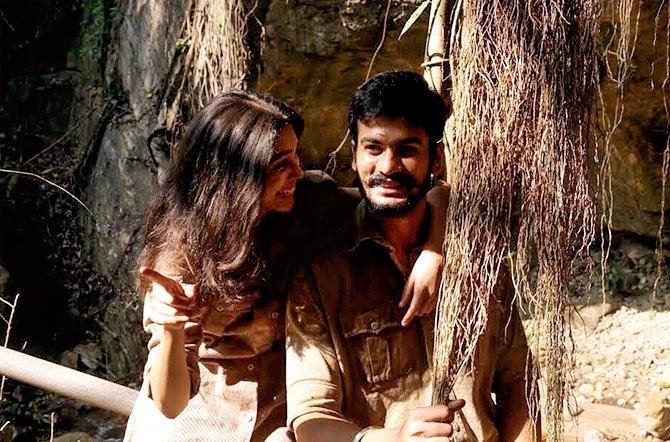 You could have cast superstars, but chose newcomer. Why is that?
It was a conscious decision.
The team at Amazon Prime Video and I sat together and we believed that the star of the series should be the story.
Moreover, bringing a new cast brings new energy, less baggage and the focus becomes more about the way you tell the story, not about a star or how a star is featured in a certain series.
When you planned the feature with YRF, did you have anyone in mind?
See, the dynamics of films are different. Films are still star-oriented.
Even now, when a big budget film is made, film studios would like to cast a star, just to be safe.
I think OTT platforms are open to taking bigger risks.
We have been saying that content is king for so many years now. Finally, OTT platforms are approving that.
I don't know whether or not they consider it as a risk, but they want to tell stories because the story is exciting to them, not because a star is attached to it.
Besides, we never reached a point (with YRF) where I would think about the casting.
All the actors that I have worked with know of this story because I used to talk about it, be it John Abraham, Irrfan Khan, Nawaz (uddin Siddique), Salman Khan, Saif Ali Khan or Ranveer Singh... everybody knows of this story.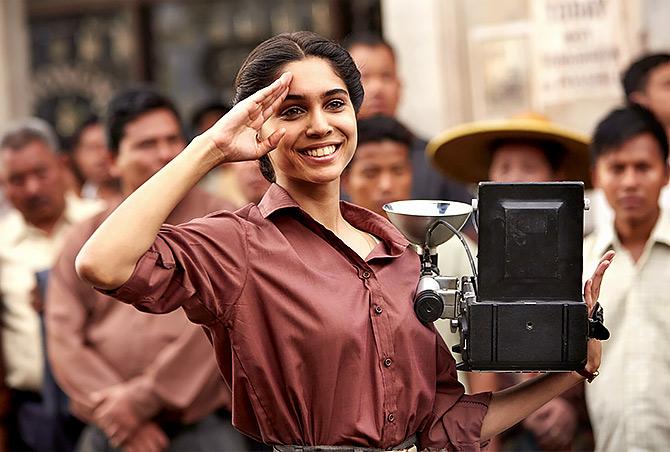 Shah Rukh Khan is part of the series.
I had a lot of discussions with Shah Rukh Khan as well.
I knew him before I joined films. He was my senior in film school and I studied from his notes during my master's (degree).
We also have a family connection.
That's why the opening voiceover for the series has been given by him.
By the way, I had discussed this story with Hrithik Roshan and Akshay Kumar also. So, almost everyone knew of it.
Your films show fantastic locations. Where did you shoot The Forgotten Army?
My locations are almost like a character in my films.
I believe locations sets the mood for the scenes.
The Forgotten Army is based on true events, which means the rough terrain and the jungles where they fought have to be a part of the story.
Also, the river where they camped.
They fought in the hills as well.
So these were some of the locations that had to be shown authentically.
For this, there was a lot of scouting for locations. We were not allowed to shoot in Burma because of political reasons.
We researched a lot and decided to shoot in Thailand.
There were some difficult locations. Sometimes it took us two hours to reach the location and then trek for an hour in the mountains.
It was difficult for the actors too.
It felt as if they actually followed the footsteps of the soldiers of the Azad Hind Fauj. They carried backpacks and climbed mountains with us.
It's like they were actually living the lives of the soldiers.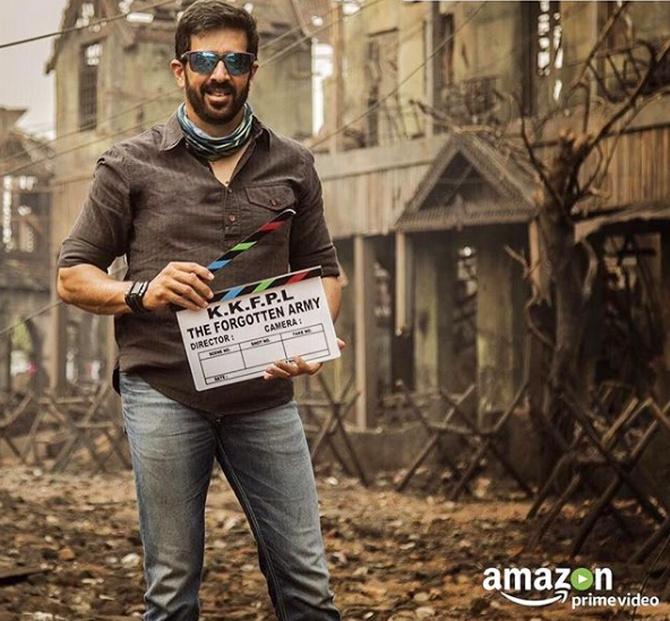 The theme of the series talks about suppression. Do you think that is relevant in today's times?
I think you are right.
History is always relevant and the history of the Azad Hind Fauj is still very relevant in today's times, especially with what we are going through right now in our country.
There are a lot of things that the Azad Hind Fauj could teach us. Its viewpoints, ethos and secular fabric -- something that Netaji always laid stress upon -- were so strong.
I feel that our current secular fabric is getting damaged.
In The Forgotten Army, Maya's character has a dialogue that to join the Azad Hind Fauj, there is no need to prove your gender, race or religion.
All that is needed is that you are a Hindostani and you are ready to die for Hindostan.
I think their ideology is very relevant in today's context as well.
You are a Hindostani because you consider yourself Hindostani not because you have a paper to prove it.
If you believe you are an Indian, nobody can give you a certificate of Indianness.
There are rumours that Salman Khan and you are teaming up again.
Nothing like that.
When actors and directors meet, they discuss a lot of ideas.
I have worked with Salman Khan in three movies. We have been on a journey together and I have a warm relationship with his family and him.
Right now, there is no concrete script that I have shared with Salman.
Of course, if there would be one, I would love to go back to him and if he gets excited, I am sure we can work together.
But as of now, there are no such projects.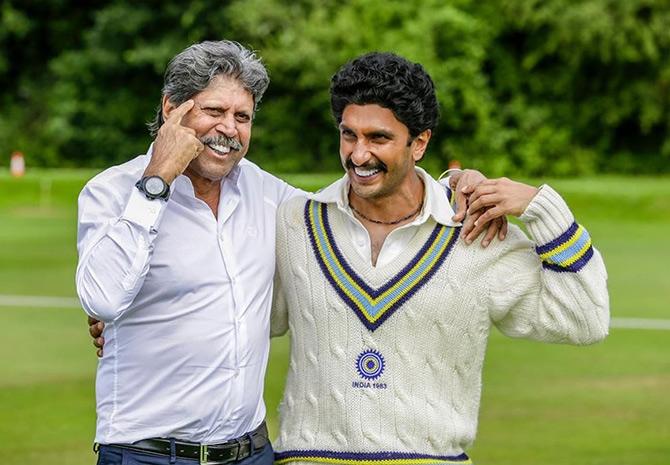 =
In your next film '83, Ranveer Singh looks like Kapil Dev. How did you achieve his look?
When Ranveer Singh was cast, he asked me what he would look like as Kapil Dev.
I replied that we were not doing a lookalike contest; we were making a film and, at some point, the audience would believe that Ranveer Singh was playing Kapil Dev.
I asked him to remove this burden from his mind.
I also told him that we would try to come as close to Kapil Dev as we could, but we were never trying to attempt a clone.
Having said that, what Ranveer brought to the process is what everybody is reacting to.
Of course, I am not taking away from the beautiful work the make-up team has done, but it's the expressions that Ranveer has picked up that has made all the difference.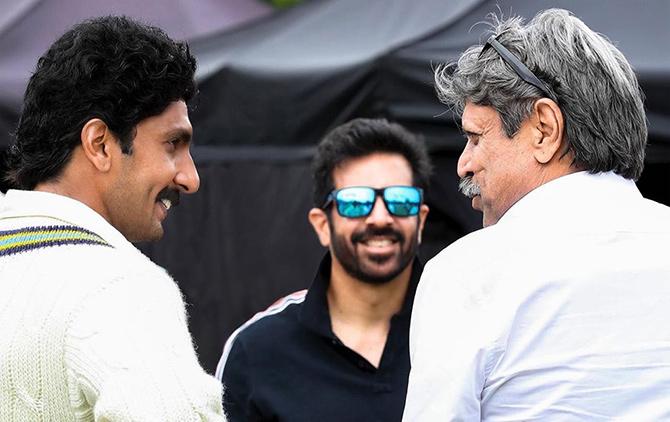 How did Ranveer pick up these expressions?
We were literally living with Kapil Dev when we were researching.
We woke up when he did.
From his morning tea to dinner, we were with him.
When he went to play golf, we went and played with him.
If he was sitting in a business meeting, we were sitting there too.
Ranveer, as a performer, caught the nuances through the process and when people say that he looks just like Kapil Dev, I think they are reacting to the expressions.