'Rishi Kapoor was shocked and said, 'Woh sare log jinko main janta hoon, unki filmein main nahin kar raha. Aapko to main janta bhi nahin hoon.'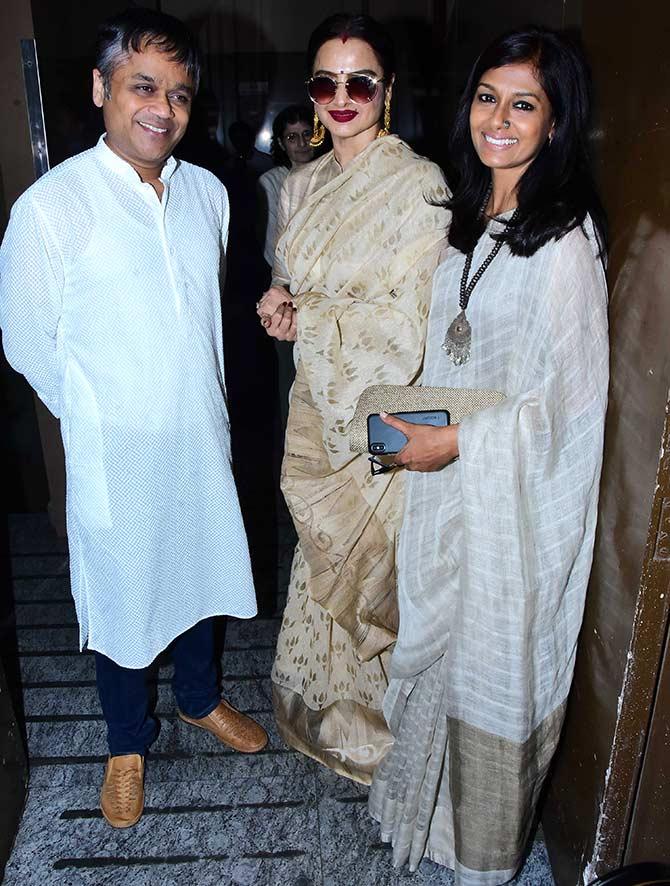 After successful screenings in Cannes in May and at Toronto earlier this month, Nandita Das releases Manto in India today, September 21.
Nawazuddin Siddiqui plays the controversial writer Sadat Hasan Manto, but Nandita roped in many, many talents to play parts in her second film.
Among them were Paresh Rawal with whom Nandita has had political differences.
And the mercurial Rishi Kapoor. And surprise, surprise, Javed Akhtar.
In the first part of the interview with Rediff.com, Nandita spoke about how Manto came into her life.
In this second segment of a three-part interview, Nandita tells Rediff.com Senior Contributor Aseem Chhabra how she got Rishi Kapoor to play a sleazy producer in the film.
Tell me about the cameos in the film. I didn't know Javed Akhtar was in it. And you cast some brilliant actors. Ranbir Shorey, Vijay Verma and Divya Dutta in small roles. Tillotama Shome is literally in the film for a couple of minutes.
But she's fantastic in it.
How did you think about bringing these well-known faces in the film?
For one, I did not want to compromise on the style or the tone of the film.
Yet, I wanted to make it accessible.
I thought one way is to cast these actors.
There are other actors who could have done it; I didn't write these characters thinking of anyone in particular.
But I felt that their performances would be strong.
Also, because they are well known, that could be a draw for the Indian audience.
And they were willing to do these cameos?
I mean, I am shocked actually, but I have used up all my goodwill. Whoever I called, they agreed to appear in the film.
How did Rishi Kapoor agree?
When I went to meet him, he said, 'Please mujhe guest appearance aap mat dena. Kyonki aadhi industry mujhe roz phone karti hai guest appearance ke liye (Please don't give me a guest appearance. Half the industry phones me for guest appearances).'
I told him it was only a half-day work.
I said, 'Dekhiye, I am not even reaching out to you because I thought of you in a role. I don't even know which role we have to discuss.'
The guy, who connected us, told me to think of a particular role, but there was none I could think of.
You still wanted him in the film?
To be honest, I hadn't thought of him, someone else had suggested his name.
This casting person -- not my main casting director Honey Trehan -- said, 'Rishi Kapoor ko aap lijye. Bahut accha hoga. Bahut popular hai (Take Rishi Kapoor. He is very popular).'
I have always admired his natural performances.
The guy even suggested Rishi's name for Toba Tek Singh and I said, 'Pagal hai? (Are you mad?)'
Toba Tek Singh was a distraught man and Rishi is from a khata-peeta ghar.
So I went to meet him not knowing what role to offer him, but I wanted his support.
He is popular and a good actor. That's the combination I wanted.
Rishi Kapoor was shocked and said, 'Woh sare log jinko main janta hoon, unki filmein main nahin kar raha. Aapko to main janta bhi nahin hoon (I'm not doing films for the people I know, and I don't even know you).'
I suggested that he should consider it for Manto and there were a couple of small roles I could recommend.
He said 'Nahin, par main to tumhare support main karoonga (I will do it in your support).'
So I suggested a few roles, and then I asked, 'What about a sleazy producer?'
He said, 'haan, sunao.'
So I read out the role to him.
He said, 'Arrey, I remember that guy -- naam nahin le sakti hoon main (I can't mention his name).'
He talked about someone from his young days.
I had seen a series by the same producer. I saw that man's photograph and that had inspired me to add this scene to the film.
In the series, he is walking around with some young girls, who are semi dressed. And slowly, their clothes are coming off.
And Rishi said, 'Challo kar dete hain.'
And I said, 'Wah!'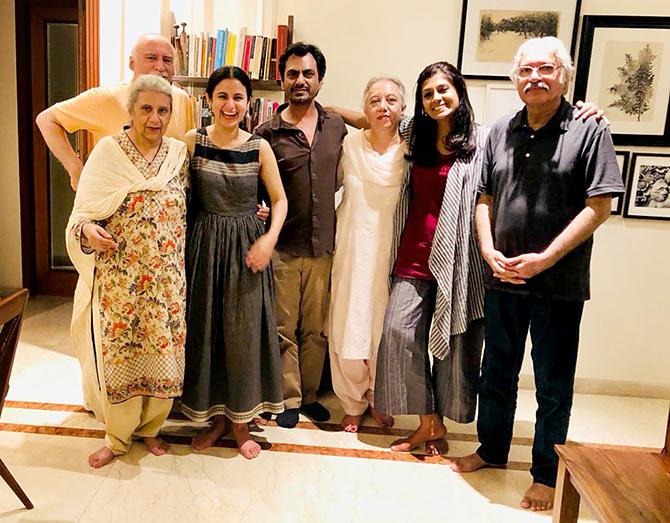 What about Javed Akhtar? Has anyone offered him a role so far?
He has gotten many offers, since he is a performer.
If you watch his interviews, he's a natural performer.
Bahut logon ne offer kiye roles (Many people have offered him roles).
He even said to me, 'Arrey bhai rehne do, yeh kya chota sa role hai (let it be, what a small role it is).'
So I said, 'Aap is zamane ke progressive writer hain. Agar aap us zamane ke progressive writer ko defend karenge to yeh ek alag wazan hota hai (You are a progressive writer of this era. If you defend a progressive writer of that era, it will add weight).'
I told him he had to do it for Manto and me. And he agreed.
Honey suggested Gurdas Mann's name and I was reluctant, since had I only seen him jumping around in his shining jackets.
I didn't see him as a distraught man at all.
But when I met him, he was the nicest, humblest, person I had ever met, and I got carried away.
I told him, 'Main aap ko bahut ganda karne wali hoon, balon main mitti daalne wali hoon. Kapde phate honge (I will make you very dirty, put a lot of dirt on you, clothes will be torn). Are you okay with that?'
And he said yes.
Paresh Rawal said he wanted to read the entire script and I was like, 'Oh God, I have had it now.'
But what about your political differences with him?
Yes, I still have. We laugh about it as well.
I tell him we have diametrically opposite views politically, but I have great respect for him as an actor.
He was fantastic in Firaaq, and he's fantastic in this.
He's such an incredible actor.
He read the script and said, 'It's a good script. I will do it.'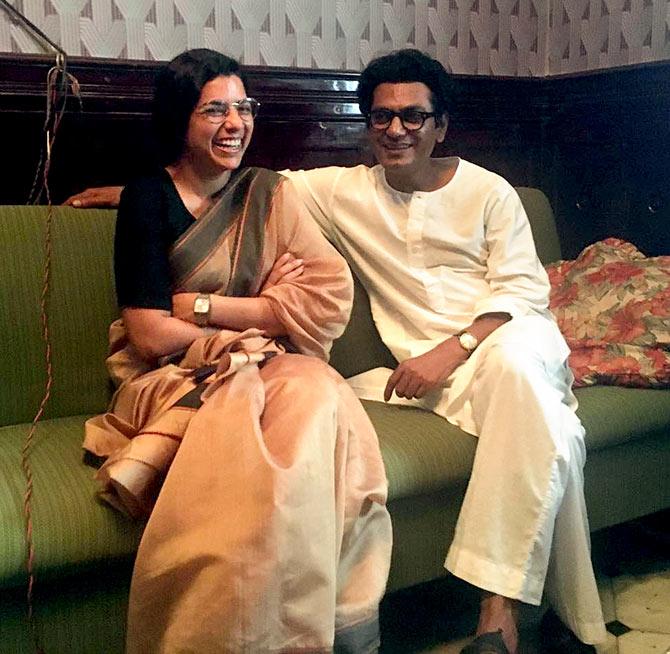 What about Rasika Duggal and Rajshri Deshpande?
Both are great.
Nawaz recommended Rajshri. I met many people for Ismat Chugtai, but I was very happy with her.
Was it the weight of your name that brought all these people in?
I have been around for 22 years and yet, many people aren't really familiar with my work.
But they know she is consistent.
Whatever she thinks -- good or bad -- whatever work she does, there has been no change.
She hasn't cut corners.
I think there is a certain amount of respect.
Don't think I am being immodest, but I am surprised by the kind of response I have got for this film.
Where was the film shot?
Bombay, Gujarat, where we created Lahore.
Firaaq was set in Gujarat, but it was shot in the old Hyderabad city.
And a little bit we shot in Pune.
I did series of recces even before I had an art director! I used to just wander around and see places with people, including with (the legendary Mumbai raconteur) Rafique Baghdadi, who does Manto Walks in Bombay.
I did many of those walks with him.