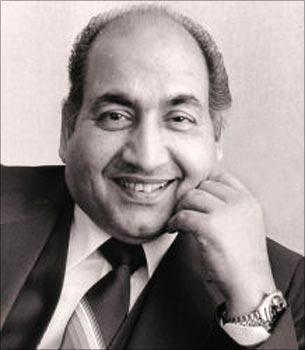 'Never ever forget that you are Mohammed Rafi, a performer whose seasoning, by now, far exceeds that of any male singer in the industry.'
The incomparable Mohammed Rafi would have turned 93 today, December 24.
Raju Bharatan salutes the legend.
It happened at the height of the Rajesh Khanna wave --- in the after-1970 Aradhana glow when Mohammed Rafi's confidence was at its lowest ebb.
The Mohammed Rafi who had sung, for Naushad, a total of 149 songs (81 of them solo) through 35 years.
That ace composer had heard about how sheer nonentities, in the recording room, had begun dictating to Mohammad Rafi.
During a small-time composer's Rafi recording, therefore, Naushad quietly slipped into the sound recordist's booth at Mehboob Studios in the Bandra suburb of Bombay.
As he sat through the recording, Naushad felt aghast to find striplings, in the recording room, telling a stalwart like Rafi how to sing.
Whereupon Naushad discreetly moved out, leaving word that his pet performer should call on him, without fail, at his Ashiana, Bandra, home -- on the singer's way back to Rafi Villa after the recording.
As Rafi entered his mentor-composer's home, Naushad first took him severely to task. The burden of the Naushad song -- "Who are these people to tell Mohammed Rafi what to do? Isn't Rafi too trained a performer to submit to anyone but the song composer?"
Having heard out his benefactor, Rafi explained to Naushad in detail how, through three years, they had sapped his will to perform -- as his own man.
Naushad's counter to that -- "Never ever forget that you are Mohammed Rafi, a performer whose seasoning, by now, far exceeds that of any male singer in the industry. Always remember, Rafi that the singer you identify as your rival, now, has no classical background at all. So how possibly could he be competition to you, Rafi? Go back, confident like before, to the recording room. Just sing like my Rafi always did."
Having said that, having identified Kishore Kumar as no classical competition to Rafi, Naushad instinctively realised that something more tangible had to be done to restore to Rafi his known niche in our song lexicon.
To this end, Naushad hurried with a recording due for My Friend (1974) and summoned Rafi, for a song rehearsal, for that film. For a solo cast in the Naushadian Bhairavi mould.
As Naushad thus put Rafi through his performing paces afresh, for the My Friend Bhairavi classic going as Naiyaa Meree Chaltee Jaaye Sahare Tere Badhte Jaaye, Rafi instinctively regained performing poise.
Almost concurrent with that happening came the Film World magazine awards and Rafi, here, was very much in the running for the Best Singer citation.
Bombay's Shanmukhananda Hall was jampacked that serene evening as it came to be announced that Mohammed Rafi had been voted Best Singer for his empathetic rendition of Teree Galiyon Mein Na Rakhenge Qadam Aaj Ke Baad -- as written by Saawan Kumar and tuned by Usha Khanna to go on Anil Dhawan in Hawas.
The moment -- to the backdrop of the Teree Galiyon Mein number playing -- Mohammed Rafi was pronounced the winner, this singer, in walking up to the stage, was a man metamorphosed.
All of Rafi's shaken singing confidence thus returned in one stroke --- it was his first award in years. The same Mohammed Rafi who had made it a habit of bagging the prestigious Filmfare Best Male Singer award every other year.
Rafi had won it for Ravi's Pahadi beauty on Guru Dutt, Chaudhvin Ka Chand Ho (Chaudhvin Ka Chand), in 1960.
For Jaikishan's Teri Pyaari Pyaari Soorat Ko on Rajendra Kumar (wooing Byrappa Saroja Devi) in Sasural (1961).
For Laxmikant-Pyarelal's 1964 Dosti, Chahunga Main Tujhe Saanjh Savere.
For Jaikishan's Bahaaron Phool Barsaao on Rajendra Kumar in Suraj (1966).
For Shanker's Main Gaaon Tum So Jaao on Shammi Kapoor playing Brahmachari (1968).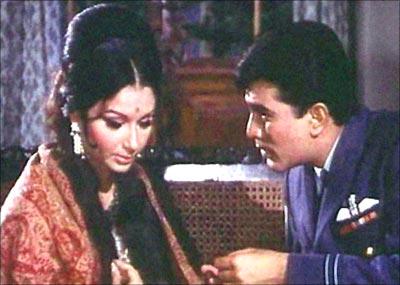 Here is where the Kishore Kumar factor intervened for Rafi to be able to win the Filmfare prize, again, only in 1977 -- ironically for R D Burman's Kyaa Huaa Teraa Waadaa in Hum Kissi Se Kum Nahin.
I recall Pancham, in his Santa Cruz music room, pointedly telling me that he never really cared for Rafi. So did Anil Biswas and C Ramchandra, at times even Salil Chowdhury, not vibe with Rafi. Still these master composers were 'the Rafi exceptions'.
Such was this tenor's Lata-matching dominance, through 1959 to 1969, that even Kishore-rediscoverer S D Burman firmly pitched for Rafi --- on Dev Anand, if you please --- with the 1958 Kala Pani classic, Hum Bekhudi Mein (set in Chhayanat).
A baton-wielding Dada Burman was even viewed to pat Rafi on the back as that singer put over this SD gem at Bombay's premier hockey ground facing Marine Drive!
Indeed, SD had originally wanted Rafi for that Raag Sindhura Talat Mahmood nugget on Sunil Dutt, Jalte Hain Jis Ke Liye, in Bimal Roy's Sujata (1959).
Take the same S D Burman's Meri Soorat Teri Aankhen Ashok Kumar starrer as the Bhairav-Bhairavi clincher in the matter. In this 1963 Ashok Kumar-Asha Parekh movie, all talk still is about the way Manna Dey gave measured emotional expression to Puchcho Na Kaise (in Ahir Bhairav).
But, in a sense, no less testing to render, in the same film, is SD's Naache Man Mora Magan Tig Da Dheegee Dheegee. If only because Rafi here has to keep Bhairavi pace with the virtuoso tabla of Samta Prasad (in my view, a wizard even superior to Alla Rakha).
In fact, Dada Burman had all but settled for Rafi, as his main singer, when Aradhana happened. The supreme irony here lay in the fact that, even in Aradhana, Rafi had been Dada's first choice, as playback, for Rajesh Khanna!
As should be manifest from the fact that the first two duets recorded for the film, Baaghon Mein Bahaar Hai and Gunguna Rahen Hain Bhanwre, are in the caressing voice of Rafi.
Lucklessly for Rafi, after these two recordings, S D Burman fell seriously ill. That left the field free for R D Burman -- as Dada's chief assistant still.
Never a Rafi votary, Pancham promptly brought in Roop Teraa Mastana Kishore Kumar on Rajesh Khanna (opposite Sharmila Tagore) in Aradhana. The rest is song history!
Actually Dada Burman viewed this development with mixed feelings as he returned from his sickbed. Kishore Kumar had been SD's pet for long, so that there was no reason to query Pancham's choice of singer. Yet there had been no reason whatsoever to jettison Rafi either -- after the way this singer, under SD's bountiful baton, had vocally come across in Goldie Vijay Anand's Guide (1965).
Without taking away anything from the Pahadi impact made by Kishore (and Lata) on Dev Anand (and Waheeda Rehman) via Gaata Rahe Mera Dil, Dada Burman frankly acknowledged that he could not have come up with his lifetime-best score, in Guide, sans the vibrant vocals of Rafi.
"Goldie's Guide," noted Dada, "offered me more scope to score than any other movie I had done through two decades in Hindi cinema. So that I have to concede that Rafi fulfilled my highest expectations in his rendition of Kya Se Kya Ho Gaya, Din Dhal Jaaye Haay and Tere Mere Sapne on Dev," Dada had concluded.
It therefore was on the tip of my tongue to ask Dada Burman as to why then Kishore Kumar had taken over so pre-eminently from Mohammed Rafi on Rajesh Khanna in Aradhana. The frugal Dada Burman had thrown one of his rare parties, at his The Jet Bandra bungalow, on the eve of Aradhana's release.
The central idea of the party was to announce that S D Burman was back with a bang after his debilitating illness. At that point, neither SD nor I could know that Aradhana would prove such a pathbreaker. Also, it would have been unfair to question SD on the Kishore point here, since it was RD who had played a signal role in the ultimate dropping of Rafi from Aradhana.
This industry is all about luck. It was sheer bad luck, therefore, that Rafi began losing out with Aradhana, considering that this singer, originally, was still SD's prime pick for that musical trend-setter. Yet you also make your own luck in this industry.
Here is where Rafi, I feel, failed to respond with all his seasoning when the Aradhana challenge came. Maybe Rafi had become a trifle laidback by then, as all vocal competition stood eliminated by end-1969.
As Talat Mahmood, Mukesh, Hemant Kumar and Manna Dey had been impelled -- gradually by the turn of circumstances -- to concede that Rafi's was the universal voice that the industry recognised as the one with the spot box-office pull.
From Dilip Kumar to Dev Anand, from Rajendra Kumar to Shammi Kapoor, from Jeetendra to Dharmendra, from Sunil Dutt to Joy Mukerji, Rafi had been the cult voice. As Shanker-Jaikishan, then Laxmikant-Pyarelal and Kalyanji-Anandji, dominated the turnstiles, there could be no doubt about Rafi's being number one.
Indeed, Rafi had grown so bold by 1969 that he had fought, by then, a running royalty battle with diva Lata Mangeshkar -- before the Aradhana body-blow came to be delivered. Lata, recognising Rafi's peer No 1 position by 1962-1963, had wanted this singer to back her in demanding a half-share from the 5 percent song royalty that the film's producer conceded to select composers.
Lata's contention was that, once Rafi joined her in the battle, there was no way producers and music directors could deny this singing duo, reigning supreme by then, one-half share in that 5 percent song royalty to the composer. But Rafi -- by this point charging the same Rs 5,000 for a song as Lata -- took a diametrically opposite view.
Rafi, following the sensational turn his career took, with his emerging as the classical voice of Bharat Bhushan with Naushad's Baiju Bawra (1952), had risen from the ranks on the humble principle that his claim on the film's maker ended with his being paid his agreed fee for the song.
After that, if the film proved a hit, good luck to the movie's maker, he was welcome to keep the Gramco (HMV) royalty he earned from it.
If the song failed to click -- argued Rafi -- he had already been paid his fee for rendering it, so that the film's maker and he were quits.
There was deadly logic in Rafi's reasoning running as: "We playback artistes don't create the song, we merely re-create it on the screen, as guided by the music director. We sing, they pay, so there the commitment of both sides ends."
Rafi was talking robust commonsense, but Lata viewed his stand as her royalty stumbling block. Lata dramatically said she would no longer sing with Rafi. Whereupon Rafi, greatly daring, observed that he, from thereon, was only so keen to sing with Lata as she was with him.
"If Lata is number one, Mohammed Rafi, too, is number one!" claimed our Trojan in a rare burst of self-pride.
Rafi perhaps nursed the sneaking feeling that Lata, in reality, was not prepared to acknowledge his late-earned suzerainty. While the two, for example, were rendering Tasveer Teri Dil Mein (to go on Mala Sinha-Dev Anand in Maya: 1961), Lata had even lost her cool with Rafi in a certain passage of the song.
Rafi here felt belittled upon seeing Salil Chowdhury siding with Lata. Certain composers were not all out for Rafi and Lata knew it. Yet just hear, afresh, Tasveer Teri Dil Mein and you just cannot tell where Rafi is anything less than Lata.
For years after that royalty ruckus, therefore, Lata-Rafi refused to compose their dueting differences. Even when they finally made up, it was only a professional reunion. After all, why let Mahendra Kapoor and Suman Kalyanpur advance further, when producers still wanted Lata-Rafi as the supremo duo?
Do always remember that, even in the case of a Son Of India Naushad duet (in Yaman) like Dil Tod Ne Waale (1962), Ae Dil Ke Sahare Rafi had to be paid the same Rs 5,000 as Lata. This is the norm in the industry.
Even a line by Rafi in the duet and the charge became Rs 5,000 for the male -- as for the female. A payment of Rs 5,000 might sound peanuts today. But it was a lot of many when colour had still to gain a firm foothold in the industry.
If Lata's price rose to Rs 15,000 for song with colour taking root in our cinema by 1964-1965, Rafi too now commanded a matching fee.
Rafi therefore saw no reason to submit to Lata any longer. For years he had played second fiddle. Now that his hour had come, Rafi was no longer prepared to undervalue himself. He held firmly to his royalty conviction and the industry -- especially the big music-director brigade in it -- was with Rafi!
That the same industry ditched the same Rafi after 1969, in the post-Aradhana era, is the way of the film world.
A new line of heroes was taking over from Dilip Kumar and Rajendra Kumar, Shammi Kapoor and Sunil Dutt, even Joy Mukerji was no longer the box-office talisman he used to be opposite Asha Parekh or Saira Banu.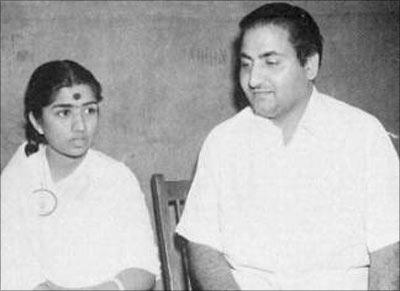 Thus far, Rafi had been the voice of one and all. Even Dada Burman, while never giving up on Kishore Kumar, had turned, willy-nilly, to Rafi with Khoya Khoya Chaand (on Dev Anand) in Vijay Anand's Kala Bazar (1960).
When therefore Dada Burman's own Aradhana overnight swung the industry tide against him, Rafi just did know what to do.
Where Kishore Kumar could mentally 'act' the song, Rafi was left to react. His stalwart heroes having failed him one by one, for the first time in his life, Rafi felt confusion to be entering his vocalising mind.
For all that, if R D Burman was emerging as the new wave-maker, Laxmikant-Pyarelal (rooting for Rafi still) never yielded the palm to Pancham.
Maybe Pancham set the neo-music trend, but Laxmikant-Pyarelal still ruled the juke-box office. Indeed the maximum number of songs rendered by Mohammed Rafi was to be for Laxmikant-Pyarelal -- a phenomenal total of 369 numbers, 186 of them being solos.
Compare this with Rafi's aggregate of 341 numbers (216 solo) for Shanker-Jaikishan and a total of 197 numbers (only 56 solo) for O P Nayyar.
So long as Laxmikant-Pyarelal were predominant, Rafi could hope and cope. But even L-P could not indefinitely sail against the Kishore-Pancham wind.
Still Rafi, by dint of sheer effort, had staged a comeback without parallel in the annals of the industry. A comeback beginning with Usha Khanna's award-winning Teri Galiyon Mein in Hawas (1974).
At a subsequent Usha Khanna recording, Rafi thought he had done full justice to this gracious lady composer's song. But Usha Khanna could not summon the gumption to tell a giant like Rafi that she had wanted 'a certain vocal effect' that she had not quite got in the song.
When Rafi later came to know of this, he asked Usha Khanna point-blank: "But why didn't you order a retake? Remember, you, as the music director, have the right to order me to this day."
That was the genuine humility of the man.
Even Lata had been taken on by Rafi only after continuing provocation. If only Rafi, likewise, had so stood up for his place in the sun where it came to accepting a mere Padma Shri! It is all very well to argue that the State was not fair to Rafi in the matter of the extent to which it chose to honour him.
Yet the fact remains that the Padma Shri was a citation Rafi could have politely spurned. Indeed Lata had quietly done just that --- until they bestowed her with a Padma Bhushan in 1969.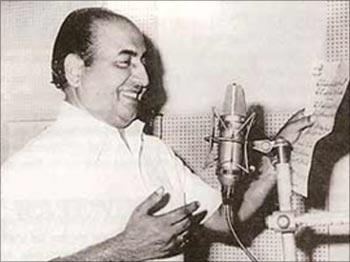 After that, the powers that be knew that they could take Rafi for granted. Rafi felt deflated as Lata's silver jubilee in films came to be announced by the state government of Maharashtra.
Lata had first sung in All-India Hindustani cinema only after Independence in 1947 (Aap Ki Sewa Mein), so how could she be completing her silver jubilee in 1967 --- before Rafi? But Rafi dared not say that aloud.
For they were reckoning Lata's silver jubilee from Kiti Hasaal, the 1942 Marathi film from which her debuting song, Naachu Ya Gade Khelu Saari Man Haus Bharee, had been dropped! This 1967 Lata silver jubilee was the turning point. After that big happening, Lata always seemed to have the drop on Rafi.
Of course, Rafi should have won many more honours than he did, considering the scale of his achievement. But his own humble persona became a bar to his getting his due -- beyond the Padma Shri Mohammed Rafi Chowk in the Bandra suburb of Bombay.
For instance, Rafi could have been bestowed with the Padma Bhushan even after he became a Padma Shri. But I doubt if Rafi knew about this, whether he discerned that winning a bigger award involved no end of lobbying. This was something at which Rafi was no good in any case.
Shall we say that his own in-built sense of humility ultimately worked against Rafi? It won him friends, but it did not influence people who awards-mattered.
Or, who knows, maybe Rafi, ultimately, did divine how badly he'd been had. Certainly the stand he took against Lata, on the Guinness Book Of World Records issue, was not expected. It caught Lata totally unawares.
'The claim of the singer referred to in that (Guinness) column, to have recorded not less than 25,000 solo, duet and chorus songs, is open to challenge,' Mohammed Rafi wrote in a letter dated June 11, 1977 to the volume's publishers.
Rafi just let himself go in that letter, only to get a rather escapist reply from Guinness. So that Rafi persisted, in a letter dated November 20, 1979, as he wrote: 'I am disappointed that my request for a reassessment vis-a-vis Ms Mangeshkar's reported world record has gone unheeded.'
There is more in that vein, yet Guinness is a theme for another day. If only because it needs more elaborate treatment. Yet just take a re-look at this Guinness 1984 noting:
Most Recordings: Miss Lata Mangeshker (b 1928) between 1948 and 1974, has reportedly recorded not less than 25,000 solo, duet and chorus-backed songs in 20 Indian languages. She frequently had five sessions in a day and has 'backed' 1800 films to 1974. Mohammad Rafi (d 1 Aug 1980) claimed to have recorded 28,000 songs in 11 Indian languages between 1944 and April 1980.'
The above Guinness listing woefully gets Lata's spelling wrong -- as Mangeshker instead of Mangeshkar. Also, inexcusably, Lata's year of birth wrong --- as 1928 instead of 1929. It even gets Rafi's date of death wrong - as August 1, 1980 instead of July 31, 1980.
How much real store do you, in the circumstances, set by the Guinness listing?
Yet, the televised myth persists that Lata has sung 30,000, even 40,000, songs. When Lata has still to touch 6,000 songs!
Never forget that Mohammed Rafi, in a 35-year singing lifetime, could aggregate but 4,516 Hindi film songs. Add to that 112 non-Hindi film songs by Rafi. Plus 328 private (non-film) numbers of Rafi. The total, in a sturdy Rafi career spanning 1945 to 1980, comes to but 4,956 songs.
Likewise Lata, in reality, has yet to reach 6,000.
Asha Bhosle it is, in fact, who occupies pride of place --- she completed 13,000 songs. And that must rate as the highest in Indian cinema -- Guinness or no Guinness.
Most important -- Guinness itself expunged the Lata listing as early as 1990. Yet we are now told that Lata's tally has gone up (from 30,000) to 40,000. Where poor Mohammed Rafi huffed and puffed, yet could not touch 5,000.
Should Rafi, therefore, have disputed the Lata Mangeshkar tally so stridently? Losing sight of the vital fact that Lata herself had never laid any claim to any record?
"I don't know anything about it," Lata is on record as saying. "I don't know how my name appeared in the Guinness Book, or where they got their information from. Certainly I didn't supply it. I don't keep a record of the number of songs I have sung."