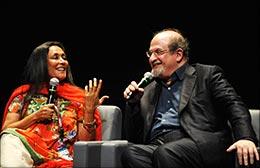 As Salman Rushdie and Deepa Mehta unveiled their project at the ongoing Toronto International Film Festival this week, everyone was left guessing who the Bollywood diva was that Rushdie said turned down a plum role in the film.

Salman Rushdie's Midnight's Children is one of the most honoured books of the last three decades; it is also a bestseller in many countries but a certain Bollywood diva, who was considered for a plum part in the film project, apparently had no idea what it was about.

The unenviable task of narrating the story to the clueless actress fell on Rushdie.

At the bidding of Deepa Mehta, the director of the film, the celebrated author outlined the plot while he and the actress travelled to the airport here in Toronto in her stretch limo. She was in the city to promote her film at the festival. She showed little interest in the project when she got off at the airport but asked for the script to be sent to her office in Mumbai.

Salman Rushdie tells this story at a special event at the Toronto Film Festival when explaining how his novel came to be adapted into a movie which will be released around this time next year. Some 350 people turned up at the full house event to listen to Rushdie and Mehta on Monday. The rush line had about 60 people waiting in the scorching September sun.

A few weeks later, Rushdie continues with his story, he and Mehta meet the unnamed star in her office. Rushdie remembers there was plenty of food. He had begun to realise that when people want to say 'No' to you, they make sure there is plenty of food on hand.
Anyway, the star says she liked the script, but discovered that she had to play the mother of a teenager. She confessed she had never thought of playing a mother and in the process, wasting her youth.

Rushdie said he was itching to tell the actress that in certain scenes she has to play the character when she was 17, about half her real age.

The desis present on the occasion immediately began wondering who the diva could be. How many famous Bollywood actresses have been at Toronto, wondered one. Could it be Freida Pinto? She may be a big star outside India, but she is not a Bollywood diva, argued another. His friend says, "We are then left with Priyanka Chopra, Preity Zinta and Rani Mukerji. But it cannot be Preity because she has worked with Mehta in one film."

Anupam Kher, who plays a key role in the movie, asks Deepa Mehta during the Q and A why she wanted to cast Bollywood 'biggies.'

Mehta says a talented Bollywood actress might have helped bring in money from Indian financiers and distributors.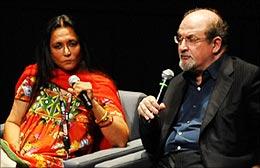 Rushdie is all praise for the cast. The younger and relatively new artists could become stars with the film's release, he predicted. "It is ensemble casting," he asserts, adding that he cannot understand why people do not understand the importance of such casting.

The film has older artists such as Shabana Azmi, Khulbhushan Kharbanda, Seema Biswas and Rahul Bose. And then there are younger artists such as Satya (Sorab) Bhabha, who has worked in the off-beat New York theatre and big Hollywood films such as Scott Pilgrim's The World and Shahana Goswami, Samrat Chakrabarti, Shriya Saran and Darsheel Safary.

Having seen Darsheel in Tare Zameen Par, Rushdie was worried about his bad teeth. "He plays the younger Saleem and that meant the older Saleem (Satya Bhabha) would have to have bad teeth too," he says, chuckling. He was relived to hear that Darsheel's teeth had been fixed.

It is difficult to explain what the book is about and hence, it is tough to explain what the film is about in a few sentences. For now, the description says: A pair of children born within moments of India gaining independence from England, grows up in the country that is nothing like their parent's generation.'

"I would say it is a work of humanity, a work of hope," Mehta adds. As the film traverses many decades, it also shows the games the imperialists played which produced calamitous events, she continues.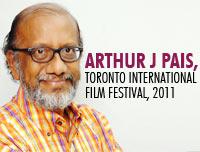 She confesses she was nervous of lopping off chunks off the book and hence asked Rushdie to write the screenplay. He refused at first but then gave in. The 267 page script had to be pruned down to about 132 pages.

Rushdie have full credit to David Hamilton, the film's producer and Deepa's husband. "People say Deepa and I made this film. It is David who made it. Without him raising the money, we would not have had this film."

Rushdie recalls how annoyed he was when a Delhi University student asked him many years ago what Midnight's Children was all about.
But as he started distilling the book's essence into a screenplay, he asked himself the same question: What is this film going to be about? He says it then became clear to him that the film had to make sense by itself, and even those who had not read the book had to appreciate the film. He decided to be as disrespectful to the book as possible, throwing off chapters and chapters.

Having watched the film's rushes, he says, Mehta has made a film that is an epic and yet an intimate work.

Deepa Mehta and Salman Rushdie's photographs: Jerod Harris/Getty Images