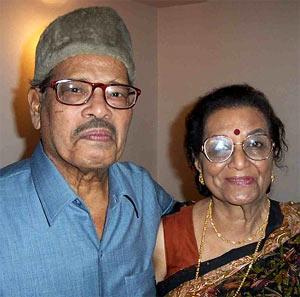 Arthur J Pais remembers the time when legendary singer Manna Dey, who passed away on Ocotber 24, recorded his first ever Malayalam song for the film Chemmen in 1965.

Manna Dey was rehearsing his first ever song in Malayalam, Manasa Maine Varu, when one of his young daughters peeped in and asked what the song was about and what language it was in.

Manna Dey remembered telling her that the song was for a Malayalam film called Chemmeen. And the music was composed by Salil Choudhury who was also working for the first time on a Malayalam project.

His daughter made a face, the singer said, chatting with Rediff.com, and told him to play the song for her mother.

"She will help you with it," the daughter said, "because right now this is not Malayalam."

Manna Dey said it was a humbling experience. His wife Sulochana, whose family came from Kerala, and who spoke fluent Malayalam, coached him thoroughly for several days.

The film, directed by Ramu Kariat, became a huge hit not only in the South but also in other Indian states, and established Choudhury (whose Hindi film hits included Madhumai) as a formidable composer in Kerala for nearly a decade.

The film received many important awards, and Manna Dey shared in the honours.

"Even then, I felt I had not done full justice to it," he said, "But that was not for want of trying."

He said listeners in Kerala were "very kind" and forgave his minor lapses. "But over the years, as I practised and practised and sang it on the stage, the singing and pronunciation improved a lot."

He met Sulochana in Mumbai where her father had a business. She was inclined towards the fine arts. He wrote in his autobiography Memories Come Alive that they first met at a Rabindra Sangeet recital organised by the Indian Cultural League in May 1948.
Manna Dey was teaching Rabindra Sangeet in Mumbai at the time.
He was new to the city. He had spent over two decades as a singer and composer in Kolkata. He had assisted S D Burman in a few films. He was also assistant to his uncle, the composer and singer K C Dey, who was blind and relied on his nephew to do the book keeping and other official work.
Manna Dey and Sulochana sang the duet
Ami Tomaro Shongey Bendhechhi Amaro Pran
during an event in Mumbai and soon they were dating.
He was yet to make a reputation for himself, which came with his singing in such films as
Awara
,
Madhumati
and more importantly
Baiju Bawara
and
Shri 420
. He became the second voice for Raj Kapoor after Mukesh.
He married Sulochana in 1953. She succumbed to cancer in 2011.
'I can claim without the slightest hint of embarrassment that all the love songs I ever sang following our marriage are dedicated exclusively to her,' he wrote in his autobiography. He also said he would think of his wife while working on romantic songs such as
Yeh Raat Bheegi Bheegi
and
Pyar Hua Ikrar Hya.
The
Chemmeen
experience had taught him never to take anything for granted. "Every song I sang would be like it was my first and last song," he said.
"That is what I tell the singers who perform with me on the stage, be it the daughter of Salil Choudhury, Antara, or some other singer."
Several Bengali and Hindi film singers, including Kavita Krishnamurthy, performed with him in major concerts across India before making a name for themselves.
"I would tell them, never cease to learn. I would also tell them, look at the legends around you, listen to the songs of Lata Mangeshkar and Asha Bhosle, pick up their most difficult songs and sing them over and over again. But be true to your own voice and your own calling."
Image courtesy: mannadey.in