'Wherever I am, in the country or abroad, I spend at least one hour on myself.'
'If you aren't doing that, you are doing injustice to yourself.'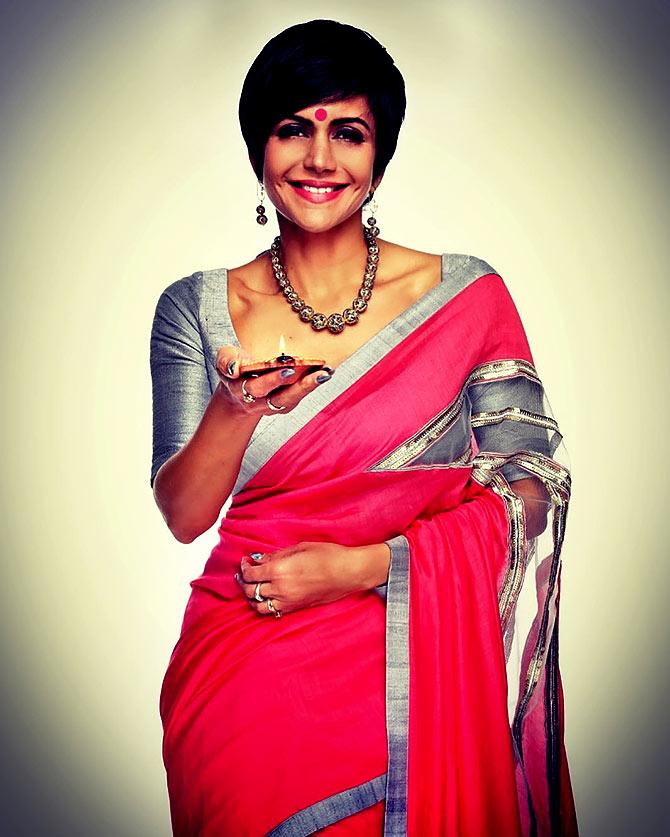 Mandira Bedi has plenty to say on fitness.
The actress and television presenter has been looking gorgeous and ageless, and she has never shied away from revealing the secret behind it.
She updates her Instagram feed with exercise time tables as well as fitness videos, showing everyone just how it's done.
In the first part of this conversation with Rediff.com Contributor Divya Solgama, Mandira reveals her mantra: "You can't beat what you eat."
Your fitness videos on Instagram are very inspirational. What is your daily regime?
I am on a 100-day challenge where I have to exercise every day.
In any case, I exercise four-five days in a week.
Wherever I am, in the country or abroad, I spend at least one hour on myself.
In 24 hours, we sleep at least seven hours. That leaves us with 17 waking hours.
So one can definitely take at least one hour for one's self from those 17 waking hours. If you aren't doing that, you are doing injustice to yourself.
On a day when I am not working, I wake up at 6.30 am, drop my son to school, drive to the gym and then my day starts.
During my working days, be it at any part of the world, I usually work out in the first part of the day because you don't know how the latter half will be.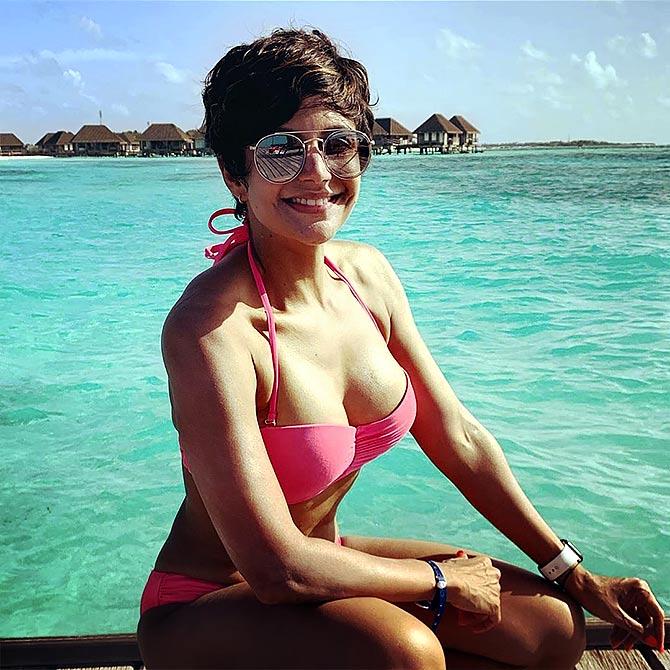 Is it tough to stick to your daily regime during vacations?
In fact, that's the best time for me to exercise.
I went to the Maldives recently and spent two-three hours exercising.
My husband thinks the opposite because for him, it's all about relaxing.
For me, I get excited during the holidays and try to do all sorts of exercises like swimming, cardio etc.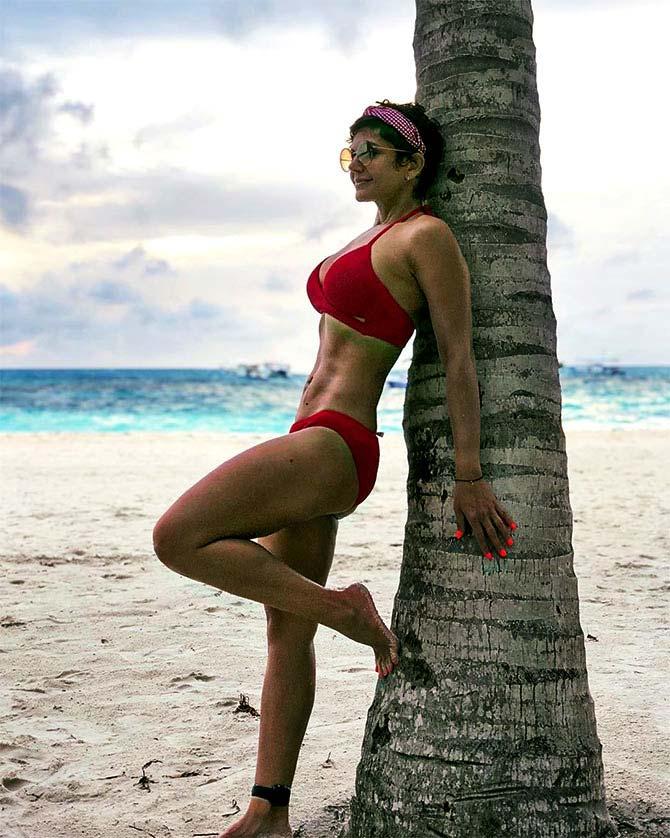 Do you have cheat days during vacations?
Yes. During holidays, I let go off my diet.
But the hours of exercise balances out the diet.
Please share five fitness tips.
#1. Go back to that equation, where we deduct seven hours of sleep from the day, giving us 17 waking hours. From this, one must spend at least one hour exercising.
#2. Always carry your walking or running shoes along because walking and running is the best form of exercise.
Also, you are not wasting time on getting dressed or going to the gym. You can actually start your exercise as soon as you tie your shoe laces.
#3. Bring a little bit of cardio into everything you do.
I do cardio exercises like jumping jack, skipping, running...
#4. Always listen to your body.
With all the exercises I do, sometimes a knee, an ankle, a shoulder or any part of the body can get injured. So do not overdo it because that worsens the situation.
Always listen to your body because it will tell you what kind of soreness you are experiencing on which part of your body.
#5. Abs are made in the kitchen.
You can exercise for two hours every day, but if you eat four scoops of ice cream after that, it will not balance out.
You can't beat what you eat -- that's the mantra I follow.
Always eat healthy.
You don't have to eat salads all the time. Just eat normal food, but not the wrong food like two deserts a day or fried foods.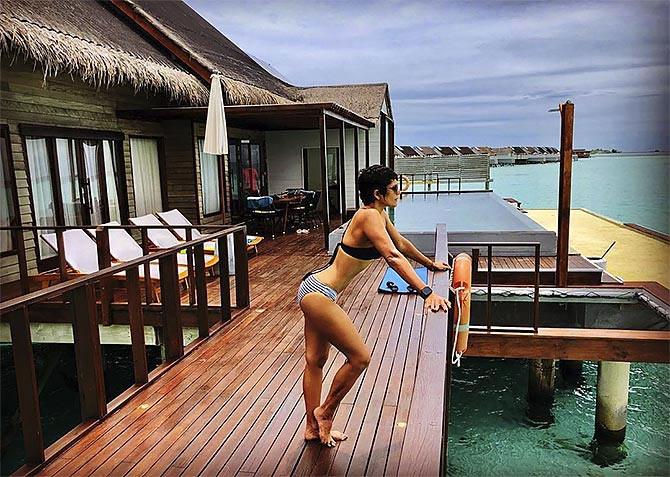 Can one indulge in the festive season?
Don't worry about that because I ate gulab jamuns and kaju katlis during Diwali too.
But one has to remember that the moment the festive season is over, you have to get back on track.
I put on some half-a-kilo or one kilo of weight after having cheat meals during the festive season but one has to get back on track to balance it out.
Which actors inspire you with their fitness?
Ranveer Singh is very fit, even Varun Dhawan.
Salman Khan has been going shirtless for years.
He is definitely taking care of his abs and health for the longest time now.
In the second part of the conversation, Mandira gives marriage advice: 'In my 20 years of marriage, I share very good communication with my husband and we understand each other very well now.'
---
Divya Solgama loves masala entertainers as well as hard-core realistic films. Divya can be contacted at movies@rediff-inc.com
---