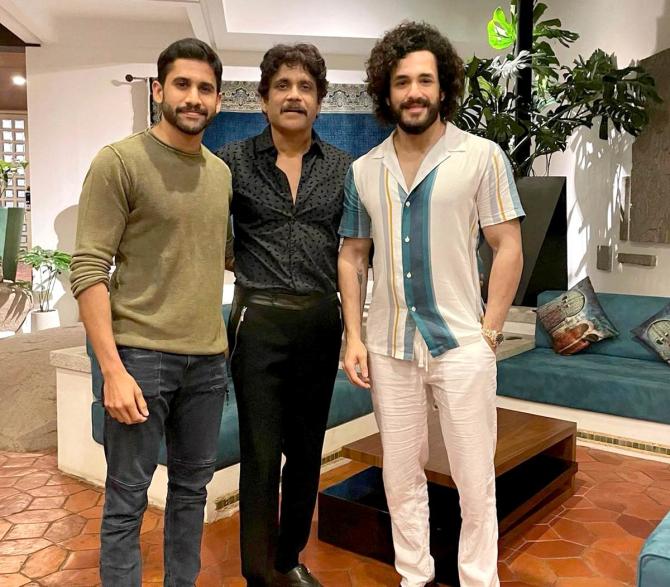 The success of his latest release Love Story has given Naga Chaitanya a new phase in his career.
"I've never felt more confident as an actor," says the starwho celebrates his 35th birthday on November 23.
"So far, it's all been a process of trying to understand myself as an actor. Only now do I feel I know my strengths and weaknesses as an actor... or rather, I am just getting to know them."
Chay will be seen next in a film with his father Nagarjuna.
"I have done a film with my father early in my career. It was called Mannan where I had a double role. My late grandfather Akkineni Nageswara Rao was also a part of it. Now I think I am confident enough to face my father again on camera," he says.
"Bangarraju is a sequel to my father's superhit film Soggade Chinni Nayana, which came in 2016," Chay tells Subhash K Jha. "The plot is slightly modified from the original. My role has been stitched into the plot and then there's some action too. It will be an out-and-out commercial entertainer because that is what fans expect from us."
"While I prefer a more low key style of acting, my father belongs to a different school of acting," he says. "He belongs to that larger-than-life school of cinema for which I have to rearrange my acting chops. People think commercial cinema is easy to do, but I think it's very difficult to attempt anything in the larger-than-life genre."
What are his birthday plans?
"No plans as such. I am in Mysore for the entire month, shooting for Bangarraju. I think a teaser of the film will be put out on my birthday. It's a working day for me, and I'd like it no other way."