'The passing away of his mother just days before the premiere of his first film, his controversy with terrorism, his relationship with his father, the women in his life... everything was shocking for me.'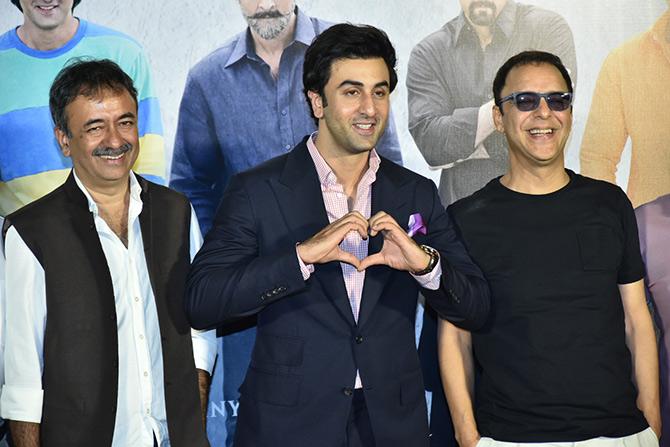 The teaser launch of Sanju, the Sanjay Dutt biopic, started with a video featuring SanjuBaba.
Dutt, who is shooting for Torbaaz in Kyrgyzstan, said he could not believe that a film was made on his life.
After watching a few scenes, he said he could not believe how close Ranbir's looks and mannerisms match his.
'Raju, Munnabhai mein, Ranbir ko mat lena,' Dutt teases Director Rajkumar Hirani who give SanjuBaba's career a fresh lease of life with his Munnabhai films.
Ranbir, like Dutt says, seems to have nailed it in the teaser.
All six Dutt looks Ranbir adorns in the teaser are bang on, along with the mannerisms, the swagger and the voice.
Yet, it seems a sanitised version of Dutt's dark life of drugs and prison.
When Hirani and his long-time collaborator Professor Abhijat Joshi met Sanjay Dutt, Producer Vidhu Vinod Chopra disclosed, it was to discuss the next Munnabhai movie.
When Raju and Abhijat returned, they told Vidhu they had a better subject than Munnabhai: Sanjay Dutt.
"I thought they had lost it," Vidhu told the media, "Ithought there was nothing interesting in Sanjay Dutt's life."
But when they narrated the story, he discovered a Sanjay Dutt and Sunil Dutt he hadn't known existed even though he had known them for over 25 years.
Listening to SanjuBaba's colourful stories, Vidhu was not sure if they could be used in a film. But Dutt was okay with it.
Vidhu got Sanju to sign an agreement so that Raju could show what they have in the film.
"Ranbir has done a brilliant job," Vidhu exclaims. "What he has done in the film is unbelievable!"
Then lapsing into characteristic Chopra candour, Vidhu declares: "He is perhaps the best actor in this industry, but his choice of scripts have been stupid."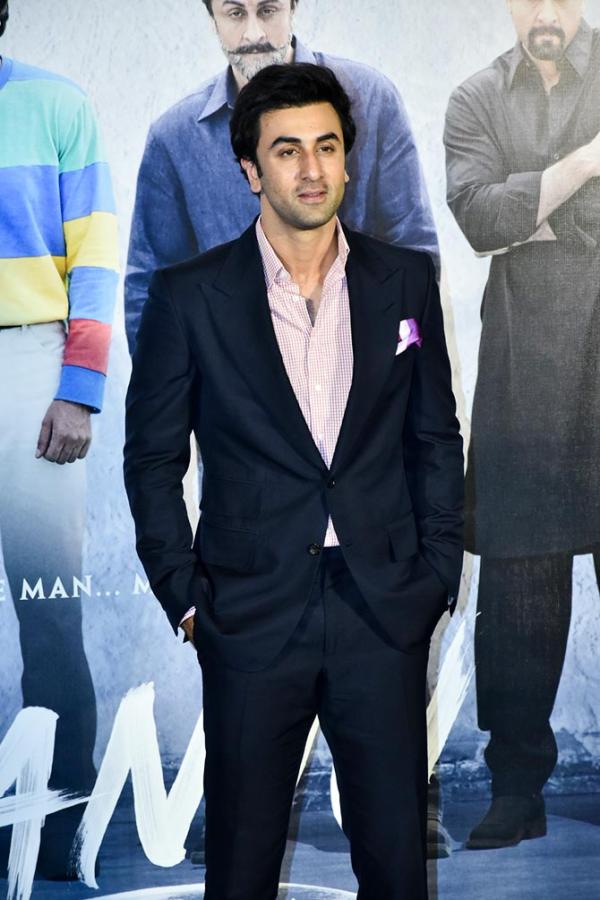 Will Ranbir change his choice of scripts after Sanju?
"I wish every actor knew what he was doing and had a plan. Then, everybody would be a superstar," Ranbir replies.
"I am trying to learn from my own mistakes. I keep reminding myself that it's a bend, not the end," the actor says.
"Life is difficult and requires a lot of hard work, so 'lage raho'. Keep working."
"I have always been a Sanjay Dutt fan," Ranbir admits. "For me, it was a fan trying to play his icon on screen. The most difficult thing I had to do was give myself confidence that I could play this role."
"When Raju sir told me about this, I felt I didn't have confidence, courage and understanding to do it. I don't even have the acting chops to do it."
"I consider Sanju sir as my icon -- a flawed person, but also a good one," Ranbir says, adding, "I have observed Sanju sir all my life. I spent time with him too."
There are six looks in the film. Did it take a toll on his body?
"Not at all! I had a great team. We spaced the film out and shot it through a year. The number of days we shot weren't much, but I gave myself a month's break between every phase," Ranbir reveals.
"A year before that, we did a lot of prep and screen tests, so that Raju sir would have the confidence that I could look like a muscular Sanjay Dutt."
"I am not muscular; I have a thin frame. It's very hard for me to put on muscle. I can look like Sanjay Dutt, who comes out of jail or the one doing Munnabhai, or the young Sanjay Dutt from Rocky, that was easy because that is how I look," he says.
While he found it easy to look like the young Sanjay, Ranbir felt the part was difficult.
"Young Sanju was difficult because there are different facets. We had to show him doing drugs and then coming out of it, then his mother's death. The most fun was the Munnabhai phase," he says.
Did any part of Sanjay Dutt's life shock him?
"The whole script shocked me!" Ranbir exclaims.
"I know a different Sanjay Dutt. I have known him as a family friend, and he has always treated me as a younger brother. I have seen the Sanjay Dutt of Khalnayak, the action hero. The style icon with his long hair. I knew all that."
"When I read the script, I understood his journey, and that was really shocking for me."
"His drugs phase and how he came out of it. He fought that at such an early age. The passing away of his mother just two or three days before the premiere of his first film (Rocky), his controversy with terrorism, his relationship with his father, his best friend, the women in his life... everything was shocking for me."
"I was thinking how can a man have so many lives in just one life?"
"I am 35 today. By the time he was 18, he had done five times of whatever I did in my life."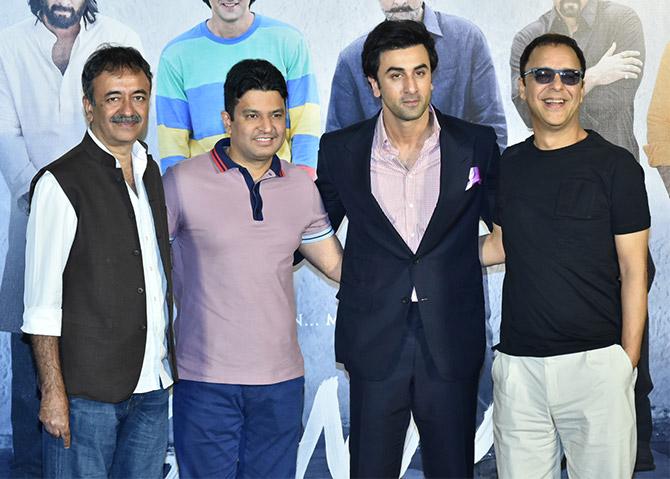 Will Ranbir ever agree to a biopic on his life?
"Yes, I would, but I don't think my life is inspiring. I am a very boring person. I work and sleep at home. It will look like a existential movie; I don't think it will work," he says.
What was Sanjay Dutt's reaction to the rushes of the film?
"There is a scene with Sunil Dutt saab and Sanjay Dutt in Munnabhai MBBS," Raju says.
"We shot that for this film. I was very excited and showed it to Sanjay Dutt. He did not react at all. Everybody else loved it, but Sanjay Dutt did not react."
"I made him watch it again and again, but he did not react, so I asked him whether he liked it or not. He said, 'I don't think this is good news for me.' I think Sanjay Dutt gets overwhelmed just by thinking that a film has been made on his life."
Raju Hirani presents his film in a light-hearted way even though some situations in Dutt's life were tumultuous.
"A biopic is a different monster all together; you don't have total control over it like you do while writing a fresh fiction screenplay," Raju says.
"With the biopic, you have to be true to what has happened. It is a different kind of craft, we discovered," the director adds.
"Sanju gave us anecdotes from his life, and we had to string it all together. I am interested in human stories, so I picked up those parts. There is a story of friendship, of his father..."
"We have not added fiction, but we have dramatised a few things," Raju says.
"We have made some scenes funnier and added more emotions to other scenes. We were not present when things happened, so we don't know the conversations. We have added dialogues and emotions accordingly."
"We have toned down certain things too."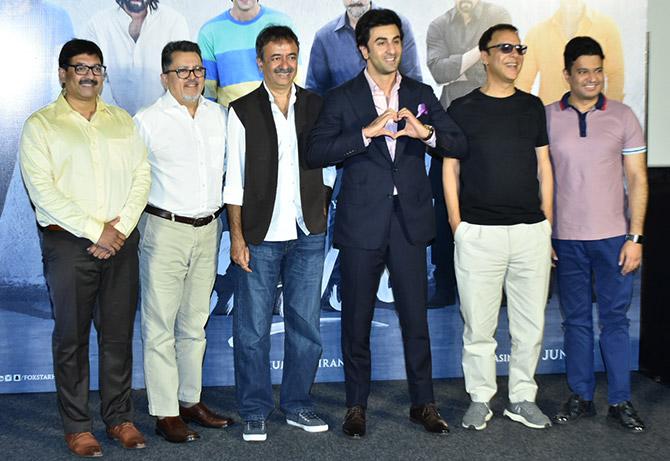 "One day," Professor Abhijat Joshi -- who wrote the Munnabhai films -- recalls, "Sanju said Barack Obama knows me as Munnabhai. I checked my watch to see what time of night it was to check how drunk he was."
"Once Sanju was walking on the streets of Chicago," says Professor Joshi, "Obama (he was then a state senator in Illinois) was at a political event. When the Indians saw Sanju, they left Obama and ran towards him, calling, 'Munnabhai'."
"I checked the incident and it was mentioned in the Chicago Tribune in August 2004. I showed him the paper, and asked him if Obama was the biggest icon he interacted with. He said, 'No, that would be Nelson Mandela.'"
"When we started writing the film, we realised it was the most astounding film we had ever come across. We had 725 pages of transcript," reveals Professor Joshi.
"It was tough to decide which scenes would be kept in the film. It was like reading a novel of Fyodor Dostoevsky, dark and deep and suddenly, a chapter from P G Woodhouse would come out," adds Professor Joshi, who teaches English at Otterbein College in Westerville, Ohio.
"It was goofy and dramatic."