How to keep it cool in the blazing hot summers?
Bring out the lemonades and linens!
Summer is upon us and the only way to beat the heat is to treat everything with a sense of humour. And what better way to start than with Bollywood?
We've compiled some fun wisdom on how tinsel town's hottest stars handle the hottest time of the year in the movies.
Sun(ny) bathing!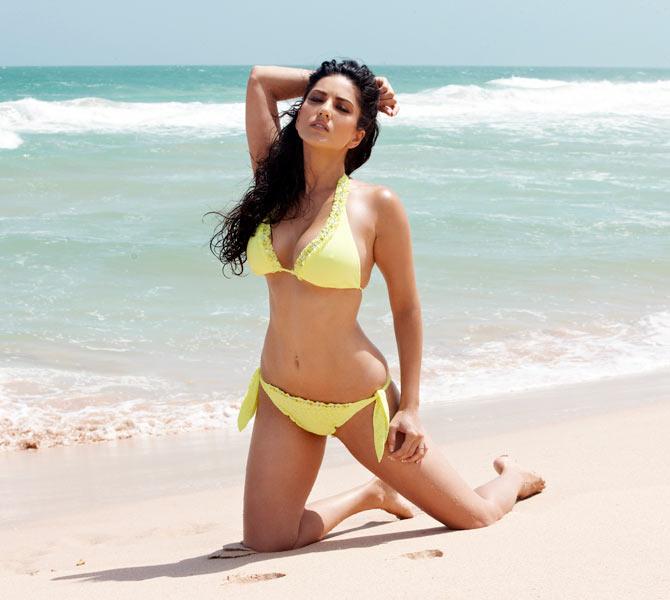 Image: Sunny Leone in Jism 2
What happens when the most scorching star on earth comes in contact with the most scorching star of the solar system?
Sun wars, of course.
But if it involves Sunny Leone soaking its own kind in itsy-bitsy swimsuits, let's see who complains.


Keep it bare minimum!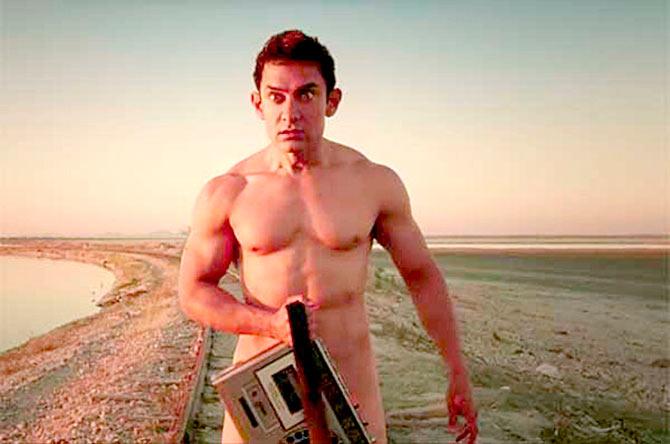 Image: Aamir Khan in PK
Any mention of bare bodies invariably leads us to Aamir Khan's nanga punga display -- one that makes John Abraham's yellow trunk appearance so terribly overdressed, one that you're better off not impersonating in public lest you wish to feel the heat of the worst kind.
Considering everyone roams around naked on his planet, one can only imagine how sweltering the weather must be.


Katrina's aquaobic classes!
Image: Katrina Kaif in Dhoom-3
Katrina Kaif sure knows how to keep it cool.
And no, we don't mean by sipping by all those complimentary cartons of mango juice.

The stunner is a pro at what looks like Bollywood's idea of water yoga aka Broke-my-back-trying-to-bend-it-like-Kaif.


Flash your a, er, sass!
Image: Anushka Sharma in Matru Ki Bijlee Ka Mandola
Here's how Anushka Sharma takes care of her 'chippp chippp' woes.
A dip in the village pond that includes flaunting her tattooed rear, sassily signed -- Dekho magar pyaar se.


Dance of the Grasshoppers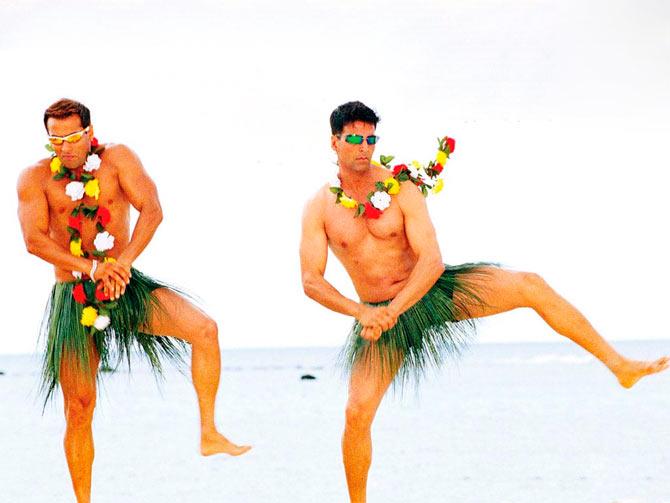 Image: Salman Khan and Akshay Kumar in Mujhse Shaadi Karogi
Extreme temperatures can cause people to become all cuckoo.

In Bollywood, it translates to entertainment.
Akshay Kumar and Salman Khan's desperate dance to whip up some breeze wearing hilarious hula skirts is a case in point.


Frozen princess!
Image: Sonam Kapoor in Aisha
Everybody loves to gobble on heem-creem in summers. Can you match Sonam Kapoor's enthusiasm?
The Aisha star likes it so much; she's parked herself in an empty refrigerator with a tub full of chocolate flavoured ice cream.
P:S: Doesn't this image bring back creepy memories of a frosted Pallavi Joshi in one episode of Zee Horror Show?


Of zzzzzzs and sizzles!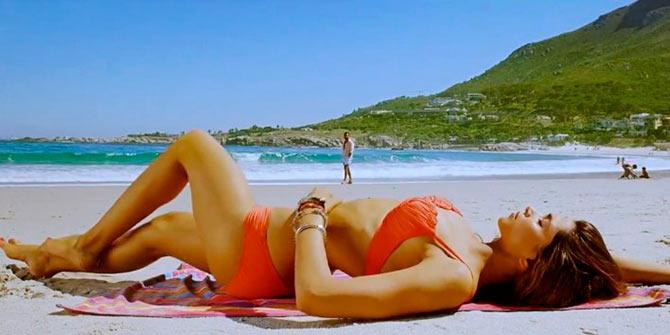 Image: Deepika Padukone in Cocktail
All those profound speeches on fighting depression and woman empowerment must get tiring for the Piku gal.
Deepika Padukone catches up on her beauty sleep in an outfit that aims to provide comfort to both -- the wearer as well as beholder.


Krrish turns Dolphin!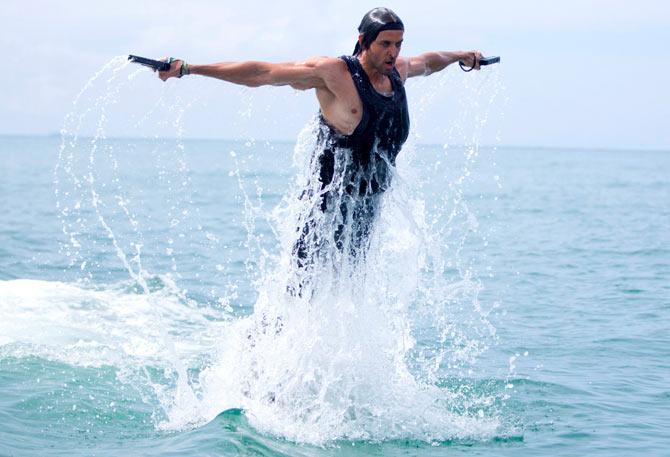 Image: Hrithik Roshan in Bang Bang
Where mortals shed clothes and accept ice bucket challenges to escape the sun, Hrithik 'I am so cool' Roshan magically transforms into an aquatic being.
Look how the man leaps out of the sea like a dolphin. Only with squirt guns in both hands!

What a show off!


Hydration is the key!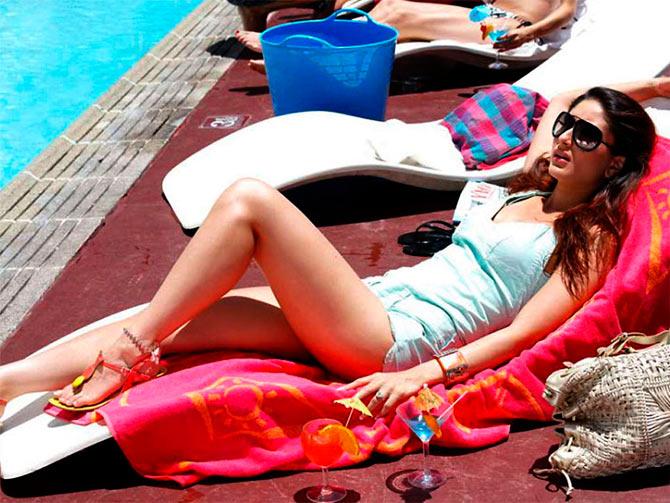 Image: Kareena Kapoor in Kambakkht Ishq
Drink lots of fluids is the ultimate cliché of summer dietary tips. Kareena Kapoor would know. She's co-authored a book on all things fashion and beauty.
Those colourful coolers on her side while she lounges in the sun sure underscore Bebo practises what she preaches.


Beach body catalogue!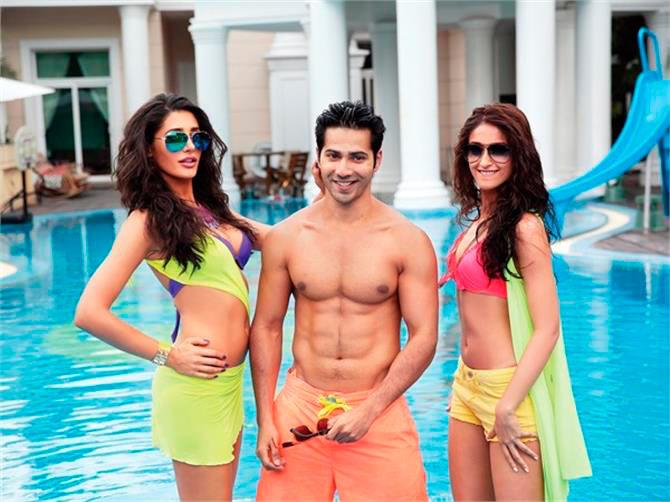 Image: Nargis Fakhri, Varun Dhawan and Ileana D'Cruz in Main Tera Hero
Flanked by leggy lasses (Nargis Fakhri and Ileana D'Cruz) on either side, Varun Dhawan and his proud torso suggest, it's a great season for body beautiful folk.
Don't you think the troika looks straight out of an Archie Comics 'Summer Fun' cover in that pose?


Fanboy fun!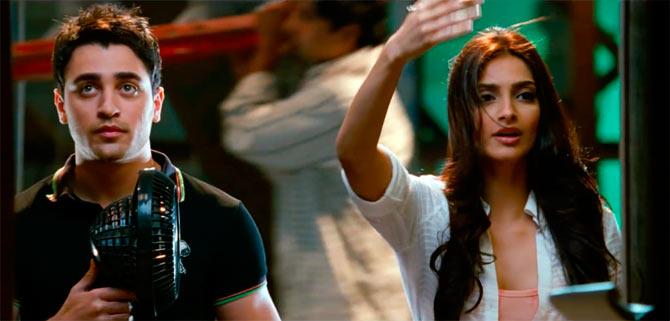 Image: Imran Khan and Sonam Kapoor in I Hate Luv Stories
Everybody likes a fanboy. Especially the ones that follow you everywhere with a portable fan in hand like Imran Khan.
Bet Sonam didn't sweat over all that attention.
Who would if such eye-catching provision for mobile breeze was at one's disposal?


Shake, shade & stir!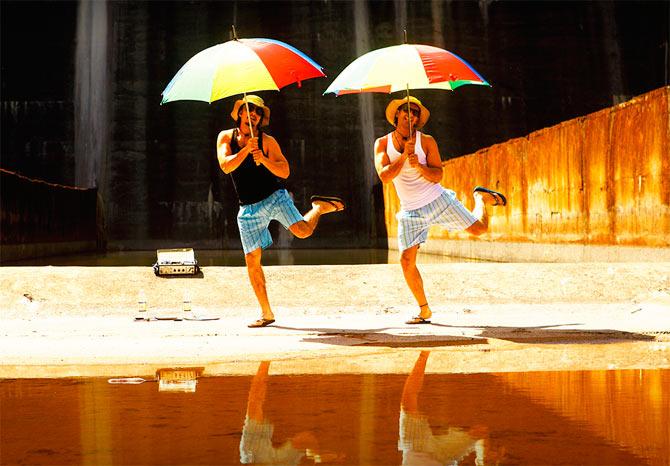 Image: Ali Zafar and Ranveer Singh in Kill Dil
Underwear-clad Ranveer Singh and Ali Zafar take refuge under colourful umbrellas whilst doing an impromptu jig.
Such a Dhoop mein nikla na karo moment, this!


Toil under the sun!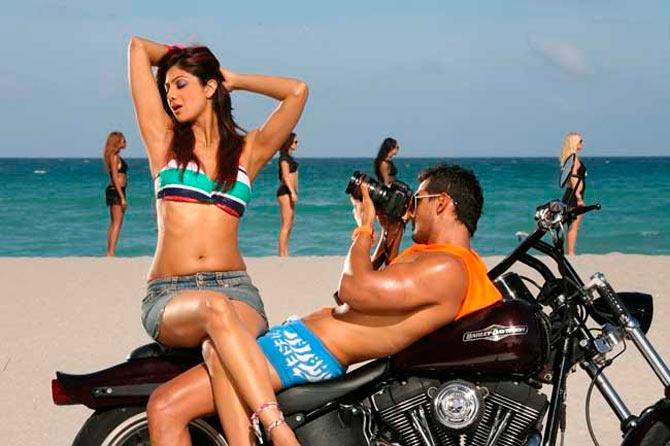 Image: Shilpa Shetty and John Abraham in Dostana
You'd think everyone (unless you're the Dhoop-pleading Jadoo of Koi... Mil Gaya) prefers to finish their job huddled in air conditioned offices. Not Bollywood and its extreme pursuit of Vitamin D.
And so you have John Abraham's photographer grabbing snapshots of a smouldering Shilpa Shetty against Miami's gorgeous beach backdrop, hard work was never rewarded this favourably.