'I looked at the smiles around and realised that each day that I smiled was amazing.'
'So I put into play something that I have been toying with for years.'
'I called it the Rich Universe.'
'You often hear people say "I wish I become a superstar and my life gets made".'
'I wondered how it would be if I said if I hug my father, it would be an amazing day, or if I hugged my mother and said how lucky I am.'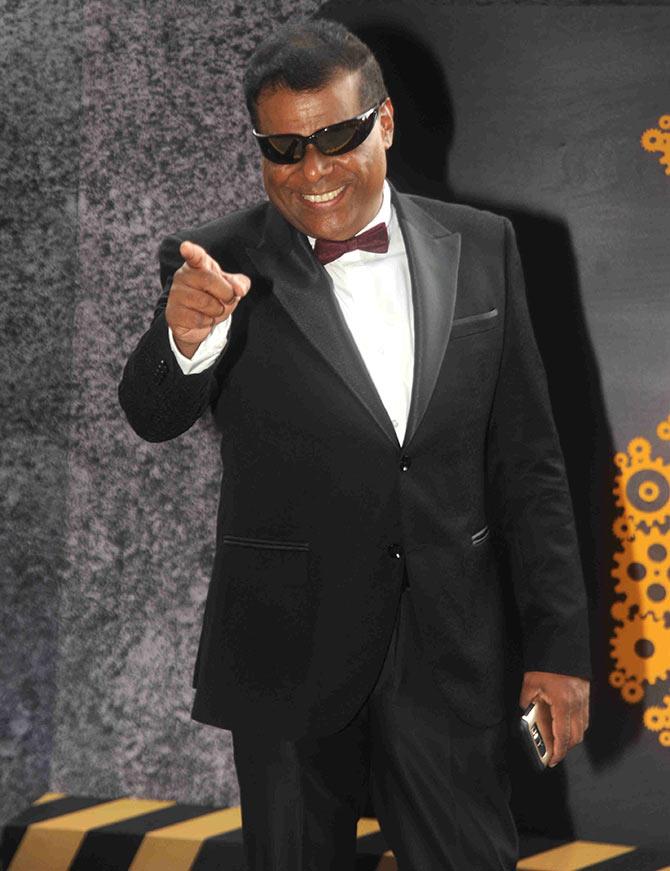 IMAGE: Ashish Vidyarthi at the launch of the 24 trailer. Photograph: Pradeep Bandekar
Ashish Vidyarthi may have played a villain in his films, but he's one very positive person in real life.
The actor, who started his acting career with 1994's Droha Kaal, had gotten upset with the Bollywood films he was doing and traveled to South India for a better selection of movies. Then he got lonely and started missing his family.
That was when he re-discovered himself and changed his attitude towards life.
Rediff.com's Patcy N speaks with Ashish Vidyarthi about his films and his life choices.
Few know you are a Malayalee...
My father is a Malayalee, my mother is a Bengali. I was born and brought up in Delhi. I have been in Mumbai since 1992.
I started travelling all over the country in 1999 and have worked in 11 languages.
The journey has been interesting because, apart from films, it has made me discover something about myself.
For the last six years, I have been interacting with an organisation called Avid Minor.
As an actor, I have travelled, met people and discovered that the only thing that matters is how we treat life.
Not complaining nor wanting better things.
With Avid Minor conversations, I have started bringing whatever I have learnt in cinema to the organisation so that they can perform to their optimum.
Like, when I was on the sets of Begum Jaan, some things kind of hit me.
This is an idea which I have been toying with for years: Why do we wait for an ideal situation to be thankful about things?
We were shooting Begum Jaan on a hillock and there was either relentless rain or a relentless sun.
My thoughts went back to the years when I was working down south at high temperatures. I looked at the smiles around and realised that each day that I smiled was amazing.
When I didn't, the day wasn't amazing.
So I put into play something that I have been toying with for years. I called it the Rich Universe.
Essentially, it's a gathering where people share small somethings, which give happiness to their lives.
You often hear people say that I wish I become a superstar and my life gets made.
I wondered how it would be if I said that if I hug my father, it would be an amazing day, or if I hugged my mother and said how lucky I am.
So somewhere during Begum Jaan, as I was sitting on that hillock, I thought of starting the process of inviting people to engage in these conversations.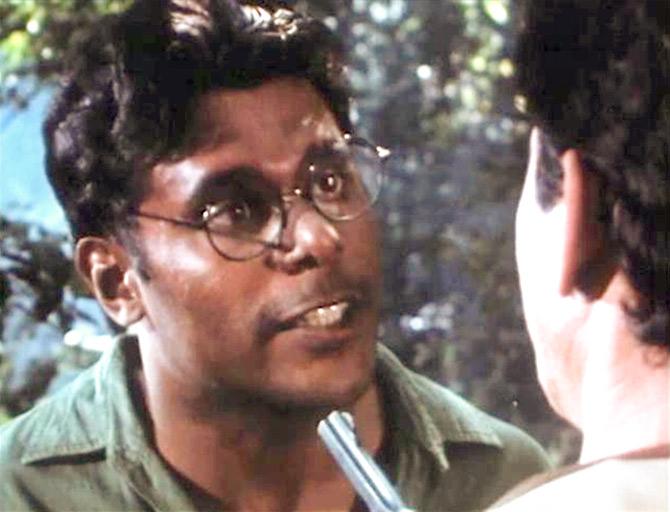 IMAGE: Ashish Vidyarthi in Droh Kaal.
Was acting an obvious choice? Your mother was a Kathak dancer and your father was in theatre.
I will never know how it happened. But definitely, there was an interest in acting.
I was in a school called Shiv Niketan, run by Elizabeth Gauba, where she gave a lot of importance to people expressing themselves in whatever way they wanted -- some could draw and answer, some could dance and answer, while some could act.
It was revolutionary thinking and I am a product of that (Shiv Niketan is now called the Elizabeth Gauba School).
I found myself completely out of place in an examination system. So I was completely at sea for the rest of my life.
After that, you joined the NSD (National School of Drama) and then came to Mumbai.
My first film was Droh Kaal with Govind Nihalani. In fact, the first film I shot for was Sardar Patel, but my first release was Droh Kaal and I won the National Award for it.
A colleague once interviewed Mr Govind Nihalani and he said you are a great actor but a bit lazy.
He is absolutely right (laughs).
I think innately most of us would love to be lazy and sleep a little more. I have had my share of that.
But I have gotten over it and made something more of it. That's why I could make this body of work over a period of time.
Govindji has been an amazing teacher for me. He has allowed me to believe in myself. I will respect him forever for that.
You won a National Award for your very first film. Yet, in an interview, you apologised for the kind of work you have done and said you ran away from Mumbai. Why?
We, as actors, are continuously questioning our path.
We don't know what the right one is.
Where I stand right now, I am clear about the choices I have made.
I have kept moving and looking for interesting work.
I was very clear that just you saying that I am a great actor but doesn't have any work does not inspire me.
I had some responsibilities towards my family, the people I love and myself.
So I never refused a good film. But at the same time, I have not stayed at home and waited for things to happen.
So even as people were looking around and saying that they would offer me this or that, after a while I thought to myself that I did not want to do such roles.
I decided I will hunt for people who will offer me good roles.
I am blessed that that effort took me to Telugu, Tamil, Malayalam, Kannada and Bengali cinema.
In each of these places, I have done 40 to 70 films. That wouldn't have been possible had I been resigned to what was available here (in the Hindi film industry).
It's not as romantic as I may make it sound.
There was a huge crevice on one side and a sheer climb on the other.
I had to push that ship over the hill.
I may not have received the kind of accolades that I had gotten used to, but I was clear that they would follow.
What I needed at that point was to survive, to feed my family and take care of my parents.
That choice determined certain things.
Life has its strange ways. As you start moving, there would be great movies that wouldn't work and there were some not-so-great films that would do very well.
Were you happy with the roles you got outside Bollywood?
No actor is totally happy with the roles they get.
A lot of the dubbed films that you get to see are commercial hits down south. But there are so many poignant films I have done there.
I was just conferred the Nandi Award for Best Character Actor for Minugurulu, but most people haven't seen it.
They have seen my other films and ask me why I did them.
While I was doing these commercial films, I have also done small, interesting films.
I am very proud of a Bengali film that I did, Teenkahon, directed by Bauddhayan Mukherji. But you will not hear of those films. Some of them have won awards too.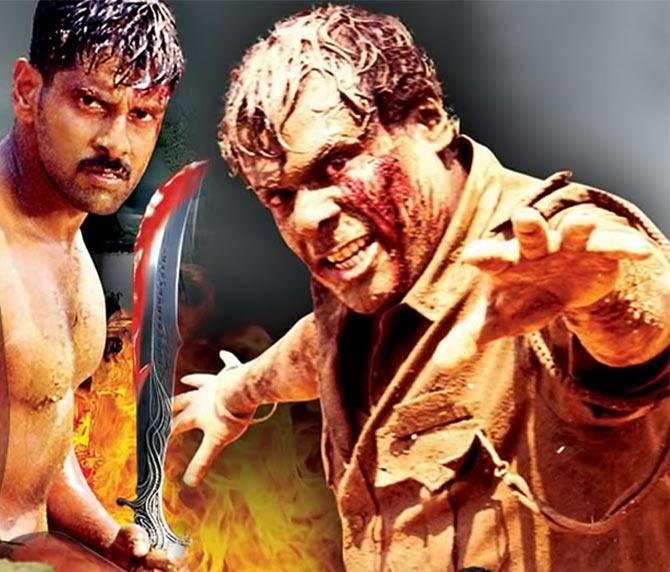 IMAGE: Vikram and Ashish Vidyarthi in Dhill.
How did you start your career down south?
I was very upset once about a film I was doing. I did a weird scene and during the tea break, the director told me I was a fantastic commercial film actor.
After wrap-up at 6:30 pm, I came home and told my wife that this guy is telling me I'm a fantastic commercial film actor. I respect what he says, but I don't like what I am doing.
I remember from that week on, I would fly to Chennai and meet people.
Some knew me, I moved around a few offices and came back. I signed three films, but for three months, nothing happened.
After three months, I got a call from T Rama Rao. He said this 'mad director' wants me, but he wouldn't pay me. I said yes.
It was a small budget film and we shot it over three, four months. It was with a hero who wasn't doing well and the director hadn't seen much success.
That film was Dhill and it was a huge blockbuster.
The hero was Vikram and the director was Dharini.
That started me off in Tamil cinema. Telugu and Kannada films started happening for me at the same time.
I have done the fewest films in Malayalam, my father's language.
Was it frustrating when you weren't getting good Hindi films?
I am the sum total of what I have gone through and whatever I have gone through, I share with my friends.
Mahesh Bhatt and Satyadev Dubey taught me something really amazing. They said you are doing a job just like anybody else is doing. So don't weigh yourself down with it.
Keep working for excellence and let people find that excellence in you. But you should relate to it as a job.
From that, I started thinking how can I get excellence as well as a life that my parents had. They were happy people with friends and get-togethers.
I like the best of both worlds. I don't want to restrict myself. I want to meet people and make friends.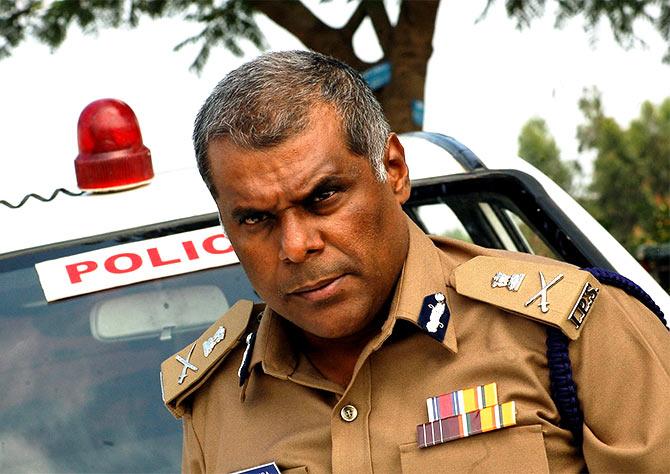 IMAGE: Ashish Vidyarthi in Bommali.
You said you won't do any meaningless Hindi cinema.
Yes, because if I keep waiting for the next Srijit Mukherji film or the next good film, I will keep waiting.
People here won't forget me if I do films down south. They will call me only if they need me.
One thing I always say is you cannot allow somebody else to put a price on you.
You have got to see where you are. That's why your journey is unique.
My journey has taken me this way; no other actor will travel this way.
So there is no role model for anybody. Each one of us finds our own way.
My journey as an actor has been with amazing films over the years, not just in Hindi but in other languages too, and I am very proud of that.
At the same time, I don't sit on that. I keep looking for interesting work.
You are doing an audio series, Kahanibaaz, television and theatre as well.
The second series of Kahanibaaz is going on. These are interesting short stories in an audio format on radio.
I have completed the television show, 24, which was a real big one. It was like eight films put together and I really enjoyed it.
It was an extraordinary experience for me, coming back to Hindi and doing that kind of relentless work.
It also took me away from certain stereotypical ways that even I was starting myself to associate myself with.
It was a realistic character with a negative trait. I could play it in a way that gave me satisfaction.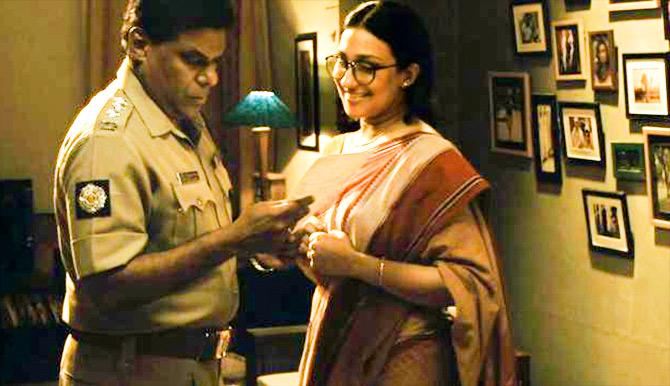 IMAGE: Ashish Vidyarthi in Teenkahon.
Which of your films are you proudest of?
There are lots, but I will name a few.
I am proud of Droha Kaal, Is Raat Ki Subah Nahi, Ziddi, Bichhoo, Teenkahon, Minugurulu, Pokiri, Dhill... I am proud of my Kannada films.
All these films have surprised me as an actor. They have let me know I can do different things.
Some of these films like Ziddi and Bichhoo came when I was doing good cinema and they brought me attention.
Certain films made me feel like an actor again like Teenkahon and Minugurulu.
24 made me think that I can do believable parts amazingly.
I am grateful that these films reminded me that I am an actor, who can work across genres.
Do you regret doing any film?
Very few.
I play a game with myself when I go on the sets of a film.
From Day One, I try and get something amazing from it -- maybe make a friend from the cast or crew, or discover something to read or learn something amazing about myself...
So even if the film is not good, I have two to three takeaways from the shooting experience.
How did you become so positive?
When I was working down south, I would really miss my son and wife.
I was living out of a suitcase. I was upset and angry with myself.
There would be friends who would ask, 'What are you doing down south? You are such a good actor, you should work in Hindi films.' I had to deal with that also.
I started feeling really sorry for myself until one day I asked myself why I was feeling sorry for myself.
I am doing this for my family and myself.
I can either become a martyr or I can find something amazing out of it.
DON'T MISS reading the features in the RELATED LINKS BELOW...