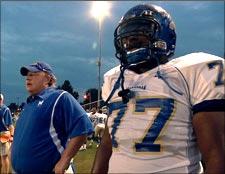 The makers of documentary film Undefeated describe how it garnered critical acclaim and did the unthinkable -- win an Oscar.
Just about a handful of documentary feature films made in a year in America get to the theatres. Most have to be content with being showcased at film festivals and on specialised television channels like HBO.

Undefeated, which follows a high school football team in Memphis through the 2009 season, highlighting the achievements of an inner city school that never won a playoff game since its founding in 1899, is a lucky exception.

It is a rousing but realistically told story of mostly African-American football players who come from broken homes and who are able to turn obstacles into wins. The white coach who takes on the job of making them competitive also comes from a similar single-parent lifestyle.

Undefeated won over well-received documentaries like Wim Wenders' Pina and the war documentary Hell and Back Again, among others.

The 113-minute documentary directed by Daniel Lindsay and T J Martin was on a handful of screens in America before it won the Oscar and can be expected to be shown in about 100 theaters across the country before it moves into the DVD and Blu-ray realm.

'A year ago today we were sitting in our editing room, depressed, thinking nobody was ever going to see this movie,' Lindsay said after receiving the award. 'A friend said, "Don't worry; next year you'll be at the Oscars," and we said, 'You're an idiot.' So we'd like to take this opportunity to apologize to him and say you're a lot smarter than we thought.'

It also bodes well for Undefeated that it was distributed by Weinstein, whose The Artist won the best picture, director and actor awards and The Iron Lady the best actress nod.

Former National Football League player Ed Cunningham, one of the producers of Undefeated, told the Los Angeles Times that he was awed by an encounter at the Governor's Ball soon after the Oscar ceremony.

'I got a chance to meet Sean Bailey, the president of Disney Films,' he said. 'It's just nice to be at a place where guys at the peak of their profession, have taken the time to see the film and be genuinely excited that they were honoured with our work. That was pretty cool.'

Lindsay said while his team had worked hard to gain the confidence of the school team and their coach, it was not easy to live in an impoverished southern town for nine months.

Football coach Bill Courtney told USA Today that the two directors who have very little experience in making films 'managed a warts-and-all portrayal of life around the gridiron -- a life he hopes his students don't forget.' Courtney, who believes that 'football doesn't build character. It reveals it,' said he told the kids featured in the documentary they should not be flattered by their 15 minutes of fame.