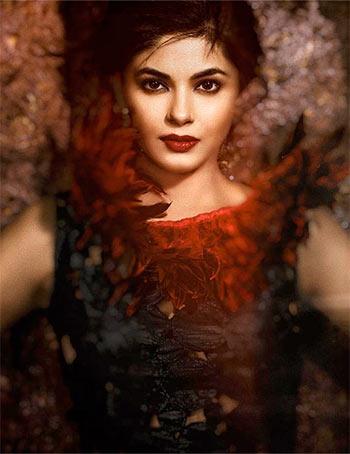 'I don't remember (watching) a good horror Hindi movie in a long time. I like films like Bhoot, Raaz and the first 1920. I wouldn't even include the second 1920 in this.'
Meera Chopra is all set for 1920 London.
Priyanka Chopra's cousin Meera Chopra hopes to make her own fortunes shine with her new film, 1920 London. Co-starring Sharman Joshi, Meera says the horror film has been receiving good feedback.
In fact, Meera claims it would have been the perfect launch for her in Bollywood. Unfortunately, her first Hindi release was the flop Gang Of Ghosts, a horror spoof and remake of the hilarious Bengali hit, Bhooter Bhabishyat.

Meera tells Jahnavi Patel/ Rediff.com why she has 'sky-high' expectations from 1920 London.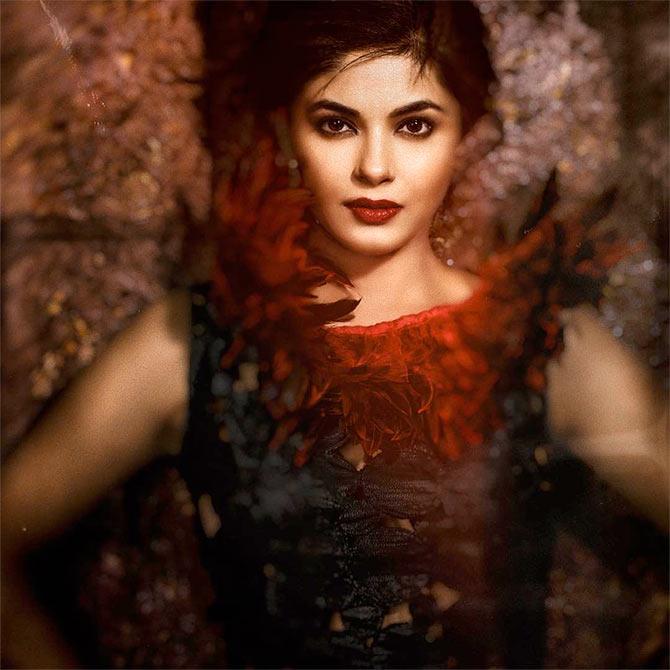 IMAGE: Meera Chopra. Photograph: Meera Chopra/Instagram
You have done a spoof on horror films called Gang Of Ghosts, and now you're doing a horror film, 1920 London. What made you sign up for it?
Actually, this is the first Hindi film that I had signed. I finished six months of shooting for 1920 London and then I signed Gang Of Ghosts.
I had seen the original version of Gang Of Ghosts and it was really nice. I liked the script and signed up.
1920 was something that I was looking for when I came to Bollywood. It would have been my perfect debut -- my role is good, Vikram (Bhatt) has written a very good script, Tinu (Suresh Desai) is a very good director, it is a hit franchise, I was getting a role opposite Sharman (Joshi), who I have always looked up to as an actor, the shooting for in London for 50 days... there was no reason for me to say no.
Playing a strong female character in the debut film is a little difficult. Vikram called me to his office one day, and asked me to listen to the script. I instantly said yes, and that's how 1920 happened.
What was your experience with him like?
I love Vikram! Every time I need advice or suggestions, he's the first person I call.
He holds a very important place (in my life) because he offered me my first Hindi film.
I was jobless, without work for a year and a half after coming to Bombay.
I was working in South films but was bored of it, and wanted to try out Hindi films.
Vikram holds a very special place in my heart because he was the first person to offer me the kind of films that I wanted to do.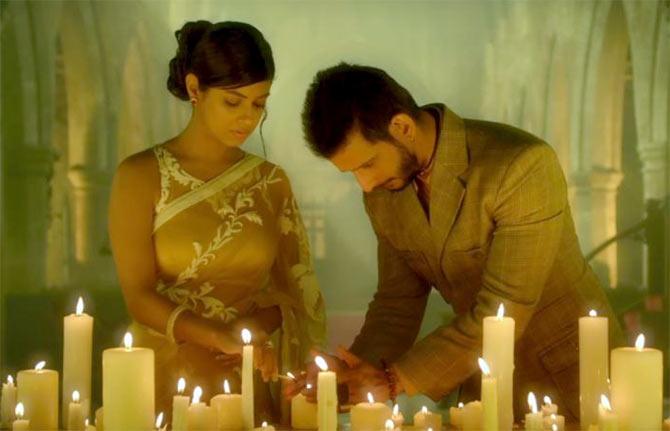 IMAGE: Meera Chopra and Sharman Joshi in 1920 London
Did you feel any pressure working in a hit franchise?
When you're working in a hit franchise, you're more confident because you know it has a loyal audience.
I have done movies in the south, so I know how to do justice to my role.
Tinu knew what he wanted from us, and that made the journey easier for Sharman and me.
A hit franchise does not burden you. It makes you over confident, as we already have a good project in hand.
What do you think about horror films in India?
Horror is my favourite genre but honestly, nobody has been able to tap it well in India.
The horror movies made here are tacky to an extent. Nobody here has been able to make horror films like Hollywood does.
I don't remember (watching) a good horror Hindi movie in a long time. I like films like Bhoot, Raaz and the first 1920. I wouldn't even include the second 1920 in this.
I hope Tinu, Vikram, Prakash sir (Prakash Kutty, cinematographer) and everyone do justice to the horror genre.
After the trailer and songs were released, people have been saying that it looks like a 'rich horror movie'. That's a very good compliment because it means that it's a nicely shot horror movie.
The brief given to us by Vikram Bhatt was not to shoot a horror movie; it was to shoot a beautiful love story. That's how we've shot the film.
Horror is an integral part of the film, but that was the brief given to us.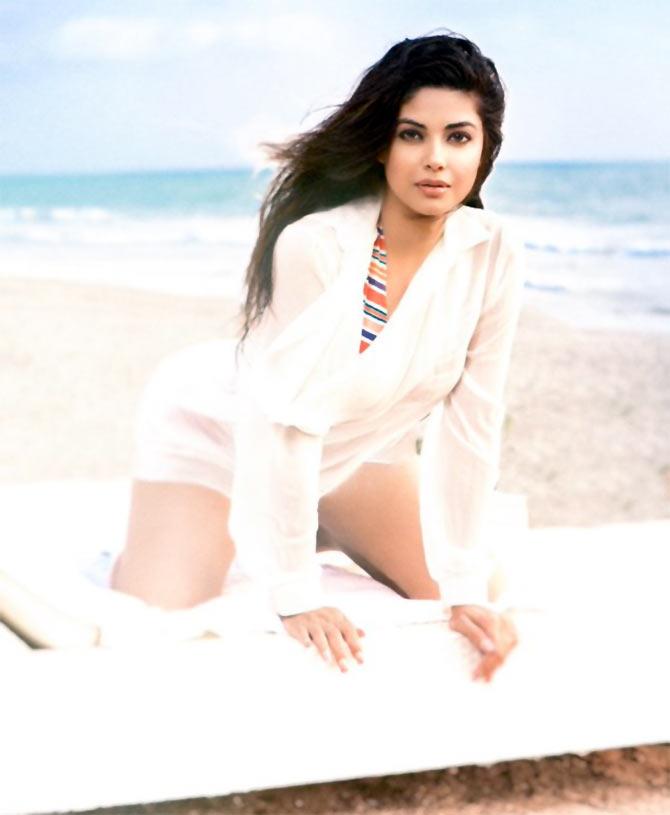 IMAGE: Meera Chopra. Photograph: Meera Chopra/Twitter
Do you like horror films?
I am not somebody who gets scared. I watch horror movies because I get a kick out of it.
We keep seeing love stories and family dramas but horror is a very small genre. We don't see that too often.
There's an audience who are starved for horror films and I am one of them.
Have you watched the horror films that the Ramsay Brothers made?
All of them! Veerana is my all-time favourite.
Though we laughed at the ghosts, they were really interesting films. I can still watch them.
They were complete masala entertainment films.
Which Hollywood horror films do you like?
There are so many. The Conjuring was very nice; Grudge is my all-time favourite. The Ring was very good. The Evil Dead series was good.
There are some nice films coming up. The Conjuring 2 trailer looks good.
What are your aspirations as an actor?
I have no plans because plans never work out.
Things happen the way it has to; your destiny will take you wherever you have to go.
I am working very hard, and doing my part very well. I do full justice to my movies.
If you plan something and it doesn't work out, it gets very disappointing.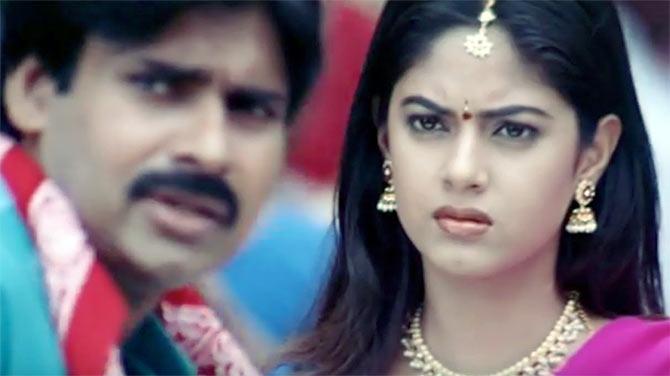 IMAGE: Pawan Kalyan and Meera Chopra in Bangaram
You have worked with Pawan Kalyan and he's a superstar in Telugu cinema. What was your experience shooting with him?
I did my first Telugu movie (Bangaram) with him.
You cannot work with Pawan Kalyan in Andhra Pradesh, there'll be a stampede!
The director decided to shoot the film in Tamil Nadu, in a small village called Pollachi. We were staying in a small guesthouse, as there are no hotels in the village. The villagers got to know that Pawan Kalyan was shooting, and some 10,000 people gathered outside the guesthouse. For two days, he couldn't even step out!
Everyday I would get a call from the director informing me about the shoot getting cancelled!
After I completed my studies in New York, I worked in Delhi for two-three months. Then, I went to Chennai and worked on South Indian films. I had heard about the crazy stardom but hadn't seen it. They actually pray to the actors! If an actor is sitting, you can't cross him from the front, as it is considered ill-mannered.
Who are you the biggest fan of?
I have been a fan of Shah Rukh Khan since childhood.
Lately, I have changed my loyalties to Ranveer Singh. He is extremely enigmatic, with a crazy energy.
What are your future projects?
I am doing a film with Ram Gopal Varma called Secret. It will release after Veerappan.
Secret is similar to Pyaar Tune Kya Kiya but we've made it more modern. It's how cell phones can change your relationships with your near and dear ones.
It's a take on human relationships with modern technology.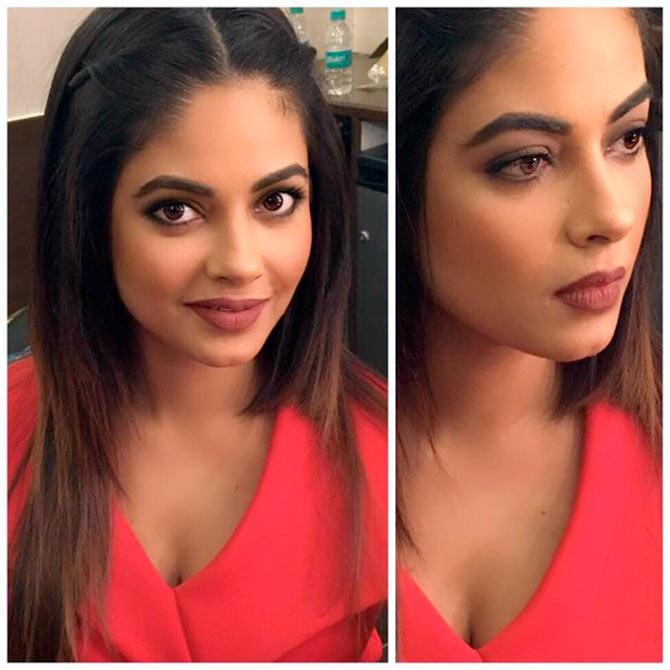 IMAGE: Meera Chopra. Photograph: Meera Chopra/Twitter
Do you think after 1920, you will move out of Priyanka's shadow?
I don't mind Priyanka's name being associated with me. She has become a brand, she has become so big that whoever comes from our family will be associated with her name for two-three years.
She is the only reason I'm here today. I've looked up to her completely.
She always tells me to make her proud with my work. I hope I can do that.
Has she given you any feedback on this film?
Oh, she loved it.
She hasn't been in the city since a long time. She just came for a day and went back but she saw the trailer and found it extremely scary. In fact, she said it was one of the scariest trailers she has seen in Hindi films!
I want to show her this film when she's back.
What are your expectations from the film?
I have sky-high expectations! (laughs)
I really feel we have a great love story, good music, the horror element is much more than in the previous films... I think 1920 has its own audience, who will go and watch the film. It should do better than the second part at least.