Honey Irani has made a successful career as a scriptwriter (Lamhe, Aaina, Koi... Mil Gaya, Krrish...). At home, she successfully raised two very talented children single-handedly -- Zoya and Farhan Akhtar.
As Zoya's directorial debut Luck By Chance hits the screens, Honey looks back at her childhood, and how different the two siblings are from each other:
I want Luck By Chance to be a big success. I have seen the movie and loved it. Not only me, but even others who have seen it have liked it. Not only as a mother but also as a director and writer, I feel Zoya has done a fantastic job. Farhan, playing a struggling actor, is excellent. The actors have done a marvellous job too. When you watch the film, you will know that no other actor could fit into those characters. I am proud of her work.
When her movie was stalled for seven years, I was very worried. Initially, there were so many yeses and nos that she would get really upset. I have seen her heart break and that's why I want this film to do well and her career to take off.
I was worried for Farhan before he started his career. He opted out of college when he was 17-18 years old. He would sit in his room all the time. I was very worried because I thought that like most teenagers, he had no direction. So I gave him an ultimatum and told him to start doing something and not sit at home all the time. So Farhan got a job in an ad agency. After three years, he told me he was ready with a script and wanted to direct. I was shocked. I never thought he would do that.
Since both their parents Javed (Akhtar) and I am from the film industry, both Zoya and Farhan have grown up seeing actors, and in the filmi atmosphere. I started working from the age of two and a half, so my kids have seen my films. Javed is a writer and lyricist, so Zoya and Farhan imbibed in them all the good elements of this profession.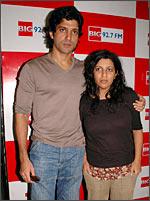 As a child, Zoya was very sensible but I would have a hard time with Farhan. He was a brat. When we would travel abroad, I would take them to a toy shop and ask them to select two toys each, as I could not afford more than that. Zoya would select her toys and come out. But Farhan could never make a decision and never come out of the shop. I would literally have to drag him out!
Even late nights. I would let Zoya go for late night parties but never allowed Farhan because I could trust Zoya to do certain things and come home by 10pm but if I asked Farhan to come home at 10pm, he would come home at 4am! So I never allowed him to go. He would get very angry and complain that I let Zoya go even though she's a girl, but not me. There would be tension in the house.
But Zoya was a responsible child so I could rely on her. When Zoya was small, she would complete whatever you gave her to do, without any mistakes. 
When I look at Farhan now and see how hardworking he has become, I feel proud of him.
Being a single parent and raising two kids is very difficult. The kids missed out on many things and so did I. Initially, things got very bitter. But Javed was there for them. I'm happy with the way their relationship has built up. Their relationship with Shabana Azmi is very nice too. Touch wood, all is well today and the kids have understood everything.
I wish my kids all the best.
As told to Patcy N | Farhan-Zoya's photograph: Pradeep Bandekar