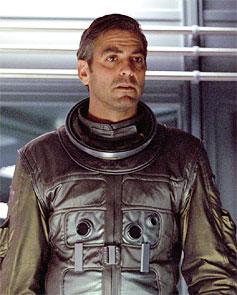 Tamil script writer Paranjothi S claims that the script of Hollywood film Gravity is lifted from one of his stories.

It is a grave allegation to make but Paranjothi S, a Tamil script writer alleges that the story of the Hollywood film Gravity, starring George Clooney and Sandra Bullock, is lifted from his script written in 2003.

"My story starts at the LA airport where a Boeing 777 with 373 passengers and crew members gets ready to fly to Australia. When the flight reaches a height of 60,000 feet, it just disappears.

"A couple of scientists from NASA locate the plane and find that it is floating in empty space. There is oxygen only for 12 minutes and the passengers have to be rescued in 12 minutes. I had titled it first as Gravity and then No Way to Hide,"says Paranjothi.

In 2007, he was introduced to an Indian distributor of Hollywood films from Australia, called Peter Alvin, who had the copyright of 3,000 Hollywood films.

When Paranjothi was introduced to Alvin through a common friend, he narrated the story of Gravity to him.

"He was mighty impressed with my script. So, he asked for a synopsis. I sent a mail on November 21 with the title Loss of Gravity. I still have the email in my mail box. I sent another mail on the 23rd but after that, there was no news of him," says the script writer.

With a strong desire to see his script as a Hollywood film, Paranjothi made a failed attempt to sell the script to Ashok Amritraj through an acquaintance in 2010. On October 26, 2011, he decided to register his script at the Writers Guild of America.
In June 2013 a friend who knew about the script, asked him, "So finally a movie has been made based on your script?" The friend was referring to the film Gravity co-written, co-produced, co-edited and directed by Alfonso Cuarónstarring George Clooney and Sandra Bullock.
A shocked Paranjothi saw the trailer and read about the film, and found an uncanny resemblance between the film and his story.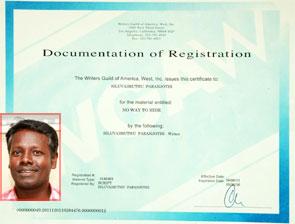 "I am sure that the film was lifted from my script as any member of the Guild can open any script that is registered there. I feel my script has been stolen. Instead of the Boeing, it is a spacecraft here and in my script and in the film, two astronauts go to save it. I tried to contact one of the producers on twitter. I was blocked immediately. That itself shows he is trying to hide something."
Paranjothi has now approached the Tamil Nadu directors' union with all the evidence that he has.
He has also contacted a lawyer in London to try and stop the release of Gravity in India and all over the world.
Photograph: Sreeram Selvaraj