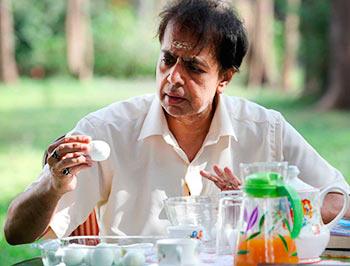 It began with Sujoy Ghosh's Ahalya, starring Soumitra Chatterjee, Radhika Apte and Tota Roy Chowdhury.
Then came Faraz Ali's Makhmal, starring Jackie Shroff.
Clearly, Indian audiences have developed a taste for short films, an art form that is finally getting its due recognition.
Director Wilson Lois' Holding Back, a film about the mother of a terminally ill cancer patient, has won the Award of Excellence and Best Of Show, Best Shorts Competition, California.
Veteran actress Seema Biswas plays the protagonist in this film.
Wilson is the first Indian to have won this award.
Hannah Fisher, a well-known short film expert, says, 'It's a fine film from India. I loved it. It's clear, poignant and powerful. Wilson, your film is special! I keep seeing it again and again. This film will reach places.'
This film -- which has been produced by Shiela Sandhu and also stars Anant Mahadevan and Kunal Kuma -- has been selected for the London film festival as well.
Wilson Louis, who earlier made a horror film Kaalo, says, "A film which has a soul, is created from the heart, and has great team work, will win all awards and go places. Winning an award at the Best Shorts in California and being selected by London International Short Film Festival just proves it.
'Holding Back is a film I am and will be proud of more than my feature films because that's me; it has allowed me to be me as a true filmmaker. This film will reach places and we will go places. To be the first Indian to win at Shorts California is a great achievement."