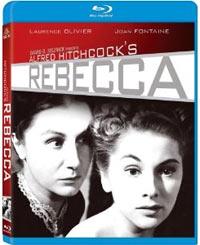 Here's a look at the Blu-ray versions of Alfred Hitchcock's Rebecca, Spellbound and Notorious.
In the haunting movie classic Rebecca which has just been released in Blu-ray, the suspense is enhanced by first rate performances.

Laurence Olivier is awesome as the widower Maxim, who is hiding a secret from his new wife (played by Joan Fontaine) who soon discovers the late Rebecca is playing havoc with the newlywed couple's life.

Also brilliant is Judith Anderson, who comes with a chilling performance as the housekeeper who knows many secrets. George Sanders playing yet another negative role in the film --- in this case a cousin of Rebecca --- is also very effective.

Alfred Hitchcock has inspired many filmmakers go into the suspense genre and some like Brian Da Palma have made a few fine films such as Serpico but there is hardly anyone who can match his talent. 

Now, a handful of his superb movies including Rebecca, Spellbound and Notorious are available on Blu-ray.
We also watch with renewed interest how under the master's exacting demands, a number of Hollywood and British stars including Laurence Olivier, Joan Fontaine, Cary Grant, Gregory Peck and Ingrid Bergman came out with arresting performances. It is also noteworthy that there is hardly any bloodshed in Hitchcock films and physical violence is minimal.
When there is so much fuss in India over the violent and nude scenes in The Girl with the Dragon Tattoo, you cannot help but marvel how Hitchcock made his films without sensationalizing violence or sex.
Rebecca, the 1940 hit based on Daphne Du Maurier's worldwide bestseller, brought Hitchcock to America from England. This was his only film to win a Best Picture Oscar, even though Hitchcock did not win an Oscar for directing any of his films. In one of the most animated Oscar races, Rebecca bested The Grapes of Wrath based on an acclaimed novel of the same name by John Steinbeck. 
Rebecca, a box office hit also fetched an Oscar for George Barnes for cinematography (black-and-white), and his work looks sharper  on Blu-ray.
Hitchcock's movies were also known for their musical score and Franz Waxman, who did not win the Oscar for which he was nominated, created a score that enhanced Rebecca's mood considerably. The extras, found in the DVD, include a commentary from Richard Schickel; The Making of Rebecca and The Gothic World of Daphne Du Maurier; and screen tests. An audio interview with Hitchcock is also included.
To watch a Hitchcock classic is not just an opportunity to feel the shivers down one's spine but also to appreciate some of the classic artists of another era.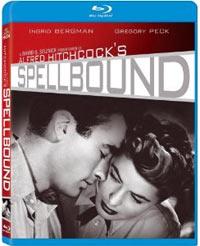 Five years after the worldwide success of Rebecca, Hitchcock made Spellbound, starring Ingrid Bergman and Gregory Peck, a spinetingler about repressed memories, which also made news for a dream sequence created by Salvador Dali. An accomplished work of art, it had an Oscar winning score by Miklos Rozsa  who would build a big reputation as one of the most versatile Hollywood composers.
Dr Constance Petersen (Bergman) is a psychiatrist who has a reputation for a firm understanding of human nature. When  Dr Anthony Edwardes (Peck) becomes the new chief of staff at her institution, it is soon discovered that he is an amnesiac and can be a killer. Yet, the psychiatrist is caught in a romance with him, and now he has to rely on her to discover who he is and what happened to the real Dr Edwardes.
Special features include commentary from film professors Thomas Schatz and Charles Ramirez Berg, the documentaries Dreaming with Scissors: Hitchcock, Surrealism and Salvador Dali and Guilt by Association: Psychoanalyzing Spellbound; and an audio interview with the filmmaker.
We get to know from the film historian professors the conflict the filmmaker had with the 20th Century Fox boss David O David Selznick, who forced Hitchcock in casting Peck who is quite good but far removed from the caliber of Cary Grant and Laurence Olivier.
The film historians also discuss why Selznick was not happy with the dream sequence, which is now seen as a highlight of the film and had the bulk of it cut.
Guilt By Association: Psychoanalyzing Spellbound highlights psychoanalysis hook and dream interpretation. We also learn that Hitchcock was primarily interested in Freud only as a means to tell a story. A highlight of the extras is Hitchcock directing the 1948 radio play of Spellbound featuring Joseph Cotten subbing for Peck.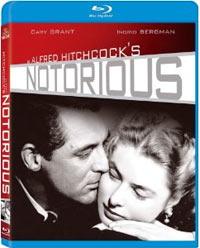 A deft mixture of romance and thrills, the 1946 hit Notorious featuring Ingrid Bergman, Cary Grant and Claude Rains is one of the best films Hitchcock ever made.
Bergman plays the daughter of a disgraced father, who is recruited by American agents to infiltrate a post-World War II Nazi spy ring in Rio. Her agent, played by Grant, does not seem to like her at the beginning but develops a romantic bond later. Her assignment is to marry the suspected  ringleader (Claude Rains) and get the secrets out. But complications arise leading to emotionally stirring scenes, filled with tension and suspense.
Critics believe that Grant and Bergman have not given many performances that could match their work here but watch for out yet another consummate artist, Claude Rains.
Critics also believe Notorious marks a watershed for Hitchcock artistically, and represents skill and maturity as a director. His biographer, Donald Spoto wrote, 'Notorious is in fact Alfred Hitchcock's first attempt -- at the age of 46 -- to bring his talents to the creation of a serious love story, and it's story of two men in love with Ingrid Bergman could only have been made at this stage of his life.'
The film have many intriguing close ups and the well edited scenes enhance the tension, and watching them in this Blu-ray addition adds to the pleasure of seeing a first rate production with heightened sensory feelings.
Bonus items include a short on the making of the film, audio interview with Hitchcock and a radio play that Hitchcock directed featuring Joseph Cotten and Ingrid Bergman.