Back in Mumbai, the Quantico actress said she wanted to celebrate birthday with family. Rajul Hegde reports.
Photographs: Pradeep Bandekar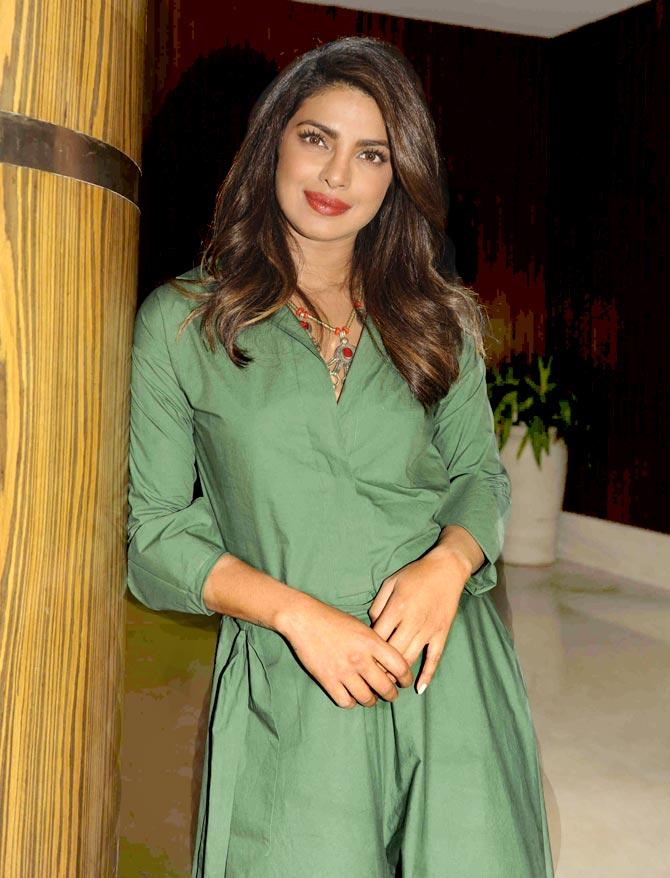 After a long break, Priyanka Chopra is back in Mumbai to spend some quality time with her family before she flies back to an undisclosed location with them to ring in her 35th birthday on July18.
The actress held a press conference on Friday along with her mother and producer Dr Madhu Chopra of Purple Pebble Pictures for her second Marathi production Kaay Re Raascala which released on July 14; and answered a barrage of questions patiently.
"We established Purple Pebble to promote new talent and give them the opportunities that they deserve. Despite being a miss world, it was extremely difficult for me to make a place in Bollywood. We really want to take chances with new talent and open the doors for them, be it musicians, directors, script writers, or actors," Priyanka said.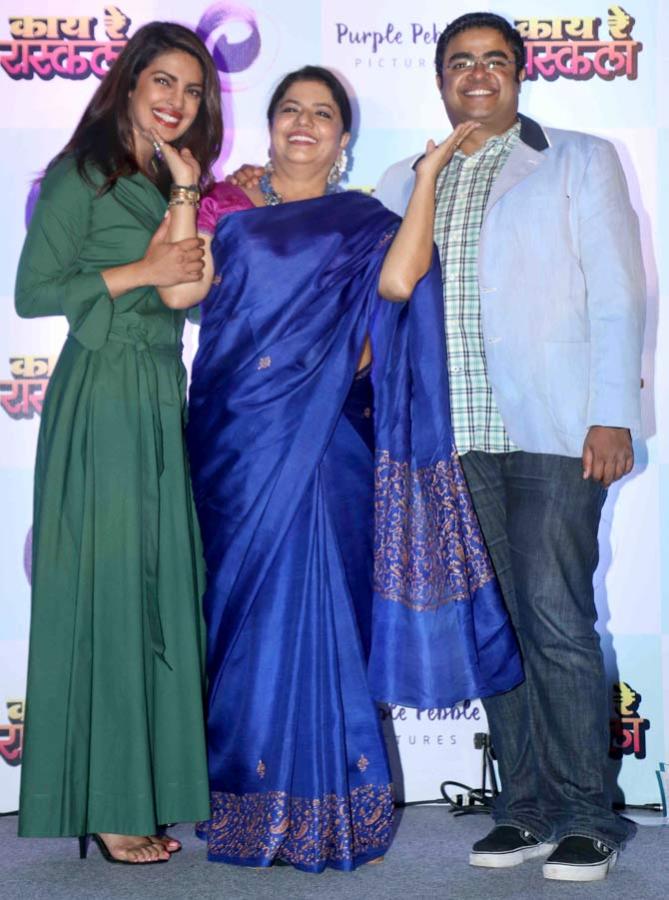 It seems the actress is co-producing an American TV show along with Madhuri Dixit, which would air on ABC.
"As soon as I finalise something, I will definitely share it with you all. Nothing has been finalised yet. I have spent about a year developing a lot of things, as I said, in Hindi, English and regional (languages). I want to tell a lot of stories, digitally. I will share with you when it's final," she said.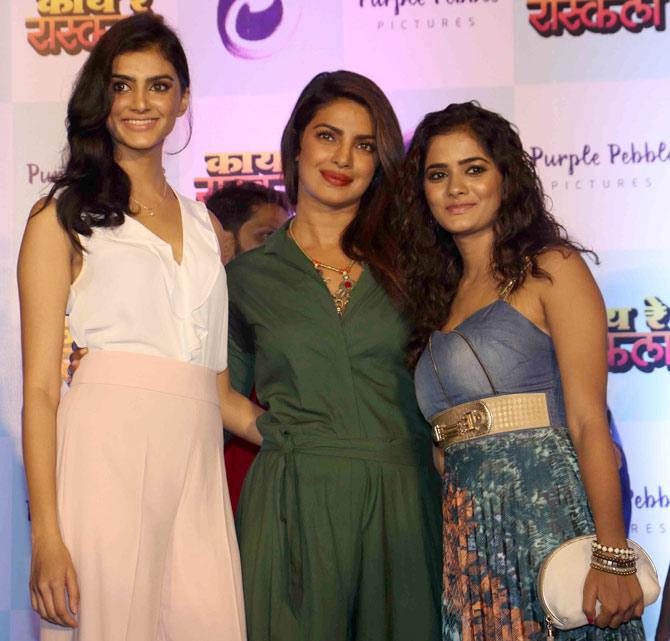 Asked if she is also co-producing Gustakhiyan, biopic of Sahir Ludhianvi, with Sanjay Leela Bhansali, which will also feature her as the female lead, she said:
"There is speculation about a lot of things I am doing since I am in talks with several people and developing multiple things simultaneously. I will be shooting Quantico for the next four months so there's still time."
Priyanka, who has been in the United States, came back to Mumbai just a day before IIFA 2017 started in New York, which raised some eyebrows.
When asked why she isn't attending IIFA this year, she said, "It's my birthday and I want to be with my family. Unfortunately IIFA is happening at the same time. I am going for a holiday with my family."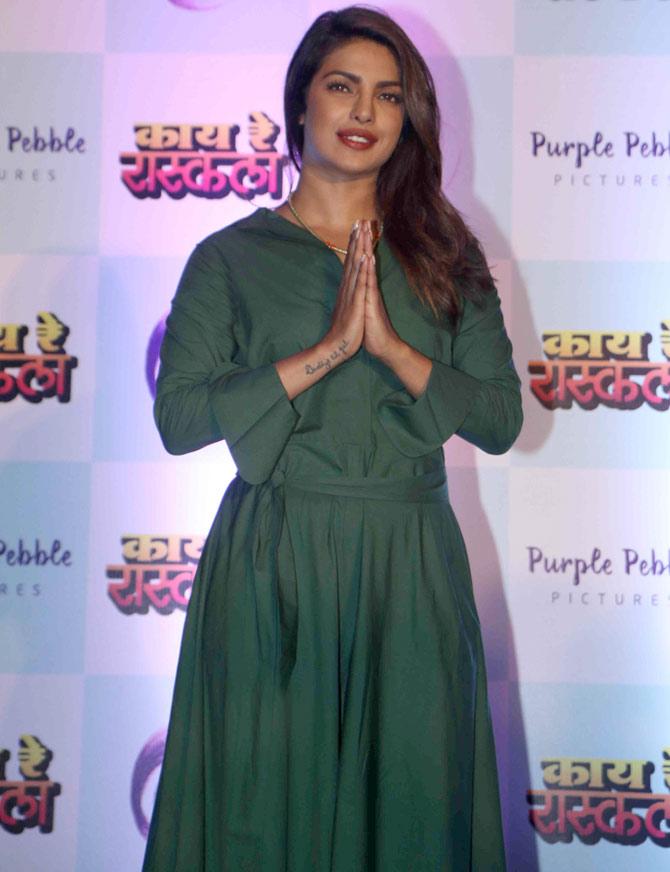 Indian artists are reacting to Priyanka's face on almost all billboards at Times Square in New York and in different parts of the US.
"It is not easy to go to another country and start work, that too an entitlement. Wherever I go, I go without entitlement. I don't go with a thought that because I am someone I need a certain kind of treatment. I am an artiste, and when I go to another country I have no problem introducing myself as 'Priyanka Chopra, an Indian actor', to people.
"So, I think, it is not difficult, but I have always only spoken about my achievements. I have worked hard to be where I am and this is the result. It's not about the US or India. I'm never going to be satisfied with one country, I want to take over the world," she says with a laugh.
Priyanka is one of the newest members of the Academy of Motion Picture of Arts & Sciences. She considers it to be a privilege.
"I am grateful to the Academy for including such diverse amount of people from around the world. They ask us our opinions when we are the member of the Academy. My view and opinion is that it opens itself up to nominations for foreign language films outside of just one category," Priyanka said.
"I hope that is something which happens because there are so many films which come from the world, even Indian films. When our talent has won awards, it has been for films not made by India because the opportunities here are less. I hope it changes and I can contribute to that change," she said.
Priyanka who has recently started working for two Hollywood films -- A Kid Like Jake and -- said, "I did these two quick films as I had two months before starting on Quantico Season 3. It's not a Priyanka Chopra film, please don't go for that. I was very excited about these two amazing films because these have interesting parts, wonderful actors and, as an artiste, give me an opportunity to learn new things. Next year I will do a bunch of Hindi films," she said, adding jokingly that if she could clone herself, she would do a lot more work.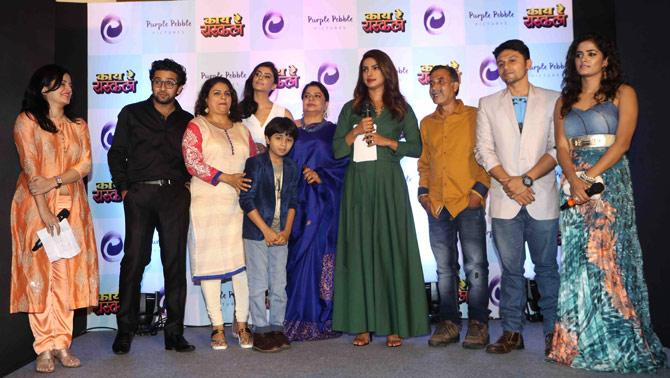 When asked about A R Rahman's concert in Wembley from where some Hindi-speaking fans walked out when he performed mostly Tamil songs, Priyanka, who is a musician too, said, "That's very rude. I don't have much knowledge about it so, I can't comment further because if I say something, you guys will write a lot. So, all I will say is that, it was rude."
Responding to a question on her biopic, The Bajirao Mastani actress said 'a lot of chapters of her life are left and if anyone wishes to write a biopic right now, it would be titled-Unfinished'.