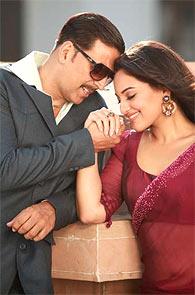 It had everything going for it -- a sturdy banner (Balaji Films), a superstar hero and a heroine, who has just delivered a career-defining performance in her previous film.

Plus, the first film Once Upon A Time in Mumbaai was a big success.

So what went wrong with Dobaara? The film has decidedly under-performed at the box office.

There are quite a few reasons, and the main villain was not Chennai Express.

Many from the film fraternity feel Akshay Kumar was miscast in the role of the gangster Dawood.

A filmmaker, who worked with the actor, says, "Akshay has evolved into a fine actor in both comic and serious roles but he has a very positive personality. In the past, when he played evil characters in Khiladi 420 and Ajnabee, he failed. He cannot and should not be cast as a mean, slimy, immoral outlaw. It doesn't work with him. It is one thing to have Ajay Devgn play international gangsters in Company and Once Upon A Time In Mumbaai. Akshay Kumar is quite another matter."

"The comparison (with Chennai Express) did affect (OUATIMD)," says trade analyst Amod Mehra. "While one was seen as a light, fun movie, this one was seen as fictitious and loud."

Trade analyst Komal Nahata feels it wasn't the comparison between the two films that did OUATIMD in but its comparatively inept screen timings in theatres. "Cinemas allotted maximum shows to Chennai Express. OUATIMD suffered due to poor programming in the cinemas. But Chennai Express per se did not affect OUATIMD."
Nahata feels several factors worked against OUATIMD. "The first part of the franchise juxtaposed the tough and soft sides of the don, played by Ajay Devgn. The sequel only concentrated on Akshay's character's personal life. So there was no contrast between the character's soft and tough side."
He adds that Emraan Hashmi, who played Akshay's part in the first film, should have encored his role. "The sequel should have been made with Emraan in the lead. Casting Akshay made the costing impractical. If Emraan was lead in OUATIMD, it would have cost Rs 20 crores less and hence would have been more commercially viable. I don't think any great purpose was served by casting Akshay in Emraan's role," he says.
Nahata also feels the music of the sequel was inadequate as compared with the first film.
"The second part doesn't have the superhit music like the first," he says. "But most importantly the story and screenplay were bad, although the dialogues were good. Why would the audience be interested only in the love life of a gangster?"
Says a music composer, who has done music in Balaji Films, "The first part had an incredible love song Pee loon. The second part has no number for audiences to take home. The cover version of Laxmikant-Pyarelal's Taiyyab ali pyar ka dushman from Amar Akbar Anthony is pure vandalism."
Concludes Amod Mehra, "Even the promotion failed to excite the audience. The film is too loud and lacked content. The main undoing was the film's comparisons with the first part."
While Akshay Kumar has Tony D'Souza's Boss (where he plays a benign gangster) next, and Imran Khan can go back to his comfort zone of playing the urban lover-boy in Puneet Malhotra's Gori Tere Pyaar Mein, Sonakshi Sinha is badly hit after her much-acclaimed performance in Lootera. Her jodi with Akshay is dented twice over by Joker and now Once Upon A Time In Mumbai Dobaara.