The top posts on social media from your favourite Bollywood celebrities: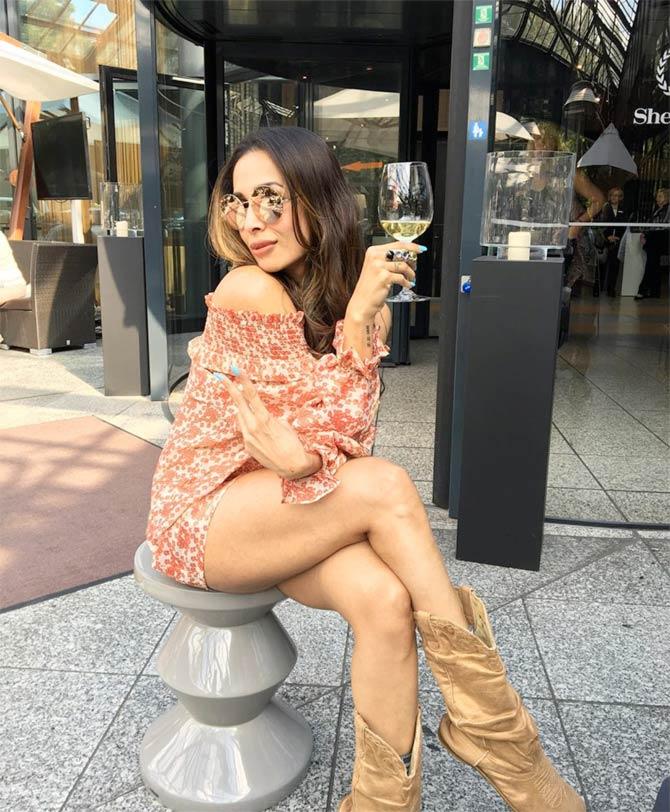 After Karisma Kapoor, Diana Penty, Sussanne Khan, and Sonam Kapoor, Malaika Arora Khan attended British rock band Coldplay's concert in Europe.
She shared a picture, above, and wrote: 'Berlin ..... #Coldplay #up n up #tonite.'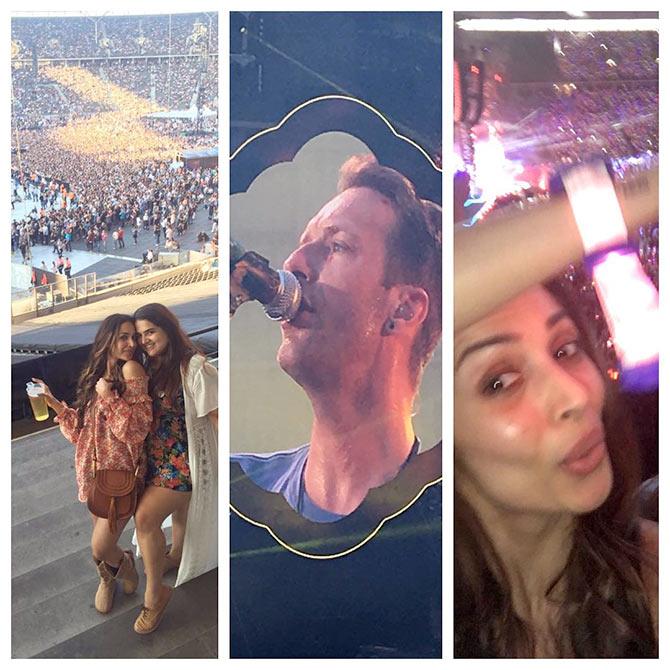 '#Berlin #coldplay......Wat a night!!!!,' she added with more pictures.
***
Did Shirish Kunder's Kriti copied?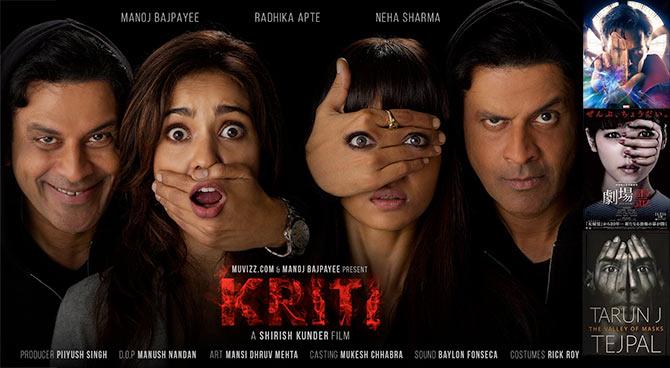 Shirish Kunder's Kriti is embroiled in a plagiarism row, and has been removed from YouTube. Kunder took to Twitter to slam his haters in a series of tweets.
'OMG! #Kriti copies Hollywood film poster, that copies Japanese film poster, that copies Tarun Tejpal's book cover!!!' Kunder tweeted with these posters.
'OMG! #Kriti is a psychological thriller, with a psychiatrist, & imaginary character, like all psychological thrillers. KritiCopiesEveryone!' he added.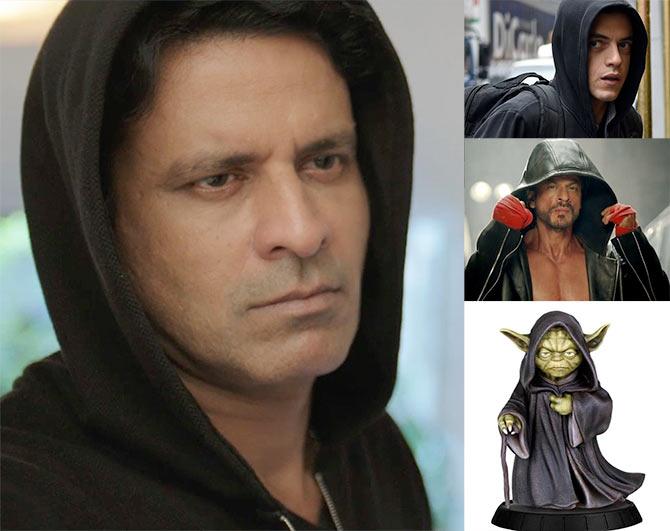 'OMG! #Kriti copied Mr. Robot, that copied Happy New Year, that copied Star Wars!!! #Kriti Steals Hoodies!!!' he signed off.
Nepalese filmmaker Aneel Neupane has alleged that Kunder lifted Kriti from his short film BOB, which has also been pulled down by YouTube.
Kriti stars Manoj Bajpayee, Radhika Apte and Neha Sharma.
***
'Rustom trailer is intriguing'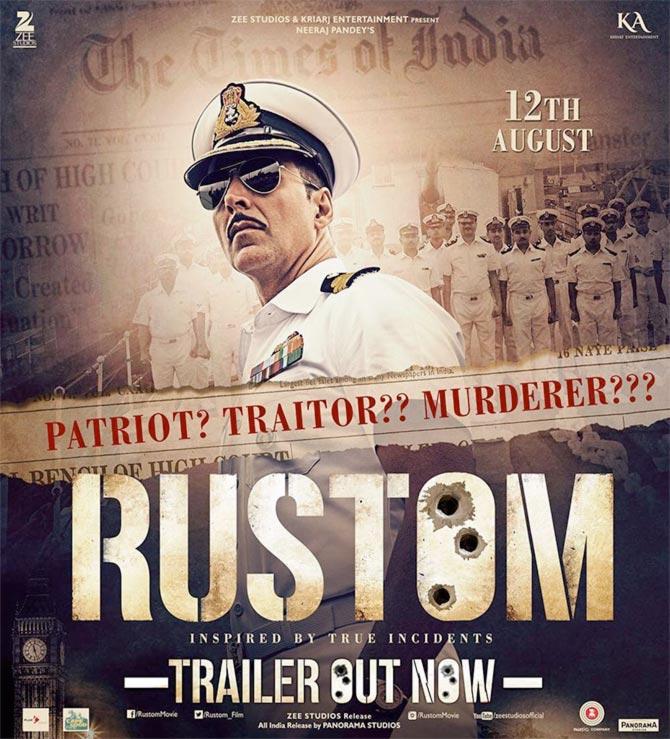 The trailer of Tinu Suresh Desai's upcoming film Rustom is out.
Akshay Kumar shared the latest poster on Instagram, above, and wrote: 'Patriot? Traitor? Murderer? Run up to the judgement day begins. Watch the #RustomTrailer now.'
Meanwhile, celebrities turned to Twitter to praise the trailer and congratulate the team:
Arjun Kapoor: 'Loved the trailer ! Gripping premise with a different setting...true stories make for good storytelling.'
Karan Johar: 'The #RustomTrailer is supremely intriguing....@akshaykumar in pitch perfect form.'
Sonu Sood: 'All the best for #Rustom ..looking fab.'
The film is based on real life incident of Naval Officer K M Nanavati. It also stars Ileana D'Cruz, Arjan Bajwa and Esha Gupta, and will release on August 12.
***
When RD Burman asked Lata Mangeshkar for an autograph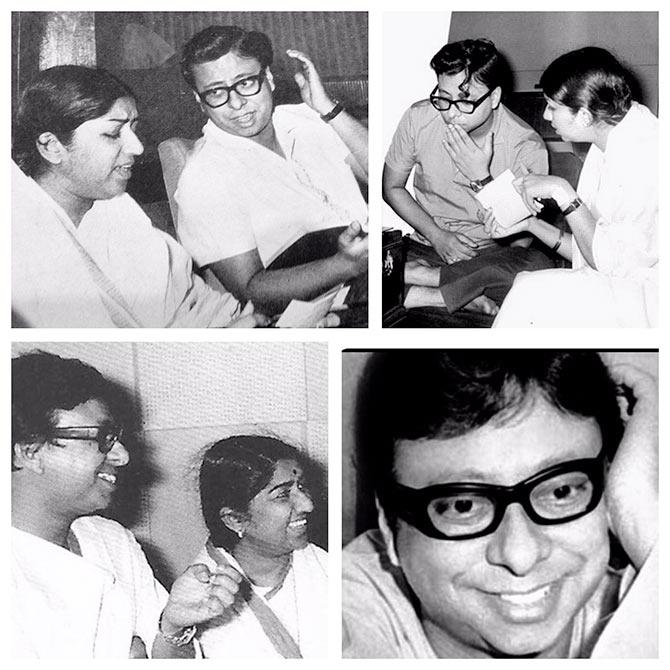 Veteran singer Lata Mangeshkar turned to Twitter to remember music director Rahul Dev Burman on his birth anniversary on June 27.
She shared a collage of pictures, above, and wrote: 'Namaskar. 27 June ko Pancham ki jayanti thi,Ye pura week Pancham ki jayanti bahut se log mana rahe hain,To aaj main bhi aap sab se ek yaad share karna chahti hun. Mujhe aaj bhi yaad hai, S D Burman dada ki recording mein ek 14/15 saal ka chota baccha mere saamne autograph book leke aaya aur usne mujhse kaha autograph please. Maine usko pehechana aur maine suna tha ki wo baccha bahut shararti hai,to maine uske book mein likha ?????? ???? ?? aur niche sign kar diya, wo padhke sharmake wo baccha hanske bhaag gaya.'
'Wo baccha tha Burman dada ka beta aur sab ka laadla R D Burman jiska madhur sangeet aaj bhi logo'n ke dilo'n par raj kar raha hai.is ghatna ke kuch saal baad Pancham ab music director bana tha aur uske dost Mehmood ji ki film Chote Nawab mein gaana gaane ki usne mujhe request ki.Mujhe Burman dada ka phone aaya,ke Lata tu Pancham ka gaana gaa de.Dada ko na kehena mushkil tha.Main Pancham ka gaana sunne Mehmood ji ke office gayi,Pancham ne mujhe gaana sunaaya,gaana mujhe bahut accha laga,aur phir maine Pancham ke liye pehela gaana record kiya,aur wo gaana tha.'
***
Sushant confirms Chandamama Door Ke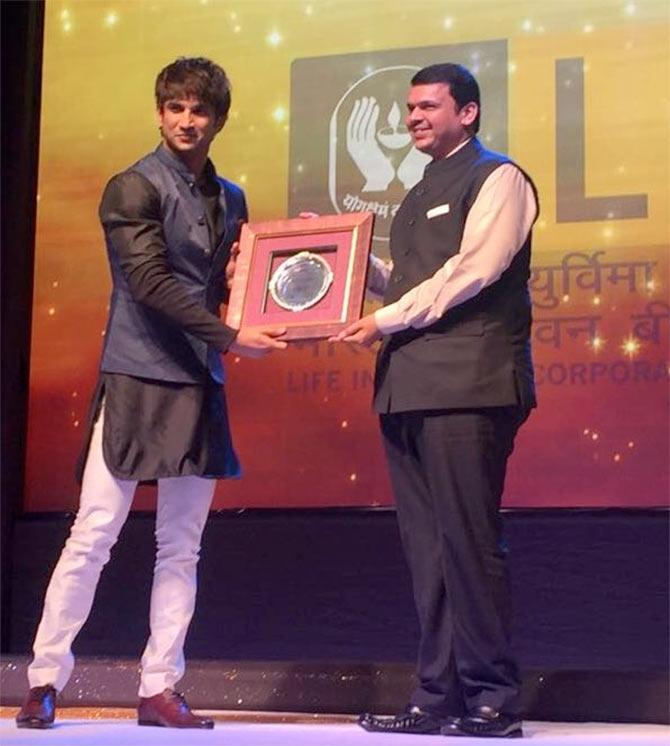 Sushant Singh Rajput will play an astronaut in director Sanjay Puran Singh Chauhan's Chandamama Door Ke.
'Excited... To the moon and back:)) #ChandaMamaDoorKe with @sanjaypchauhan & @vikirajani,' Sushant tweeted.
Meanwhile, he received an award from Maharashtra Chief Minister Devendra Fadnavis.
'When a small town boy is appreciated for dreaming big, it feels good. Thanku Mr Chief minister &NBT for the honor..!!' he added.
***
Lauren Gottlieb shoots with Ali Fazal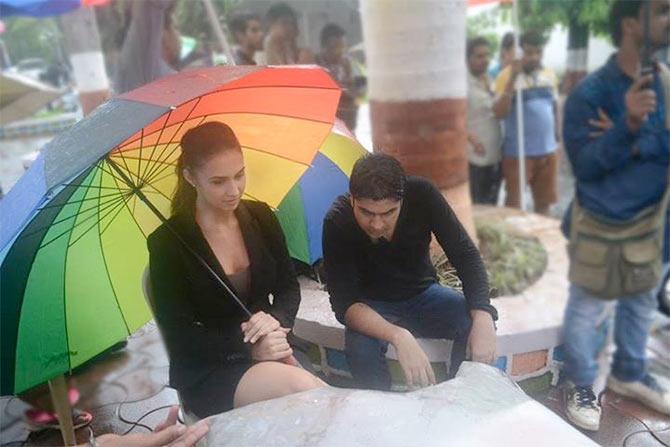 American actress Lauren Gottlieb is shooting for a short film titled Triya Charitra.
She shared this picture from the sets and wrote: 'Getting a perfect shot is a tedious task when raining cats & dogs! Vinay tho did it easily. #ShootDay1 #Superdirector.'
Directed by Vinay Vats, the film will also feature Ali Fazal.