Helicopter Eela could have been a good film, but falls short, says Savera R Someshwar.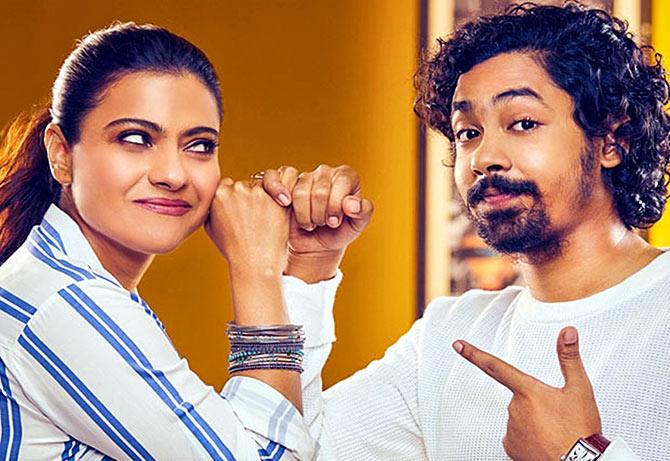 Ever tried your hand at cooking?
You've got a bunch of decent ingredients and an interesting recipe.
Yet, when the dish is ready and sitting pretty in the middle of your kitchen table, you find yourself staring at it, puzzled.
It looks great, the aroma's tempting but when it comes to the taste test, there's something not quite right.
Which doesn't really make it a bad dish, just something that is not 'quite right'.
Director Pradeep Sarkar, in his return to the big screen after Rani Mukerji's Mardaani (2014), faces somewhat the same dilemma.
This time, Sarkar's protagonist -- who inspired the movie's title as well -- is Eela Raitukar, played by Mukerji's effervescent cousin, Kajol.
Like millions of others before her, Eela came to Mumbai to gift her dreams wings, but that big break is elusive.
The door to success finally does crack opens -- thanks to a sweet, supportive boyfriend (Tota Roy Chowdhury as a rather confused Arun, but more on that later) -- only to be slammed shut before Eela can take more than a whiff!
At this first stumble, and this is where the film raises its first question mark for me, Eela -- who thus far has been determined about making it as a playback singer -- decides to give it all up and get married even though her boyfriend and his sensible mother encourage her to think her decision through.
It trivialises her dream and doesn't sit with her character that has been sketched out for us.
Blink your eyes and she's pregnant; snap your fingers and the cute little baby arrives.
Before you finish your samosa, Arun, who has been a very likeable, sensible sort thus far, suddenly wants to up and leave his loving wife, young son and his widowed mother because the men in his family seem to have a tendency to die early... and he wants to 'live' what he expects will be the last year of his life unfettered.
Huh?
And 'Huh?' because this flimsier-than-a-negligee reason goes totally against Arun's character.
It only serves to lay a clumsy foundation for Eela to become Helicopter Eela (don't know what that is? Well, a helicopter parent is constantly cosseting the child and monitoring his/her every experience; you know, the kind of parent that won't let a child fall off a bike because they are hovering right behind?).
And that how Vivaan grows up, loving his mom, but more than a little smothered at times with her over-powering attention.
She joins his college (a small crib here, Sen -- despite his curly mop -- looks more like Kajol's younger friend or brother than her son), barrels through his friends and generally makes his life (as parents unwittingly tend to do :) ) embarrassing.
National Award-winning actor Riddhi Sen (remember his heartwarming outing as Potlu, the little chaiwallah's assistant in Kahaani?) understated performance makes Vihaan extremely likeable (And the two kids play the younger Vihaan are super-cute!).
Sen is the much needed foil to the hyperactive, and sometimes, hyper Eela.
Kajol as Eela tends to fall on the louder side and we wish she didn't. She channels her inner Anjali (and you smile when you spot the hat-doffs), but it wasn't Anjali who was needed here.
Neha Dhupia drops in as the teacher in charge of the college drama club and no-nonsense, impatient-with-mediocrity character is a hoot.
Vihaan's friends are sketched as likeable, but we don't really get to know them or get to really delve in their relationship with Eela or Vihaan, which would have lent the film an interesting dimension.
What works, and really works for Helicopter Ela, is Sen, his empathy, his anger, his frustration and his love for his mother all come across as very real.
What doesn't is the script, which takes what is increasingly seen in urban India -- single parent homes -- but handles it with less care than the subject deserves.
The film makes you smile in bits, but the attention to details are shoddy enough to make wince; for example, Kajol flips from looking young to old to young in the same scenes often enough to make you feel you are watching a tennis match.
If were a Nineties kid, or if you loved that decade, there are enough references here to please you.
But that does not make a for a Nil Battey Sannata, where the relationship between a single parent and child is handled much more realistically.
In the effort to dose Helicopter Eela with humour -- and it's not that a movie on this subject cannot be funny -- the film cuts down on its believability.
The loser, as a result is Eela's journey to emancipation. And the audience.
Rediff Rating: