'The most difficult thing in the world is to convince someone to put Rs 20 crore on your movie script.'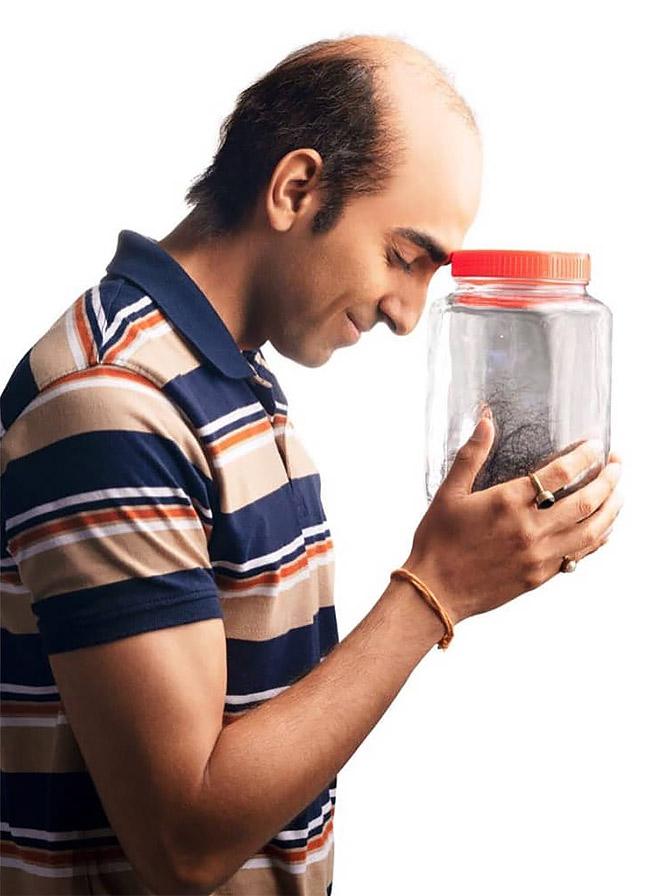 It's hard to quit a job paying you a monthly salary of Rs 2 lakh to pursue a struggling career in Bollywood.
Niren Bhatt took the chance, and thanks to that, we got to watch Bala!
The film that tells a unique story of Ayushmann Khurrana's hair-fall woes, Bala has become Bollywood's latest hit.
"Everyone wants a script that will match Bala now," Niren tells Syed Firdaus Ashraf/Rediff.com..
How did this subject come to your mind for a film?
It's not my idea, but Amar Kaushik's, the director.
He has a receding hairline; he had started losing hair in his early 20s.
He would share his experiences with me on how he would get up in the morning and see hair on the pillow.
If he wore a cap, he would see hair on that too.
That's how the idea struck me. I thought it could be a film subject and told him so.
I started talking to other friends who had lost their hair.
After a point of time, we realised we cannot make a film only on baldness; we needed something more.
So I started getting the other characters.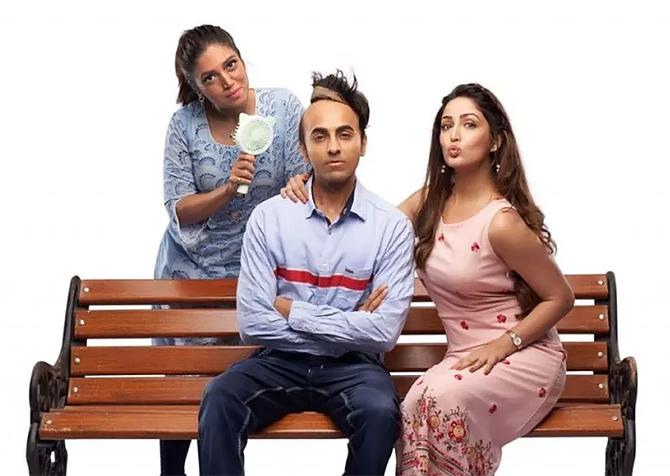 How did you imagine Bhumi Pednekar's dark skinned-character?
When we started writing the story, we wanted it to revolve around three people with three different ideologies.
The first is a beautiful girl who is mad after beauty. She has spent her entire life looking good.
The second girl is fine with her dark complexion and will take on anyone who criticises or makes fun of her dark skin.
The third is Bala who hates the way he looks.
We wove a story on how these three characters come together and how their lives shape up.
We wanted the audience to believe this was a love story between Ayushmann and Yami, which then moves to Ayushmann and Bhumi.
But finally, you realise that the love story is that of Ayushmann loving himself.
When did you start writing Bala?
I started in October 2018 and the film went on the floors in May 2019.
I wrote 10, 12 drafts.
Dinesh Vijan, the producer, was also creatively involved.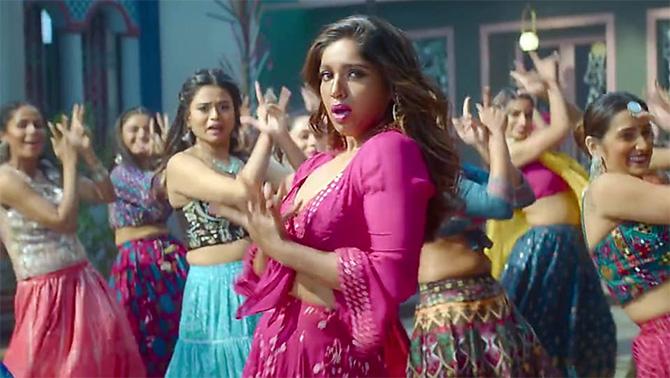 What made you base your story in Kanpur?
It was Amar's idea, as that's his city.
He took me there and made me meet his friends.
I saw how the people of Kanpur talk.
Kanpur itself is a character in the movie.
I come from Bhavnagar in Gujarat. We could not base the film there because Hindi is not spoken that widely in Bhavnagar.
How did you convince Dinesh Vijan to produce a film on this subject?
He always wanted to make this film.
He had read a story by Pavel, a Bengali writer, and we gave the original credit to this man.
In Pavel's story, a man takes a dip in the Ganga river only to lose his hair due to pollution.
He learns that the pollution is because of a company and he leads a morcha against it.
Dinesh asked Amar and me if we could do something on that.
I liked the concept, but the story was on the lines of Batti Gul Meter Chalu and Toilet: Ek Prem Katha.
I felt a fresh approach was needed and that's how I started writing a new story based on Pavel's story.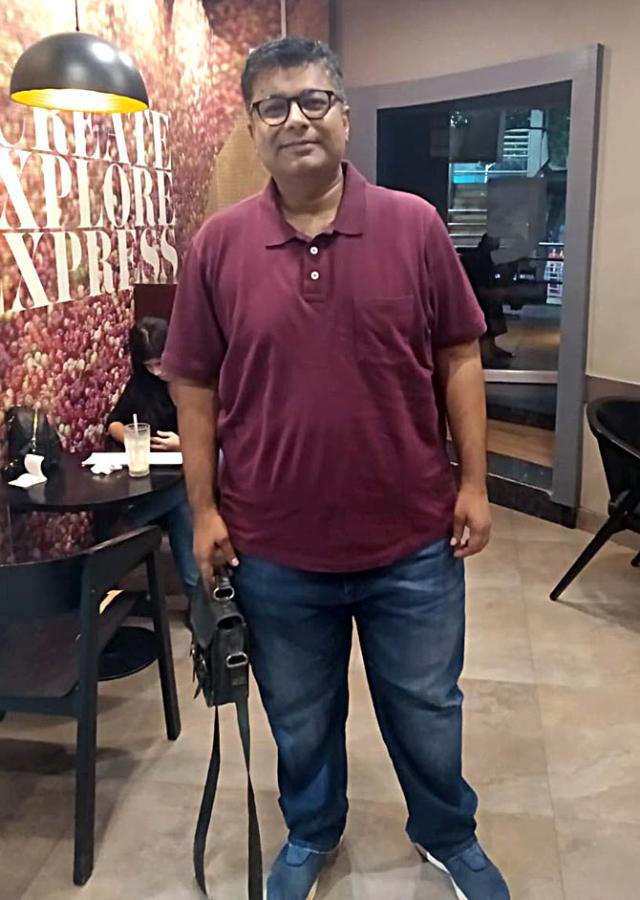 Body shaming scenes are shown very inhumanely in the movie.
While making the film, we released that the story is not about balding alone, but about our self-image and the way we perceive ourselves.
We wrote about a young boy who would call a dark girl 'kaali kaluti', but when he grew up and started losing hair, he stopped calling her that.
Are good looking girls and boys always aware of their beauty?
I have faced discrimination in my personal life because of my weight.
Nobody hesitated to joke about my body. They would say I needed a special chair as the ordinary ones would not hold my weight.
This happens even today.
People, who are dark-skinned and overweight, have faced such problems.
Bhumi's dialogue that she can hear people talking about her dark skin from 50 feet away is true because you become extra-sensitive.
So this script came naturally to you?
No one looks as good as Hrithik Roshan or Shah Rukh Khan.
These actors have to look good because of their profession.
99 percent of people are overweight or flawed in the societal sense.
I feel Bhumi's skin colour could have been a shade lighter.
But let me tell you, in our country it is difficult to pull off such makeup, as there is no advanced prosthetic.
You cannot make Benjamin Button in our country and we were making Bala in the Lucknow and Kanpur heat.
Why do you think the bigger stars are failing and smaller heroes are working with good scripts?
Earlier, say the Angry Young Man concept worked because societal conditions reflected that hero.
After liberalisation in 1991, the economy started doing well, so there was a shift in the movies.
Today, there is no villain concept in Bollywood.
A film like Zindagi Milege Na Dobara is about internal conflict; there's no villain in the movie.
Shubh Mangal Saavdhan is about erectile dysfunction, an internal conflict.
Piku is also about internal conflict.
In Bala, the villain is Bala himself, as he hates his bald existence.
At the same time, a movie like War will also do well because we need action movies.

There are allegations that Bala is lifted from Gone Kesh and Ujada Chaman.
Nothing like that.
(The makers of) Gone Kesh had no problems with our subject.
(The makers of) Ujada Chaman said our film was lifted from theirs, which was, in turn, adapted from a Kannada film.
I liked that Kannada film (Ondu Motteya Kathe).
I consciously made sure I should not take anything from that film.
The only thing common between Ujada Chaman and Bala is that both heroes are bald.
The stories are very different.
How did you start a writing career in Bollywood?
I did a master's in engineering from Gujarat. I was a lecturer at MS University in Vadodara.
I came to Mumbai to pursue my MBA (Finance) in 2005.
I started working as an IT consultant for insurance companies, drawing a (monthly) salary of Rs 2 lakh.
You quit that to become a struggling writer in Bollywood.
I was always a playwright. I did theatre in Gujarat.
At that time, I did not realise there was a career in theatre or films.
I was good in studies so I moved towards engineering.
But when I came to Mumbai, I realised I would not survive in this world.
I felt I was a creative person and I could not spend my life sitting in a cubicle all my life.
My friend Bhavesh (Mandalia), who wrote Oh My God, introduced me to the director Umesh Shukla.
Through him, I got a break in theatre.
I wrote a play for Gujarati theatre called Return Ticket and it became a big success.
I would write at night and work during the day.
A lot of hard work.
I started writing for television.
I wrote many shows, but none of them were aired.
I wrote Office Office Season 3 in which Raghubir Yadav was to play Pankaj Kapur's role.
Four episodes were shot and telecast on Sahara, but then the channel shut down.
I wrote for NDTV Imagine, then that shut down too.
I started writing for Savadhan India and Crime Patrol.
Finally, I wrote for Tarak Mehta Ka Oolta Chashma and the producers loved it.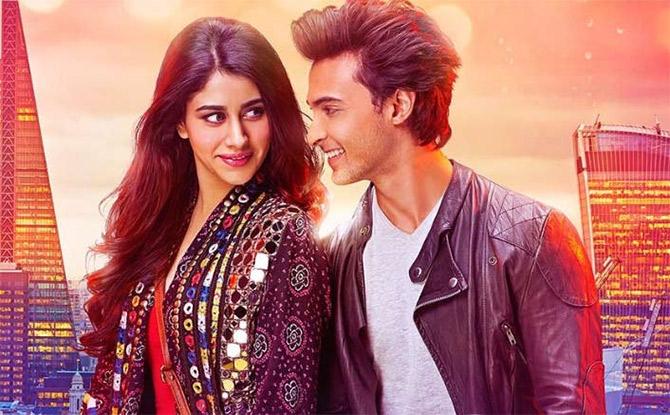 How did you get films?
I wrote a Gujarati film, Be Yaar. It ran for 52 weeks.
Urban audiences loved it. It was the first time when a Gujarati film released in multiplexes.
The other Gujarati film I wrote, Wrong Side Raju, won a National Award.
Then I wrote All is Well, starring Abhishek Bachchan, and Salman Khan's production, Loveyatri.
I started writing songs for Gujarati films. I have written songs for nearly 28 films!
When you quit your job, didn't your family get worried?
I quit my job at the age of 33 in 2012.
My wife is a sculptor.
My father is a retired banker.
I didn't tell him that I quit my job because he would have got a shock.
Since my specialisation was finance, I was smart money-wise.
I had kept a financial buffer for a year. When I started getting work, money started trickling in.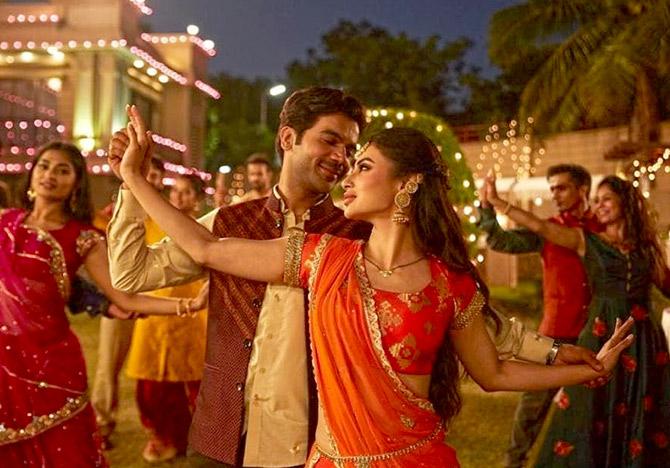 What would you advise young writers?
You will not get a break immediately in the movies.
There is a struggle and you have to go through the process.
The most difficult thing in the world is to convince someone to put Rs 20 crore on your movie script.
Do you plan to direct a movie?
I might, after two years.
Whom do you bounce your ideas off?
Friends like Bhavesh who co-wrote the Gujarati film Be Yaar with me.
I also go to Sumit Arora, who wrote Stree.
Then, there is Gaurav Shukla.
How does our family see your success?
My father and brother bought 50 tickets of Bala and arranged shows for their loved ones in their respective towns.
They are very proud.