'You could hear Prince's influence on all of them. I could see him in a pop artist I could see him in an R&B soul artist.'
Former minister Milind Deora who in his spare time more than strums a guitar and belts out a few songs, pays tribute to Prince.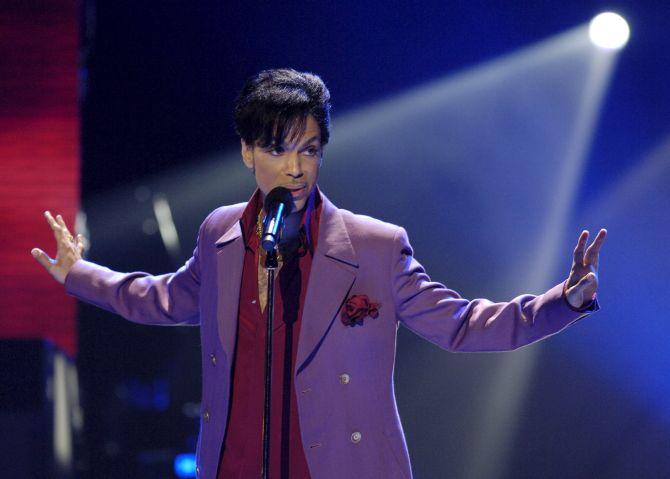 One of the few Indian celebs to immediately tweet about pop star Prince's death was Milind Deora, former minister in the United Progressive Alliance government and erstwhile member of Parliament from south Mumbai, who plays the guitar in his free time and is a fan of James Brown, Rolling Stones, The Beatles, blues artists like Buddy Guy and Muddy Waters, Eric Clapton and Bob Dylan.
Deora had tweeted: 'Another legend gone too soon. A pop icon, Prince was also one of the world's most underrated guitarists. RIP.' And then, 'You introduced me to James Brown, @michaeljackson, @JimiHendrix & effortlessly made them a part of your music & artistry #RIPPrince #Prince.'
So we checked back with him to find out why Prince was special for him.
Deora got to know about Prince's death first on Twitter -- because "that's how you get to hear about news nowadays" -- and then he turned the television on and CNN confirmed it. The young politician then spent a large part of the evening reading about him.
His tribute:
'I wasn't a humongous fan of his. But as a kid, I grew up, seeing him, hearing him and hearing him perform and stuff. He was a grungier pop star than what Michael Jackson was.
'But as one got older, one learned to appreciate what he was really about. And he was really as great, as talented an artist as anyone else was.
'He was really someone who could do it all.
'Later on you realised he wrote the song Nothing Compares 2 U by Sinead O'Connor, he wrote the lyrics of that, and he was a very, very good musician himself. I think he could play like 20 instruments.
'As a performer and a singer, you learnt that he was an unbelievable artist. He is like a Bowie or the Stones. An all-rounder. He was one of the greats who could write great lyrics, perform them very well, perform the melodies extremely well. Had an incredible music sense and was an incredible musician too
'You cannot not like When Doves Cry -- that gotta be a favourite. I still remember the video, as kid growing up, where he is riding a bike and he is sitting by the stream. The special intro part (guitar solo), I never really liked it when (the song) starts. But I got to understand that it was a great solo tribute that he did.
'He was an innovative guy. You could -- in the modern sort of artists (of) the last five years or 10 years -- you could hear his influence on all of them. That's when you know that a person is a very influential guy. I could see him in a punk band. I could see him in a pop artist I could see him in an R&B soul artist.
'He also covered the entire spectrum of music from punk to pop to hip hop and, yes, R&B, everything. He did it all. I liked it because he kinda introduced me to (Jimi) Hendrix. When I started getting into Hendrix and became a huge fan, I realised that Prince used to dress like Hendrix.
'He was very, very good. As I tweeted yesterday, he was one of the most under-rated guitar players. Most people saw him just as an artist and a singer. His clothes, his look and his image was what caught attention.
'But for those of us who were listening to what he was playing he was brilliant. Very, very, very talented. He could do stuff like Hendrix could. He was unique. He could move likes James Brown, play like Hendrix, sing like a soul singer and he could write great lyrics and he was culturally an important icon as well. Culturally and politically he was a very important guy. He took on the whole online thing about music, like many other artists did, like Metallica did. But the way he took on the record label and went at the industry as a whole… and said that freedom should be in the artists' hands -- it was unique. Like when he changed his name to The Artist Formerly Called Prince and god knows what, it was hard to keep track.
'He was kind of like what Bowie was about -- which is no matter who you were, they (people like him and Bowie) had an influence on you. Whether you liked to dress a certain way, they had an influence. If you believed in LGBT rights, they had an influence on you. If you believed in race equality, they had an influence. They were beyond just recording artists. Oh yes, (philosophers in their own right). They were leaders in their own right.
'I was always interested in him and where he is going with his artistry and what he was going to do next and the new sounds he is creating. I remember when that artist Gotye won a Grammy for the song Somebody that I used to know and he got it from Prince. I still remember that was two years ago or something and Gotye got up on stage and said, 'For me a greater award than winning the Grammy is getting it from Prince'.
'I totally feel it (when an artist dies). I get quite upset in my system when an artist you have grown up with dies.
Image: A file photograph of Prince performing in a surprise appearance on the American Idol show finale at the Kodak Theater in Hollywood. Photograph: Chris Pizzello/Reuters.
Milind Deora spoke to Vaihayasi Pande Daniel.