Logan Lucky and It have many chuckle-worthy moments.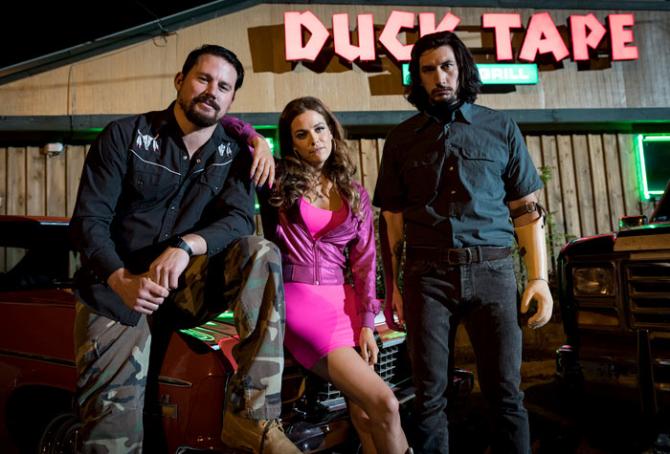 When it comes to cinema and TV, I'm on the constant lookout for pop culture references. If highbrow is hard to come by, drench me in lowbrow.
That's exactly why I loved Logan Lucky and It for being suffused with so many chuckle-worthy moments on the zeitgeist of 2017 and late 1980s, respectively.
Steven Soderbergh returned from his self-imposed exile to make the year's most interesting mainstream movie, Logan Lucky.
West Virginia family man Jimmy Logan (Channing Tatum as his regular self, with a limp in his gait), who is freshly out of job and loves his young daughter, teams up with his one-armed brother Clyde (a relentlessly deadpan Adam Driver) and sister Mellie (Riley Keough) to steal money from the Charlotte Motor Speedway in North Carolina.
The movie's real showstopper is Daniel Craig as Joe Bang, who assists them as the vault breaker. His amazing man-baby mannerisms made me rue the fact that he has been rotting away in those morose Bond characters (barring Casino Royale).
This might be the most off-kilter role in Hollywood in recent past after Jason Statham's outing in Spy. Craig sucks the oxygen out of everyone else sharing the frame with him.
The best part about the movie is that the pace is unflagging right till the end, a rarity in this genre. There are allusions to pre-existing conditions, which Paul Ryan and Donald Trump brought into the healthcare discourse, sick burns on TV writing responsibilities for Game of Thrones, Rihanna's allure to young girls.
The movie essentially says crime pays but also conveys the message that too much greed can be detrimental. This has to be the best Soderbergh movie after his flinty Oscar-winning 2000 movie, Traffic.
The supposedly horror flick, It, might not be as start-to-finish brilliant as Logan Lucky but its first three-fourth portions are clutch-your-stomach funny and that's more than good enough for me.
Set in 1988 in a Maine small town, this adaptation of the Stephen King book by the same name is about seven adolescents who are scared witless of the eponymous nightmarish villain in a clown garb.
While we go down the murky sewers to find the victims of the clown called Pennywise, played with an evil grin by Bill Skarsgard, the movie has kitchen-sink references to multiple late '80s American themes: craze for Superman, breakout of AIDS epidemic, ascent of New Kids On The Block, a scene straight out of Carrie when bucketloads of blood is splattered across a bathroom.
These might have more of a pull for the boomers but for a borderline millennial like me, it's Valhalla as well.
Director Andy Muschietti and his three screenwriters, including Cary Fukunaga, whipped up a script that is simultaneously creepy and morbidly funny. The latter attribute is something that I never thought I'll associate with a Hollywood movie, especially if it's directed by the person who made a pant-wettingly scary movie like Mama.
The movie's best moments are the ones where 'loser' kids have repartee going between themselves.
In a movie lacking any star power, Finn Wolfhard makes sure it's his by doing his role of Richie as the one who rouses the rabble with his poker-faced jibes at the gang.
His impish charm hiding behind giant glasses keeps the movie afloat but the kids start seeing multiple demons and their resolve to fight the clown together is a yawn-inducing affair.
That said, there's a lot here that we didn't get to see much in Hollywood cinema this year. That reminds me of the recent New York Times article that says Hollywood biggies are whingeing about the disproportionate influence Rotten Tomatoes, a review aggregating website, wields.
The article quotes Brett Ratner, the director, producer and film financer, as saying at a film festival, 'I think it's the destruction of our business.'
Apparently, Hollywood people are miffed with the website for clubbing highbrow critics with someone who has a blog.
Rarely has a movie rated above 85 per cent on this site disappointed me. Maybe it's high time that Hollywood stopped making scapegoats, stopped doing franchise movies, invested in more humane dramas and tried to be more.
Oh, by the way, Logan Lucky and It have 93 per cent and 86 per cent rating, respectively.