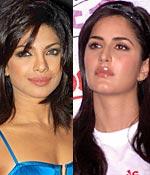 Priyanka Chopra and Katrina Kaif had surprise visitors knocking on their doors this morning.


Income Tax sleuths had landed at the numerous premises belonging to the actresses in Mumbai to conduct a survey, loosely claimed as a raid.

Unlike a search where IT officials have the authority to seize cash and valuable articles, in a survey only books of accounts can be impounded.

The raids at the Priyanka and Katrina's properties began early this morning. It was triggered off by the information that the duo had not disclosed a certain part of their income, thus causing loss to the union exchequer.

It is difficult to conceal income which is received by way of cheque payments. The most popular way to trick the IT department is to take part payment in cheque and part in cash.

Actors are known to appear for private functions like wedding or do item numbers in movies for a hefty sum.
A senior IT officer of the intelligence wing said that whether the actresses had indeed concealed their income will be known late in the evening. He added that irrespective of the outcome of the survey, the IT department stands to gain as others in the film industry will fall in line and pay up taxes as per their actual incomes.