'I can understand why Monisha washes her paper cups and reuses them. I do that at home.'
'We thought recycling was stupid, that only poor people do it. But it's the need of the day today.'
'I am done with life, more or less. You will inherit the earth as you have left it, your children will have to put up with the rubbish that we have done. So it's important that we think like Monisha.'
Ratna Pathak Shah shows us a deeper side to Sarabhai Vs Sarabhai.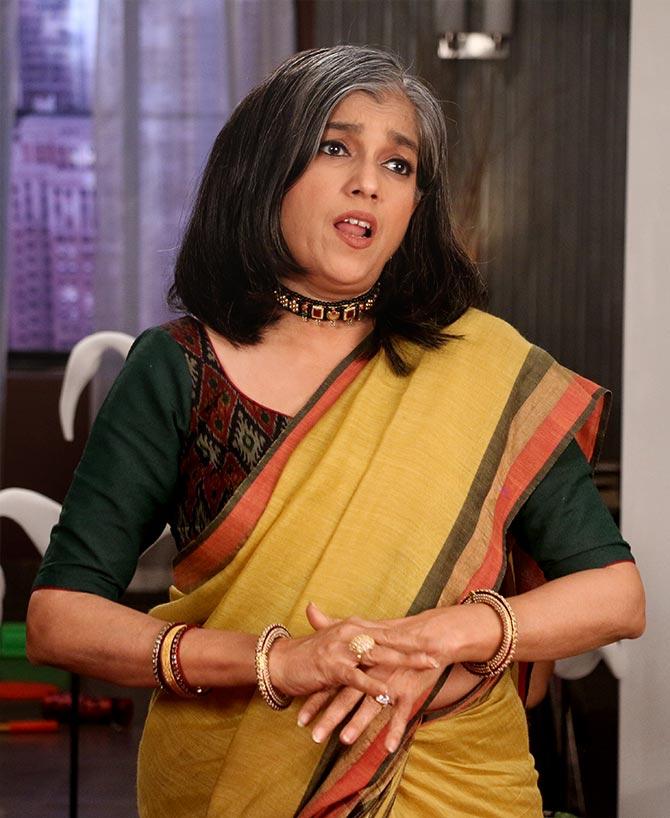 IMAGE: Ratna Pathak Shah in Sarabhai Vs Sarabhai Take 2
Sarabhai vs Sarabhai Take 2 is all set to premiere on Hotstar on May 16, and the cast is as excited as its audience!
Ratna Pathak Shah, who plays the haughty Maya Sarabhai, who doesn't mince words especially when her 'middle-class' daughter-in-law Monisha is concerned, tells Rediff.com contributor Rajul Hegde what to expect from the show.
Why don't we see you more on TV?
Because nobody writes a show like Sarabhai on TV! (Smiles)
Why would I do anything else? I like shows, which have intelligence, a story, interesting characters and are progressive. I don't like a show that stretches like a rubber band.
Name another show on television, which has any of these. You can't, right? I rest my case.
How similar are you to your character Maya Sarabhai?
What do you think? (Smiles)
I am happy to be Maya but I am equally Monisha. I can understand why Monisha washes her paper cups and reuses them. I do that at home.
A lot that Monisha says is the stuff my mummy used to say to me. Our moms have said it to all of us and we used to make jokes of them. We thought recycling was stupid, that only poor people do it. But it's the need of the day today.
I agree with Monisha when she collects and washes the milk bags to reuse. I do that at home; all of us should. There is nothing embarrassing or down market about it. It makes sense.
I am done with life, more or less. You will inherit the earth as you have left it, your children will have to put up with the rubbish that we have done. So it's important that we think like Monisha.
But her middle class stupidity and constant back-biting are some things that should be made fun of. I am glad our show does that.
Who are your favourite characters?
Indravadhan (played by Satish Shah) and Monisha (played by Rupali Ganguly). They are sensible and don't talk rubbish.
Monisha doesn't convey things directly. It takes some time for her to come to the point but she talks sense. That's why people don't make fun of her. We laugh at her but also love her.
Indravardan is a straightforward person, and says what comes to his mind.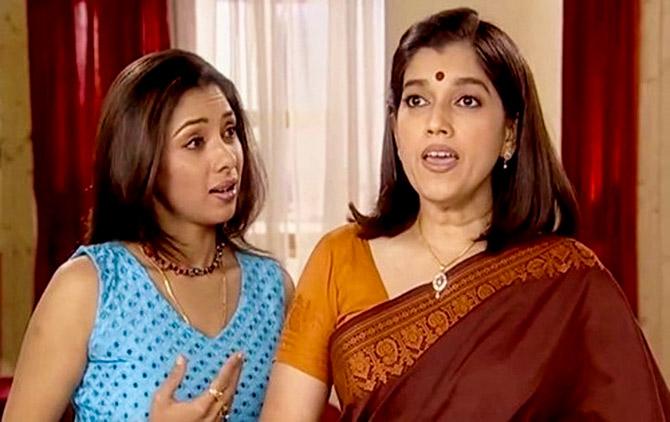 IMAGE: Rupali Ganguly's Monisha and Ratna Pathak Shah's Maya in Sarabhai vs Sarabhai
Do you watch the repeats of Sarabhai on television?
Oh yes! We watched quite a few episodes before we started shooting this season, and all of us have watched individually also.
We thought it was part of our preparation but frankly, I stopped looking at what and how I did. I just laughed and laughed and laughed. That's when I realised we had a good show.
Was there a fear about how you would get back to that character after so many years?
Yes, I did.
I thought it would take some time to get back to the character but Aatish Kapadia's writing is so seamless that it started from where it ended. It was bang on.
His script has the same fun.
I agree with Satish Shah on the fact that we have worked together earlier too but we had to work so much on the script to make those lines sound like I can say this. We would revise a lot.
But this is one place where you have to just read the script, remember your lines and perform. I have not seen anything like this before in my entire experience.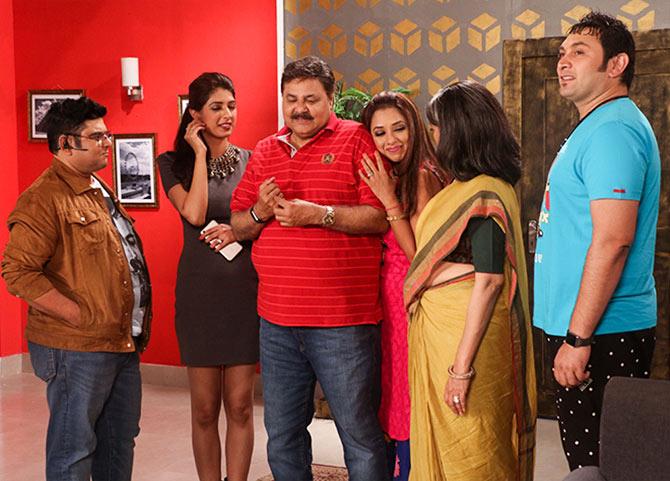 IMAGE: Deven Bhojwani,

Aishwarya

Sakhuja, Satish Shah, Rupali Ganguly, Ratna Pathak Shah and Rajesh Kumar shoot the new series.
Off-screen, who has the best sense of humour?
Everybody!
Sometimes Deven Bojani (the show's director) gets completely fed up on the sets. He asks, 'Have we come on the sets to cracks jokes or to work?'
At times, he has to shout like a school teacher and then we keep quiet. If Aatish is on the sets, work doesn't happen only!
Do people still call you by your character's name Maya Sarabhai?
Fortunately, not.
The special thing about television is that you don't remain yourself, you become the character and people identify you as the character. Fortunately for me, I haven't done so much of television. I have done other work too. So people think of me as an actress first and the character later.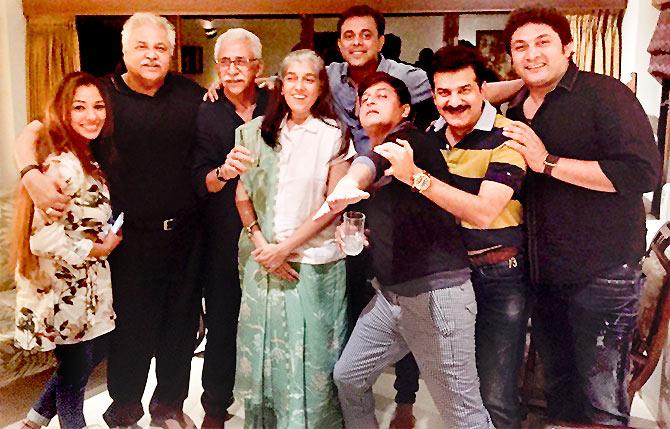 IMAGE: Rupali Ganguly, Satish Shah, Naseeruddin Shah, Ratna Pathak Shah, Sumeet Raghavan, Aatish Kapadia, JD Majethia and Rajesh Kumar get together at Satish Shah's residence. Photograph: JD Majethia/ Twitter
How did your husband Naseeruddin Shah and your children react when they heard that the show was coming back?
They are all are extremely happy.
What shows do you watch on television?
I don't watch TV. I watch some Web Series sometimes, as a lot of friends have been making them.
What are your upcoming films?
I am doing Anees Bazmee's Mubarakan (starring Anil Kapoor and Arjun Kapoor).
There's another sweet film called Love Per Square Foot, directed by first-timer Anand Tiwari. He is a wonderful actor also.
I am looking for a play. Hopefully, I will find something that I like to do. We have a theatre group called Motely, so we do stuff on that.
How satisfied are you as an actor?
I am getting more satisfied now, as I am finally getting work that excites me, pushes me, forces me to think a little more and challenges me.