Several Bollywood stars and their children celebrated Father's Day by sharing pictures of their dads and posting heartwarming messages.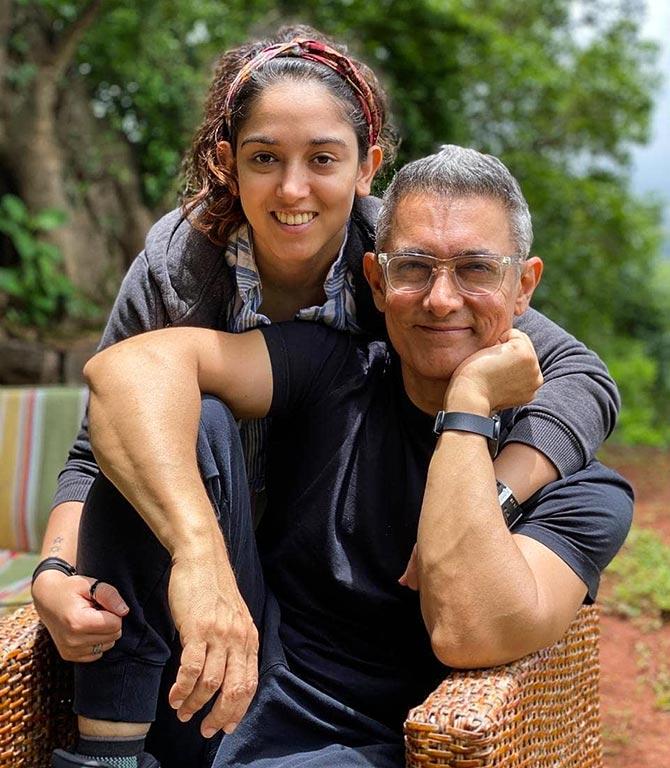 Ira Khan posts a picture with her dad Aamir Khan: 'Happy Father's Day! Thanks for being you'.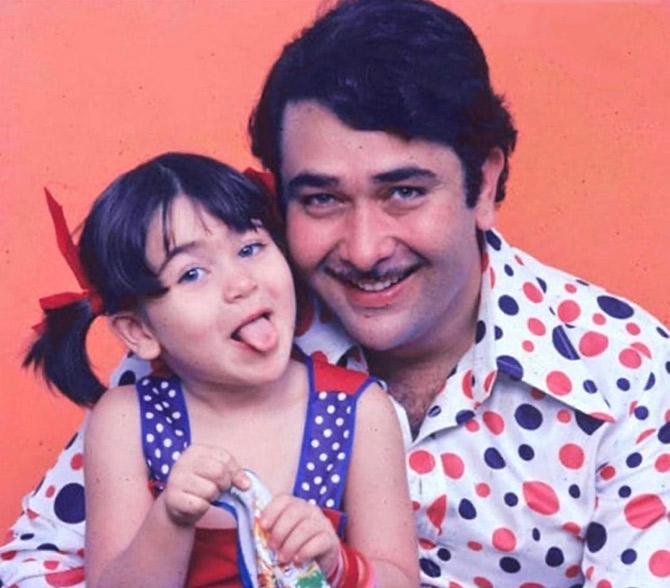 Karisma Kapoor posts a throwback picture with daddy Randhir Kapoor: 'Dotty duo Happy Father's Day Papa love youuu'.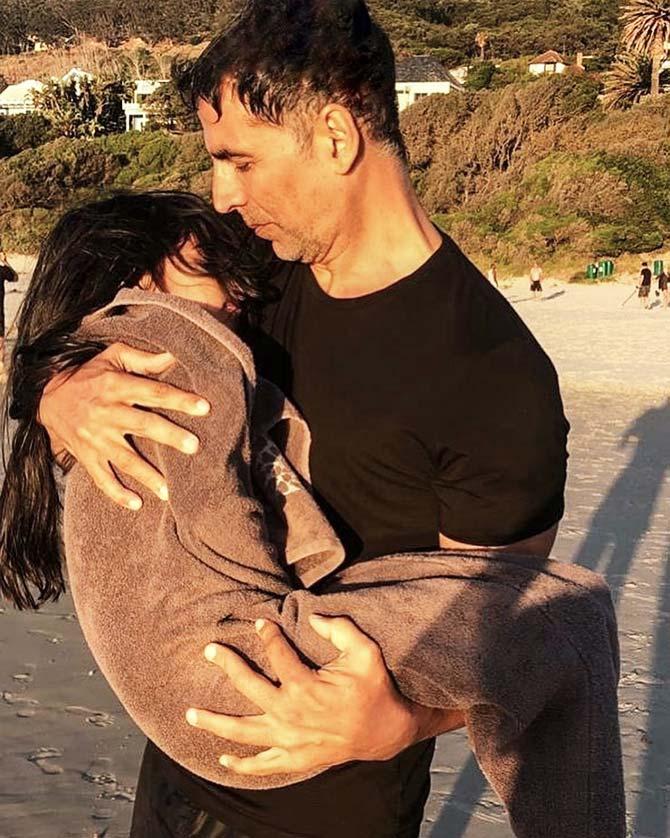 Akshay Kumar posts a picture with daughter Nitara: 'I'm sure watching your child fall asleep in your arms gives you as much peace as practicing yoga :) Wishing all the amazing fathers, Happy #FathersDay and Happy #InternationalYogaDay everyone!'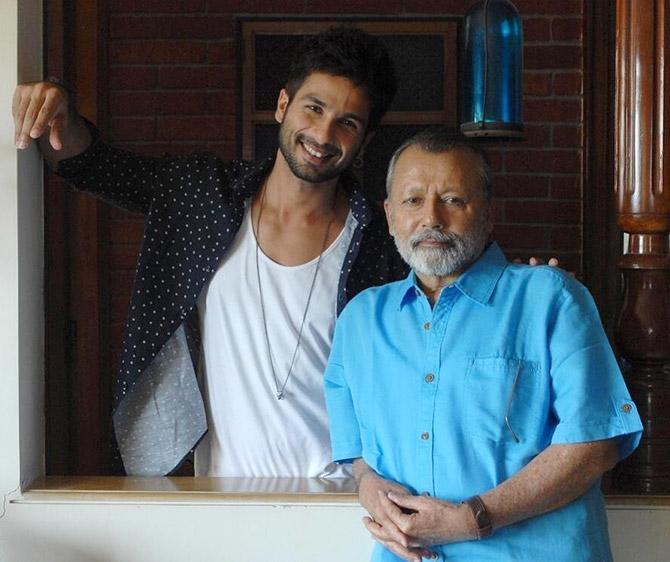 Shahid Kapoor posts a picture with his father Pankaj Kapur: 'Now that I am one, I know dad. Thank you for everything. Children can never thank their parents enough'.
Pranutan posts a picture with dad Mohnish Bahl: 'The safest hugs.. I look at you and I feel that everything is always going to be amazing..thank you for being my everything. Love you papa. Never known a person like you. Never will. Happy Father's Day'.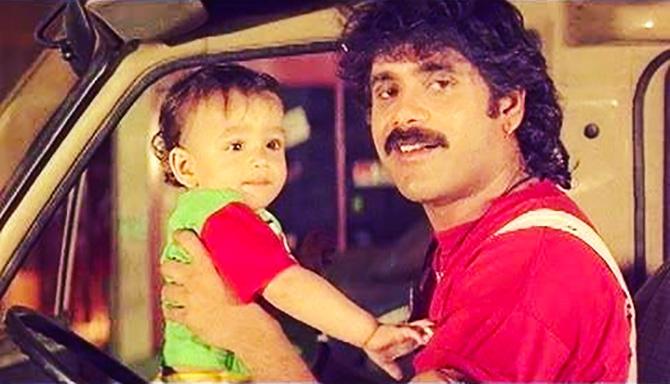 Akhil Akkineni, Nagaarjun's younger son: 'Words can't describe my love and respect for you'.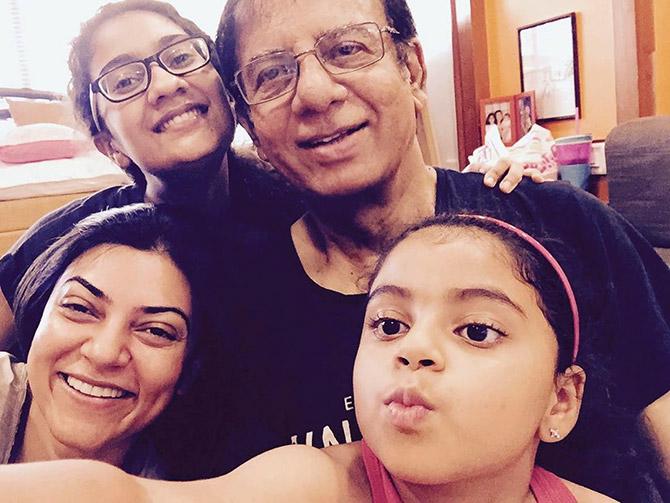 Sushmita Sen posts a picture with her family: 'Happy Father's Day!!! My baba @sensubir is my spiritual Rock...He has supported my most 'unconventional' decisions, guided me through dark times & always encourages me to take Action...to err if I must, on the side of courage!! We love you Baba/Tata To all Fathers & Father figures..love & respect!!!'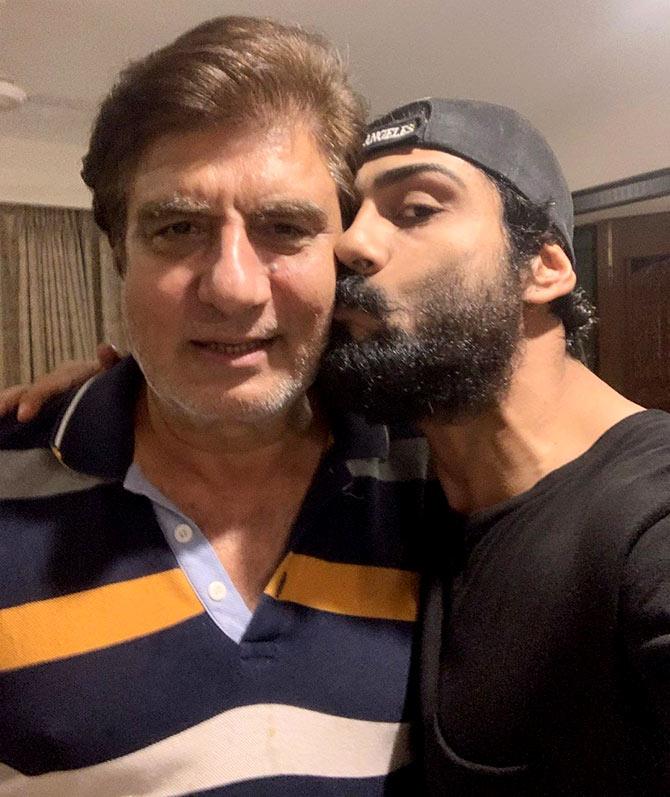 Prateik kisses his dad Raj Babbar and tells us, 'i surprise visited my young man for father's day'.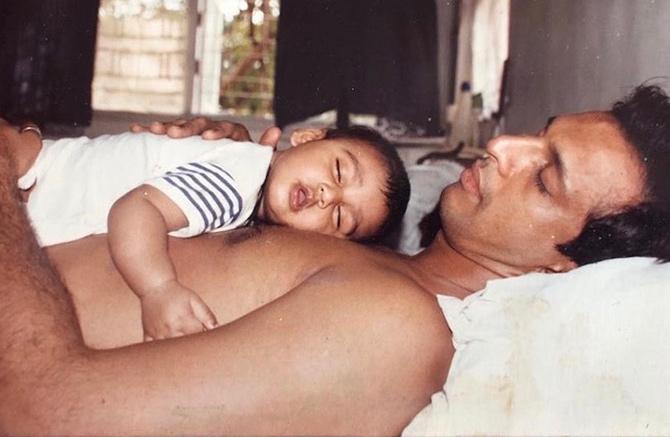 Meezan posts a cute throwback picture with dad Jaaved Jaferi: 'Happy father's day to the best! May the wind always be at your back, and the sun always upon your face, and may the wings of destiny carry you aloft to dance with the stars. I love you Baba #happyfathersday'.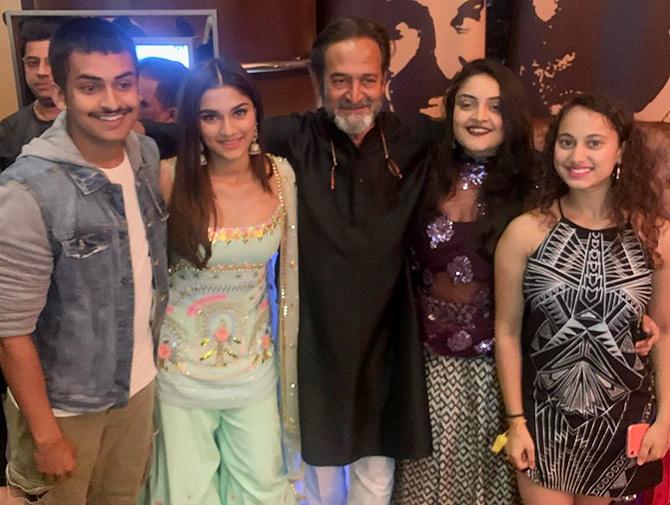 Saiee Manjrekar posts a picture with her papa Mahesh Manjrekar: 'Happy Fathers Dayyyy to Papa from all his kiddos'.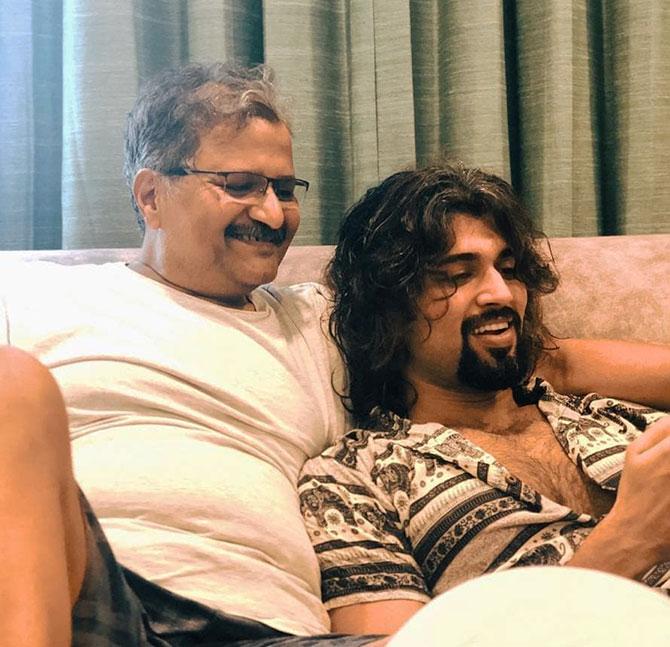 Vijay Deverakonda with his father Govardhana Rao: '"I am with you." Is all he says everytime to my decisions, mistakes, risks, adventures and wars I take on. The first Deverakonda - Happy Father's Day Daddy - I love you'.
Akshara Haasan posts a picture with father Kamal Haasan : 'Happiest fathers day to my superhero bapuji.'
'Thank for being the strong pillar of support, giving strength, for always being kind, warm and understanding.
'You have always silently and not so silently picked both Akka and I up when we fell and helped us up through your advice filled with wisdom, helped us shine our brightest, when we shine you encourage us to shine more.
'You have taught us since we were born to be able to stand on our own two feet, and made us strong independent women today.
'Hope to bring you more pride like you have with the world and us. Thank you bapuji. Love you @ikamalhaasan bapuji'.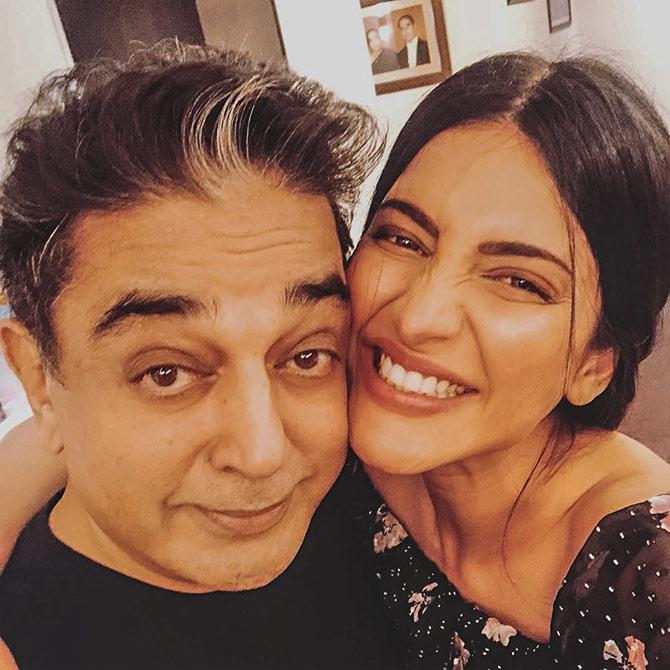 Her sister Shruti Hassan adds: 'Happy Father's Day Appa dearest @ikamalhaasan
'Thank you for being you. Thank you for inspiring me to be courageous in art and in life. #bapuji'.
<p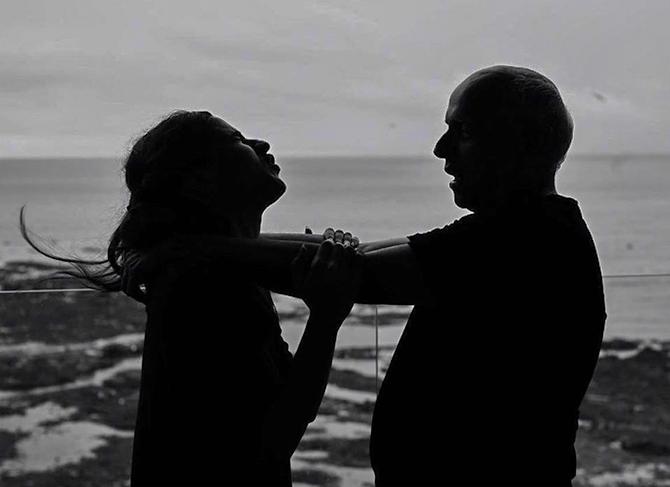 Alia Bhatt posts a black and white picture with father Mahesh Bhatt
'I feel so grateful to know you everyday! Thank you for making me and being you! I love you.'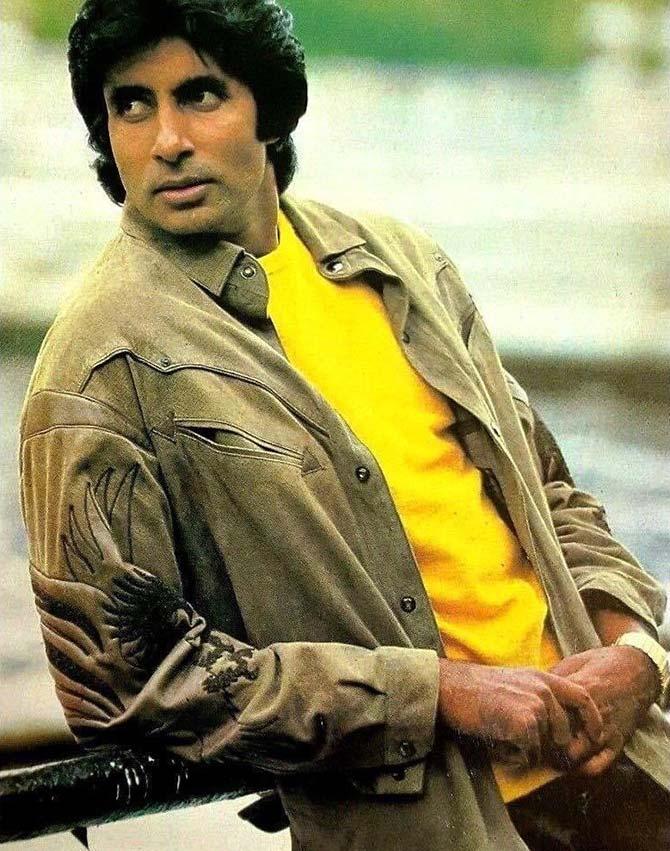 Abhishek Bachchan posts a picture of his dad Amitabh Bachchan: 'The coolest ever... period! #HappyFathersDay'.
Ananya Panday celebrates Father's Day with Chunky Panday and wishes her mum Bhavna a happy birthday too: 'Blessed w the best #HappyBirthdayMama #HappyFathersDayPapa LOVE U GUYS'.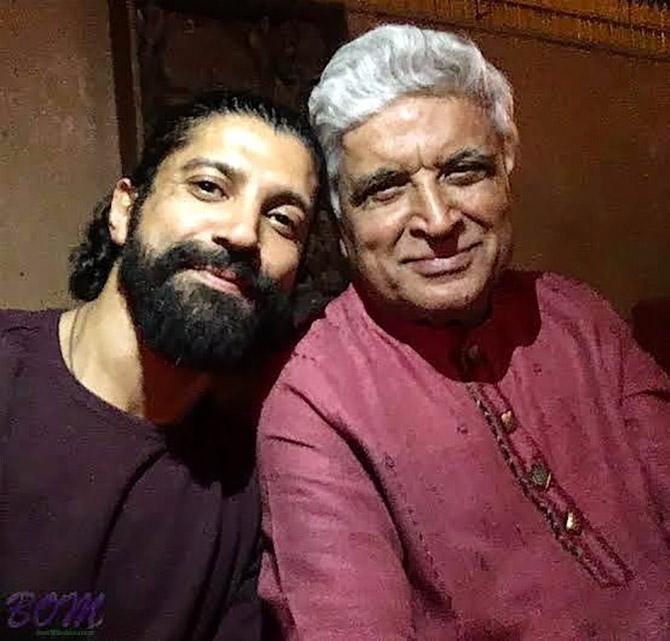 Farhan Akhtarwrites a poem for his father Javed Akhtar:
बाप की उँगली थामे
इक नन्हा-सा बच्चा
पहले-पहल मेले में गया तो
अपनी भोली-भाली
कंचों जैसी आँखों से
इक दुनिया देखी
ये क्या है और वो क्या है
सब उसने पूछा
बाप ने झुककर
कितनी सारी चीज़ों और खेलों का
उसको नाम बताया
नट का
बाज़ीगर का
जादूगर का
उसको काम बताया
फिर वो घर की जानिब लौटे
गोद के झूले में
बच्चे ने बाप के कंधे पर सर रक्खा
बाप ने पूछा
नींद आती है
वक़्त भी एक परिंदा है
उड़ता रहता है
गाँव में फिर इक मेला आया
बूढ़े बाप ने काँपते हाथों से
बेटे की बांह को थामा
और बेटे ने
ये क्या है और वो क्या है
जितना भी बन पाया
समझाया
बाप ने बेटे के कंधे पर सर रक्खा
बेटे ने पूछा
नींद आती है
बाप ने मुड़के
याद की पगडंडी पर चलते
बीते हुए
सब अच्छे-बुरे
और कड़वे-मीठे
लम्हों के पैरों से उड़ती
धूल को देखा
फिर
अपने बेटे को देखा
होंठों पर
इक हलकी-सी मुस्कान आई
हौले-से बोला
हाँ!
मुझको अब नींद आती है। - @jaduakhtar
Happy Fathers Day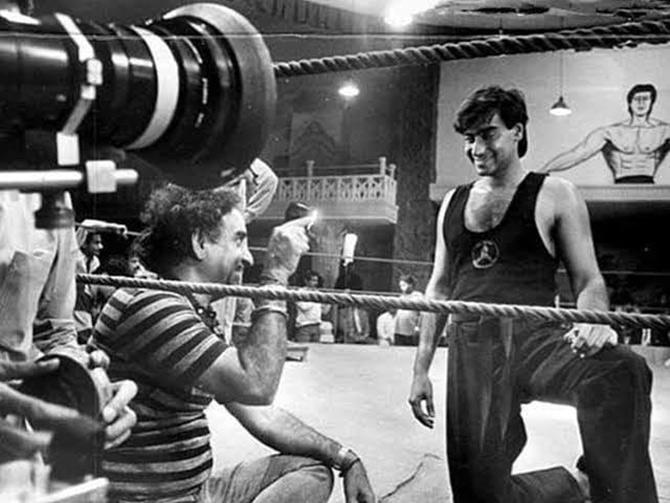 Ajay Devgn remembers his father Veeru Devgan: 'Those we love don't go away, they walk beside us everyday.. Unseen, unheard but always near, still loved'.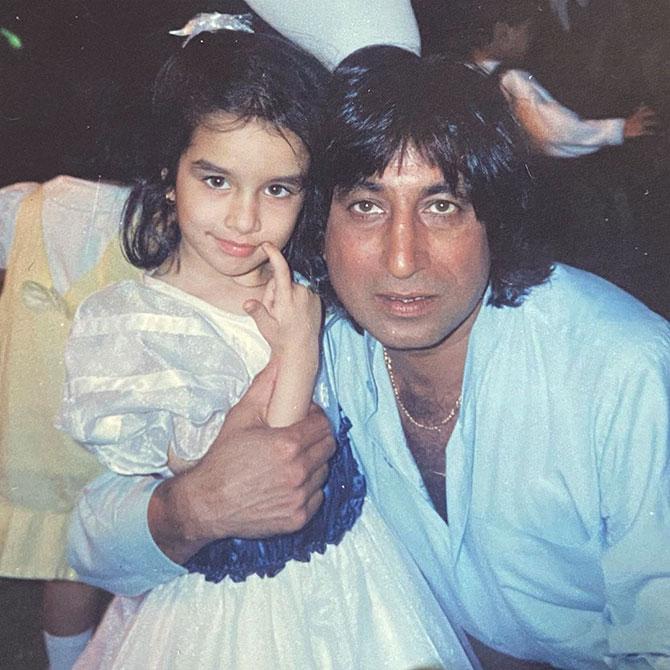 Shraddha Kapoor with father Shakti Kapoor: 'My rock, my strength, my support and always by my side. So thankful to you. So blessed for you. Words can never do justice to express how much I love you.. my precious Baapu Happy Father's Day.'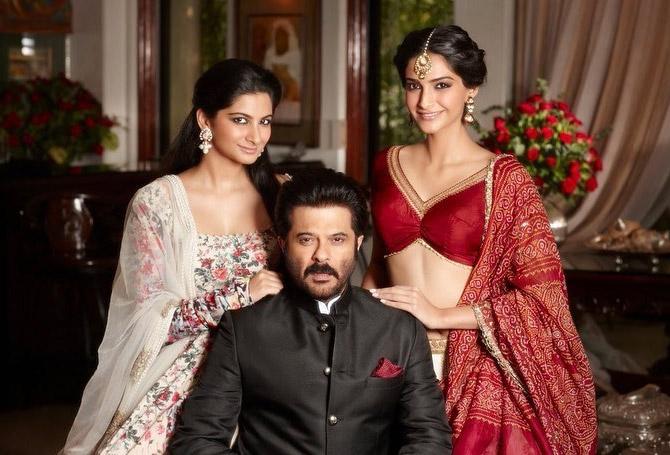 Sonam Kapoor shares a picture with father Anil Kapoor and sister Rhea : 'A father's tears and fears are unseen, his love is unexpressed, but his care and protection remain as a pillar of strength throughout our lives -- Ama H Vanniarachchy
'I'm blessed to be born to a father who has taught me the value of integrity, morals, progressive ideas and the importance of work ethic.
'I'm lucky enough to marry into a family where my father in law leads by example with his optimism, spirituality and doing everything he does with an unbeatable conscience.
'Both of them have given me unconditional love and support. And they've both started with nothing and reached stars and have done everything to give their children whatever they need so they don't have to face the same trials they faced.
'But our most important inheritance is the values that they have passed down.
'Happy Father's Day to the super heroes in my life.. I am because of you'.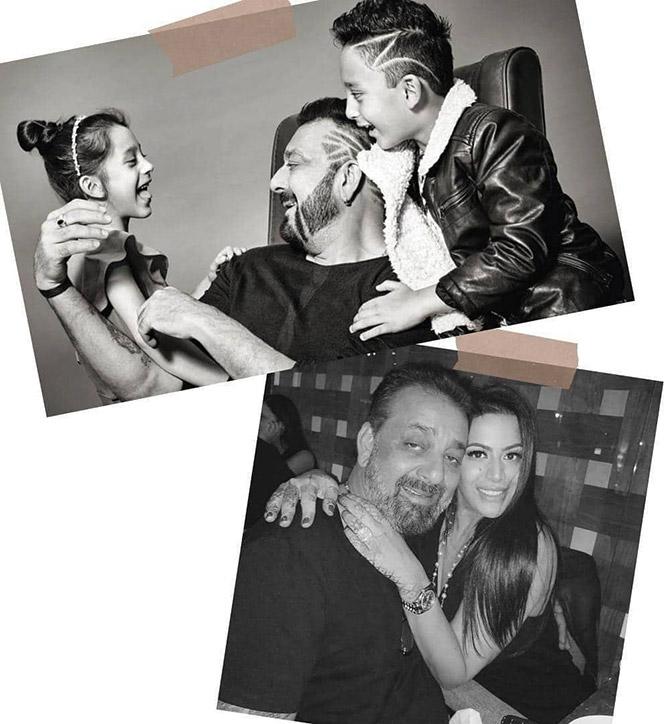 Sanjay Dutt with his children Shahraan and Iqra: 'It's a great feeling to be a dad. My dad was my pillar of strength. And, I promise to be one for you all. Love you @duttshahraan @duttiqra @trishaladutt Happy Father's Day to all the fathers out there!'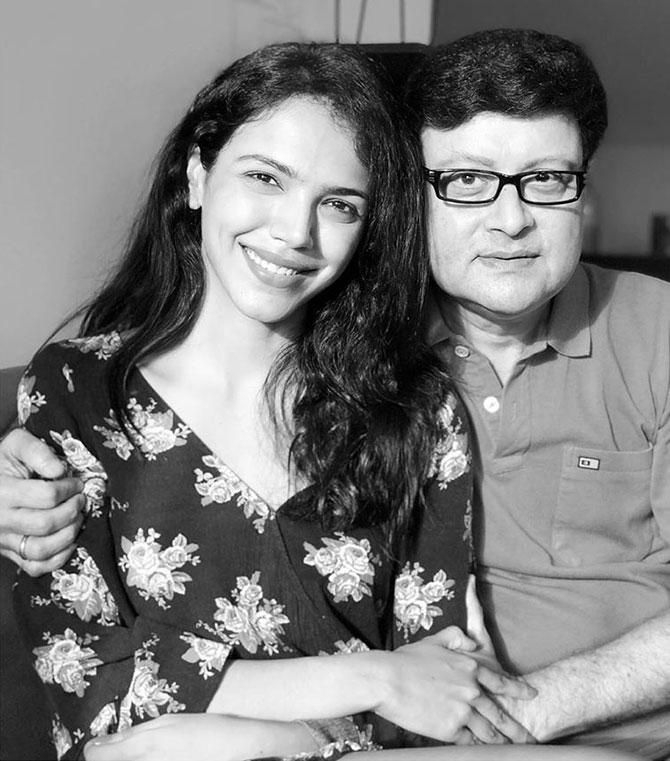 Shriya Pilgaonkar with her father Sachin: 'Thank you for always encouraging me to show strength and vulnerability. For listening and accepting . For teaching me to take a joke on myself and for never putting others down.
'Your positivity and zest for life is all that I need to equip myself with. I love you and always hope to do you proud papa'.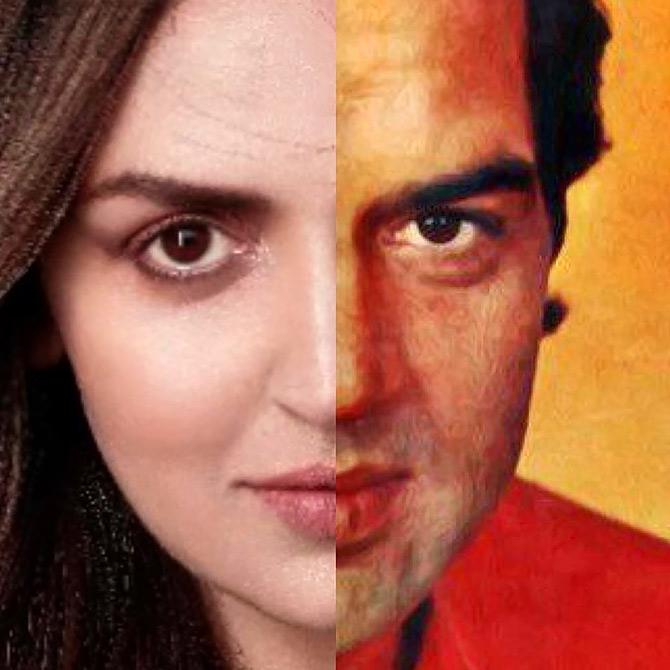 Esha Deol posts an interesting picture with daddy Dharmendra: 'We think alike, we look alike & we sure do punch alike we are one #happfathersday papa more power to you love u! stay happy, healthy & fit always, ur BITTU ! @aapkadharam #fatheranddaughter'.