'It just so happens that some amazing, true-life stories come my way.'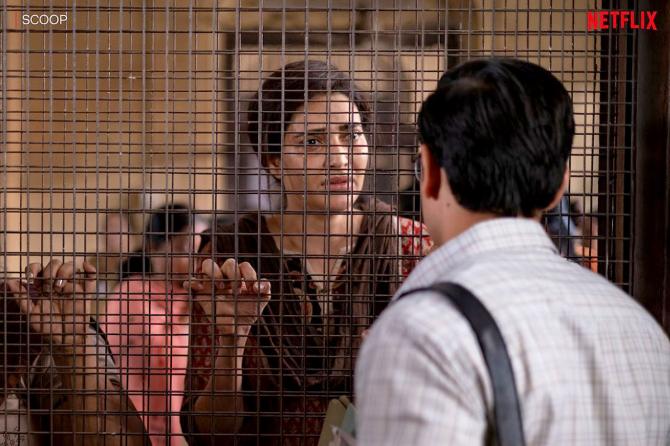 From his cookery show Khana Khazana to Scam: 1992 and now Scoop, Hansal Mehta has come a long way.
As Scoop continues to get raves, Hansal tells Subhash K Jha, "These are exciting times, and I'm glad to be a part of them."
Did you expect this kind of appreciation once again after Scam?
Scam 1992 released during the pandemic, at a time when we had lesser content for consumption.
Its phenomenal success gave many of us a new life and so much to be thankful for.
But to live on those laurels and to expect a repetition of the same is delusional, something I believe I'm not.
Also, we are in a post-pandemic world. A lot more content and some amazing work is happening all around me.
In this climate, it feels fantastic to see this success.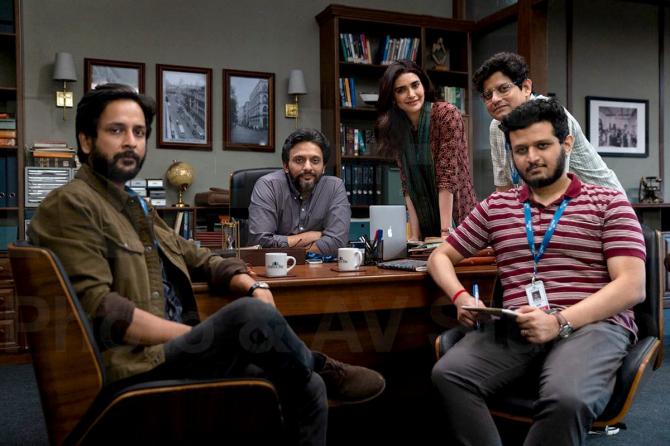 When did you start work on Scoop?
We began working on Scoop much before Scam's shoot was completed.
Just like I am unfazed by failure, I try to be less affected by success.
I get up in the morning, go to work and just want to keep working.
I took a short break around the release of Scoop to keep myself away from expectations and, of course, the anxiety that precedes a release.
But seeing its success and the amount of appreciation it is garnering, I feel relieved and of course, vindicated.
Why vindicated?
Vindicated for the choices I've made and the path I'm choosing.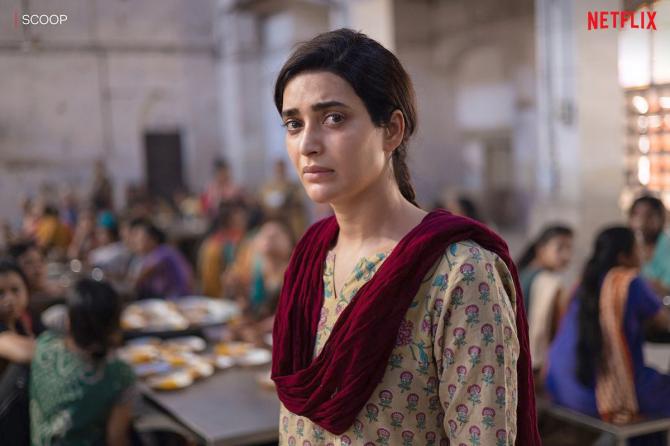 What gravitated you towards Jigna Vora's story? At what point of time, did you decide to make a series on her trauma?
The producers of the show Matchbox Shots shared Jigna's book with me in 2020.
I saw the potential to tell a story that went beyond the book -- to tell a story of aspiration, to tell a story of a working woman in a male-dominated world -- that's how it still is at most workplaces -- to tell a story about our times, about courage, about family and to engage with the audience on a story that is both a cautionary tale and an important chronicle of our times.
In doing so, I found a fantastic co-creator in writer Mrunmayee Lagoo and her team comprising of Mirat Trivedi, Karan Vyas and Anu Singh Chaudhary.
Did you follow Jigna's case when it actually happened?
I had followed Jigna's case in 2011, but like all headlines, her story was replaced by some other headline.
While her story got confined to inside pages, she and her family bore the trauma of being labelled without a judicial process.
This story of the reporter becoming the reported and the reportage getting lost in the sands of sensationalism made me want to tell her story, and beyond. That is the reason we have dramatised and fictionalised so many elements of the story.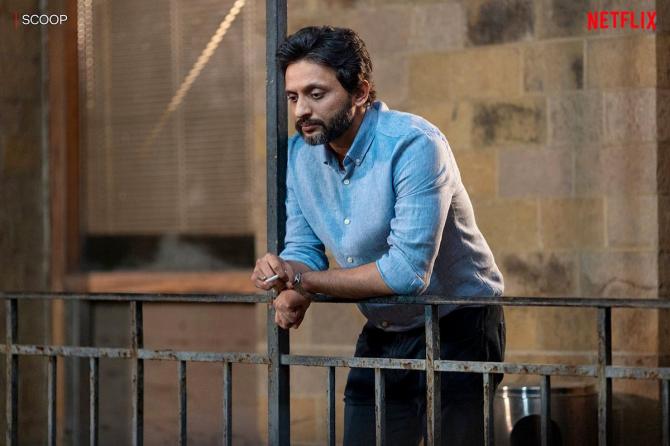 What draws you to real-life stories over and over again? I don't think any film-maker in this country has done so many bio-pics. Do you prefer real stories to fictional ones?
Stories find me, Subhash, I don't find them.
It just so happens that some amazing, true-life stories come my way.
Frankly, all I look for are stories that don't allow me to sleep, stories that I am compelled to tell.
Coming back to Scoop, how did you decide on the casting? Which actors surprised you the most?
(Casting director) Mukesh Chhabra has been a frequent collaborator and because of him, I am often lauded for the casting of my work since Shahid.
We have a simple, instinctive process that puts the character before the actor.
We have been fortunate that producers, studios and platforms have most supported our instincts.
Scoop was no exception.
Karishma Tanna, Harman Baweja, Mohhamed Ayub Zeeshan, Jaimini, Deven Bhojani, Sanat Vyas and the entire ensemble are choices we made. Netflix supported these choices and that is why I find the success of Scoop such a vindication.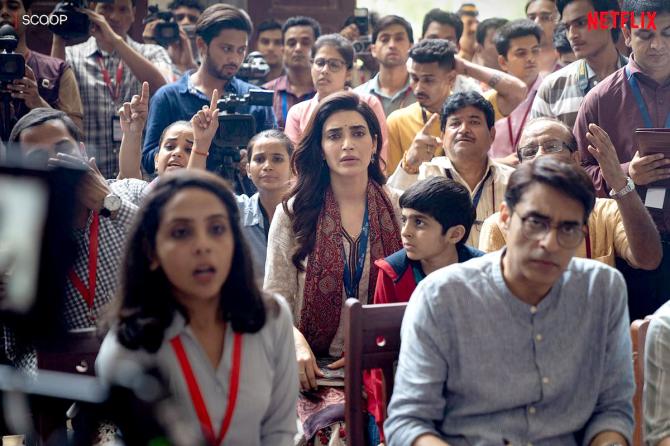 Scoop looks at the inner workings of media houses with precision and without prejudice. How did you come to this level of scrupulosity in your depiction of the fourth estate?
A lot of painstaking research was conducted by Mrunmayee and her team.
Deepu Sebastian was leading the research effort while Ankur Pathak was in the writer's room and on the set, helping us get the newsroom as correct as possible.
A lot of research about the work of crime reporters on the field and the working of prisons was conducted with the help of really wonderful people.
The work put in by my wizkid Director of Photography Pratham Mehta, my production designer Tanvi Patil, my costume designer Shivank Kapoor and my associates Rishabh and Gyas have lent this show its air of authenticity.
An important aspect of my work has been the directing of the background artistes that contribute so innately to the world I'm trying to create.
Gyas, my first AD (assistant director) for the past five years, is a specialist at this. His work gives my frames that realistic energy.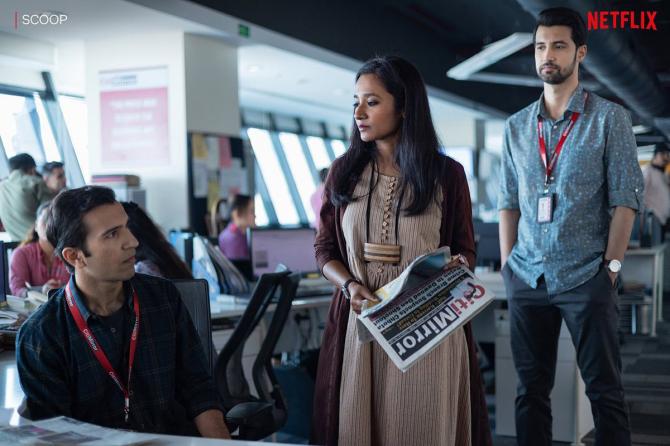 How closely was Jigna Vora associated with this project? Did you keep her point of view at the forefront of your storytelling?
We had the rights to Jigna's book.
She was interviewed during the research process. I did not meet her until the end of our schedule.
I did not want my interpretation or the interpretation of my team members to be coloured by too much interaction.
We had to imagine, create and dramatise a whole new world. Straight replication would mean mimicry.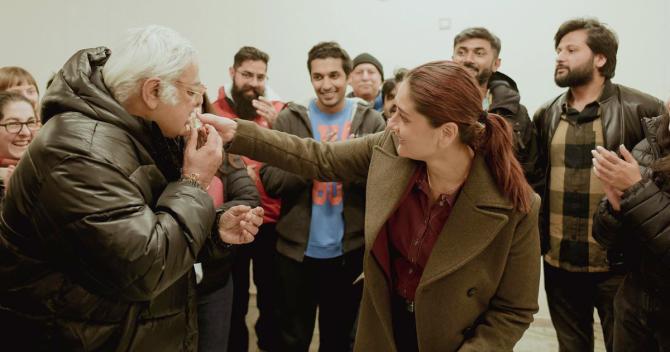 After the spectacular success of Scam and Scoop, what's next from you?
I just got back from my vacation.
Now I have to complete the post-production of my film featuring Kareena Kapoor and onto the shooting of Gandhi.
In the meanwhile, I will await the release of Scam 2003 on SonyLIV, directed by Tushar Hiranandani, and Lootere, my son Jai's ambitious debut on Hotstar.
These are exciting times, and I'm glad to be a part of them.