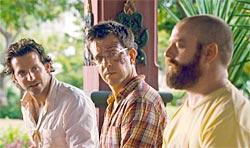 Surely, the adrenaline pumping adventure Pirates of the Caribbean: On Stranger Tides was the leader at the world box-office, earning more than $160 million over the weekend, taking its gross to an awesome $620 million. The movie has become 2011's biggest-grossing title globally so far and has a good chance of climbing beyond the $1 billion benchmark.

But the bigger story is the unexpected huge reception for a lusty and crude comedy. Setting the boxoffice ablaze, especially in North America, was the raunchy Hangover Part II, which grossed about $145 million worldwide in three days.

While critics were busy declaring it a dud, complaining that its jokes were repetitive, the audiences were howling with laughter. At a New York screening, several men and women in their 20s were seeing it for the second or third time within four days of its opening. Young women were screaming louder than the men.

While the first Hangover film put its men in a highly dangerous and funny situation thanks to their alcoholic stupor in Las Vegas, the new one sets them against the mysteries and dangers of Bangkok.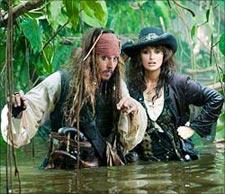 The film got some of the worst reviews for a major studio film. In London, The Daily Mail's Chris Tookey called it the 'worst sequel of all time' while Los Angeles Times film critic Betsy Sharkey described it as 'headache-inducing.'

'What was fresh and surprising in Las Vegas turns rancid and predictable in Bangkok,' said Joe Morgenstern of The Wall Street Journal

While most comedy sequels make less money than the original, the new Hangover is proving an exception. The film, which is yet to open in many countries, including Russia and Germany, grossed $118 million in four days in North America, while the original made $52 million, considered an awesome figure for a raunchy comedy. The new movie, which cost about $80 million, must have recovered its production cost in just about four days.

If it maintains a good pace — coming down by about 40 percent each week — it could even make $600 million worldwide, more than 25 percent than the first hit.

Also doing solid (though not as spectacular as Hangover II) business is the more cerebral comedy, Bridesmaids. Yet to open in many parts of the world, it is headed for a strong $120 million gross in North America.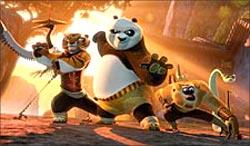 Produced by Judd Apatow (40-Year-Old Virgin), this female comedy is uproariously funny, at times shockingly so, but it is also a film with a big heart.

Featuring many well known television artists, Bridesmaids is a non-stop rib tickler, which has far less vulgar and rude jokes than Hangover II.

The movie has made Kristen Wiig, its co-writer and star, a big name in America. She plays Annie, a resident of a Midwestern American city who's recently lost her bakery and her boyfriend. And her best friend, Lillian (Maya Rudolph), has just announced that she's getting married and wants Annie to be her maid of honor. But Annie has some competition. She has to face a new friend Lillian has acquired and the two women go against each with ferocious comic energy.

If you want to keep away from a rude and sex-filled comedy like Hangover II, you will find plenty of amusement in Kung Fu Panda 2 in 3D, which is also doing brisk business.