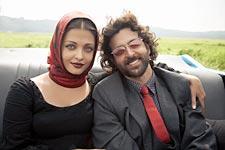 Sukanya Verma reviews Guzaarish's music.

Whether you ridicule him for passions or herald him for the same, Sanjay Leela Bhansali continues to be famously opulent. The filmmaker's fascination for the virtue of navarasa, dramatic excess and picturesque grandeur has made his creations, which he's understandably protective about, a subject of both -- awe and angst.

While his films Khamoshi-The Musical, Hum Dil De Chuke Sanam, Devdas, Black and Saawariya enjoyed varying degrees of reception, they all had one thing in common -- poetic visuals. Keeping the tradition strong, Bhansali's latest offering Guzaarish starring Hrithik Roshan and Aishwarya Rai Bachchan, with its seemingly The Sea Inside meets The Prestige scenario, also boasts of arresting imagery. And a magnificent, massive soundtrack helmed by the man himself to the penmanship of A M Turaz and Vibhu Puri.

A hint of accordion, soaring violins and intense pitter-patter of rains compel K K, accompanied by Shail Hada, to break into a soulful cry and poignant appeal underlining the film's euthanasia theme in its heartrending title song.

The notes of Sau gram zindagi often bears semblance to Chand jaisi ladki (Devdas) and Bade badmash (Saawariya) but holds its own courtesy Kunal Ganjawala's cogent rendition of quaint lyrics which draw life's analogies in kitchen spices and domestic props.

Tera zikr's mystical, oriental opening beats are followed by Shail Hada and Rakesh Pandit's animated play of infectious rhyme and semi-Sufism as a consequence of showering their subject of affection with golden compliments.

Enlivening Latin music elements dominate the sounds of Saiba and Udi Udi. While Vibhavari Joshi, Francois Castellino and Shail Hada enter a dulcet, silky mode crooning Konkani bits in the leisurely-tempered Saiba, Sunidhi Chauhan aims to burn the floor with her fiery, spunky performance in Udi.

It's less of a lullaby and more like a bedtime musing as KK tosses and turns to the dawdling raptures of Jaane kiska khwab. Long-winding lyrics and lackluster arrangement make Jaane quite an exhausting experience despite its less than three minutes running time. The singer keeps it comfortably breezy in Daayein Baayein with its cheerful marriage between harmonica and guitar.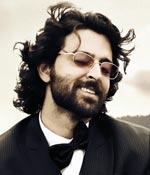 The melancholy of Guzaarish returns to haunt in the touching strains of Shail Hada's delivery of Keh na saku. But for all its bulging sentimentality, Bhansali's creation would work much better in the vocal skin of Jagjit Singh's glassy, wounded tenor.

Up next, Bhansali raises his magic wand and instructs Harshdeep Kaur's ethereal voice to transport the listener in the realm of surreal, star-lit fantasy with Guzaarish's piece de resistance, Chand ki katori.

After Khamoshi and Black, church bells make their quiet presence felt in Dhundhli dhundhli. The vintage, Victorian aura of this evening serenade blends nicely with Shankar Mahadevan's high-pitched strength that barely takes a moment to stop for a breather.  
At ten tracks, Guzaarish is an undeniably lengthy album but most of the songs are conversational in character and will hopefully aid the narrative in taking it forward.
And the upshot of all this is that the Guzaarish OST, despite its rough edges and miscalculations, tells you that this not a pompous filmmaker trying to get ahead of his game but a creative professional exploring his range and possibilities. And for that alone, take a bow, Mr Bhansali.
Rediff Rating: