'Can't make Munnabhai Chale Amerika kyunki mere ko American visa nahi milta hai, toh Amerika cancel hai.'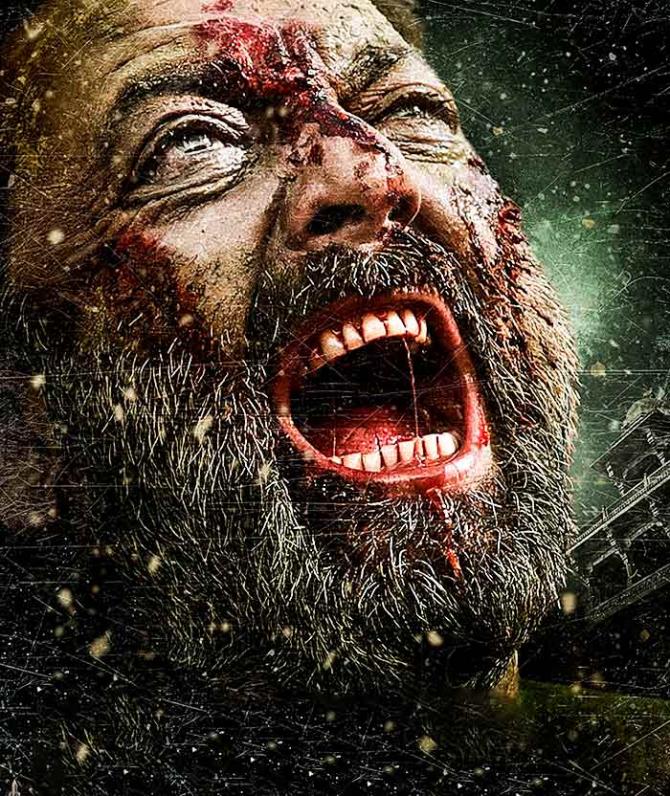 IMAGE: Sanjay Dutt in Bhoomi.
Sanjay Dutt returns to the movies with Bhoomi.
We last saw him in a cameo in Rajkumar Hirani's PK in 2014, after which he served time at the Yeravada prison, near Pune, after being sentenced in a 1993 arms case.
Bhoomi, a revenge saga, sees him play father to Aditi Rao Hydari.
In these times, does Dutt worry about his daughters, Trishala and Iqra?
He chats about that and much more, as Aditi joins in. Rediff.com's Patcy N listens in.
Are you nervous?
Sanjay Dutt: No. People have liked the trailer, and the songs too. I just hope people like the film.
The idea was to make a good film. This is a commercial film, an entertainer with a message.
Aditi Rao Hydari: When people call you and say something personal, they are encouraging you.
There have been calls from people from whom I have least expected, but they have searched for my number and called me. A lot of them are very close to Sanju sir.
I feel really lucky that I got an opportunity to be a part of Bhoomi and work with Sanju sir, and that too in a father-daughter story. That makes everything more special.
The feedback has been amazing.
Bhoomi shows the relationship of a father and daughter.
Fathers are very close to their daughters. They tease their daughters and daughters wrap their father around their little finger.
It is a timeless bond. How important the father's role in his daughter's life is what the films is all about. That's the fun part of the film.
An incident takes place in their life and they have to face it and overcome it with their love and how they stand by each other.
Sanju sir and my scenes are very endearing.
I felt very real while doing it, there is a very impromptu relation and chemistry between the father and the daughter that came out well.
There is a dialogue in the film: 'Ek ladki ka sausral hota hai, maika hota hai, ghar kahan hota hai.' Do you believe in this?
Aditi: The way my upbringing has been, I have the most amazing family and support system.
But it's true. The daughter has to nurture her family even after she gets married and goes to another house.
Her family is very important to her. She is with her family till the last second.
She will be there for anything that the family will need.
But does the family always stand by their daughter? I don't know.
I hope they do because then the girl will never have to ask such a question.
Wherever the girl stays, it should be her house.
Even the home she has left behind should be hers forever.
The reason why I like Bhoomi and I think that may resonate with every girl in this country is that Bhoomi's father stands by her, he empowers her.
She is a free-spirited girl, woh pyaar aur respect se pali badi hai (she has been brought up with love and respect), which is why she is the way she is.
She has the courage, along with her father, to take on the most difficult circumstances.
We should make our girls like that.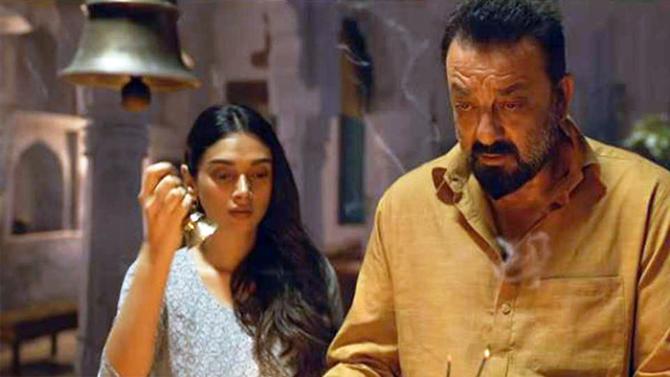 IMAGE: Aditi Rao Hydari and Sanjay Dutt in Bhoomi.
Sridevi's Mom was also a story about a parent avenging her daughter.
Your film Pitaah had a similar topic.
Sanjay: Every film is compared to every other film in the world, right from the beginning when the movies started.
Wohi ma hai, wohi pitaah hai, wohi villain hai, wohi heroine hai, wohi gaane hai -- it's there since the beginning.
The topic may be the same, but the treatment is different, the scenes are different. There can be no comparison.
A mother-son's bond is different and a father-daughter's bond is something else. It's very special.
This film has its own feel and content, its own support system, its own love story.
Do you find any similarities between your daughters and Aditi?
Sanjay: No. My daughter is six years old. Is Aditi six?
I just play Arun Sachdeva and this is my daughter Bhoomi.
In the film, Aditi is shown dyeing your hair...
Sanjay: Toh dye karna kaunsi buri baat hai (what's wrong with dyeing my hair)?
In small towns, this is how things happen -- either the wife or daughter applies dye.
Do you think India has become unsafe for women today?
Sanjay: Yeah, it is unsafe for women and children.
Look at what happened in that school in Gurgaon.
I think it is shameful for something like that to take place in a school with a seven-year-old kid.
You keep reading about rapes and molestations, I don't think it's right.
People should be educated because I believe in women empowerment. I believe in Beti Bachao Beti Padao.
I believe in Save the Girl Child. I believe in non-violence against women.
From childhood, I have grown up surrounded by women, whether it is my mother, my sisters, my wife, my daughters... I think we should take a step forward.
A fast track of justice should take place.
The person who killed the child, his case should be fast tracked.
He will go to the high court and then the Supreme Court, but why? That's brutality. We should look into it.
When I was young, I never heard about such incidents. I don't know what has happened now.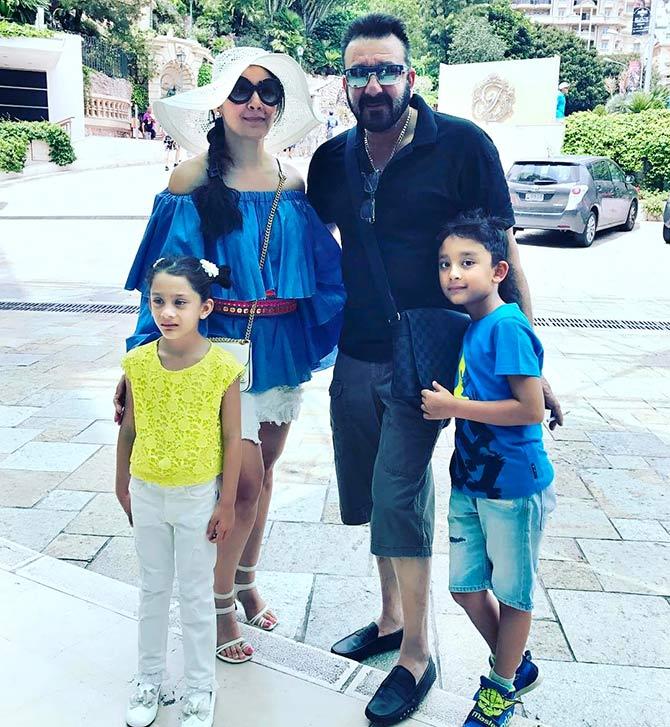 IMAGE: Sanjay, his wife Maanayata, twins Shahraan and Iqra.
Are you worried for your daughters' safety?
Sanjay: It would worry any family. A tough stand should be taken on this.
Do you think the killing of journalist Gauri Lankesh is the murder of democracy?
Sanjay: I have no idea about that. But it is sad that people are getting murdered like that -- people who matter, people who are journalists...
I feel sad about it and I can't do anything about it.
Aditi: Today, any voice of dissent in our country is not taken well, and that is a problem.
Anything that is anti-establishment is looked at as a problem, and these kinds of extreme measures are taken.
Are you worried about playing a father to a grown-up girl in your comeback film?
Are you worried that you may not get lead roles after this?
Sanjay: I played Hrithik's father in Mission Kashmir 12 years ago. (Mission Kashmir actually released in 2000). At that time also, I was playing a character.
My mother played Mother India when she was 26. Did she get only mother roles after that?
We are just playing characters.
I may be her kidnapper (in Aditi's next film), you never know (laughs).
There aren't many heroic larger-than-life characters written.
Sanjay: No, there are many larger-than-life characters offered to me.
They are tough heroes that a guy of my age can do. Like you see Liam Neeson, Mel Gibson, Denzel Washington do...
I'm getting those roles now, of a tough middle-aged guy.
Plus, abhi Spiderman ka baap ka role bhi mujhe milne wala hai (I will get to play Spiderman's father) (laughs).
What about the Munnabhai movies?
Sankay: After talking to Raju (Rajkumar Hirani, director) and Vinodji (Vidhu Vinod Chopra, producer), I'm told that the scripting of Munnabhai is going on.
Abhijat (Joshi, writer) is working on it.
As soon as the shooting of the biopic is over, Rajuji will sit in the scripting process.
If all goes well, the film shoot will start next year.
What happened to Munnabhai Chale Amerika?
Sanjay: Can't make, kyunki mere ko American visa nahi milta hai, toh Amerika cancel hai (I won't get an American visa, so that film is cancelled) (laughs).