Here's looking at some of the high points in the ceremony!
There was something for everyone at the 72nd Golden Globe Awards this year, with surprises to please lovers of twist-endings, bold wins for deserving yet unlikely winners, and a big hand for old favourites.
But the awards aren't the only story, and here, in chronological order, are my top 10 moments from this year's Globes. (Naturally, there's a lot from hostesses Amy Poehler and Tina Fey.)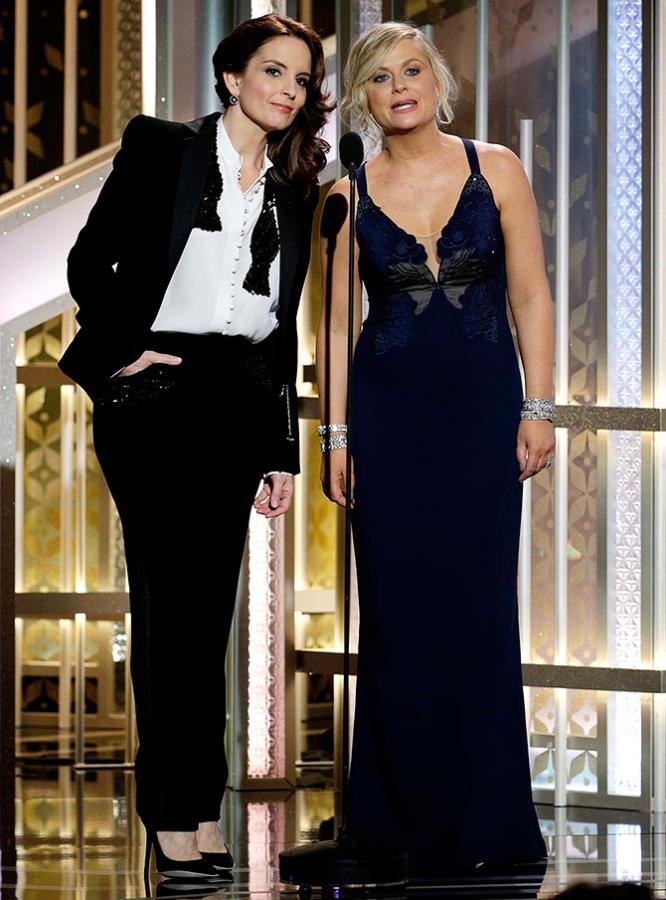 Image: Tina Fey and Amy Poehler. Photograph: Paul Drinkwater/NBCUniversal via Getty Images
"We are so happy to be here hosting the 72nd and final Golden Globe Awards," Poehler smiled, referring to the fact that she and Tina Fey would -- after a highly acclaimed three-year run -- not be hosting next year's show.
Honestly, these are going to be some tough shoes to fill.
Image: George Clooney and Amal Alamuddin
"George Clooney married Amal Alamuddin this year. Amal is a human rights lawyer who worked on the Enron case, with Kofi Annan regarding Syria, and was selected for a three-person UN commission investigating rules of war violations in the Gaza Strip," listed Fey, "so tonight her husband is getting a Lifetime Achievement Award."
It was, without question, the joke of the night, the most telling and scorching indictment of Hollywood and the studio system, as well as an immaculately delivered comedic line.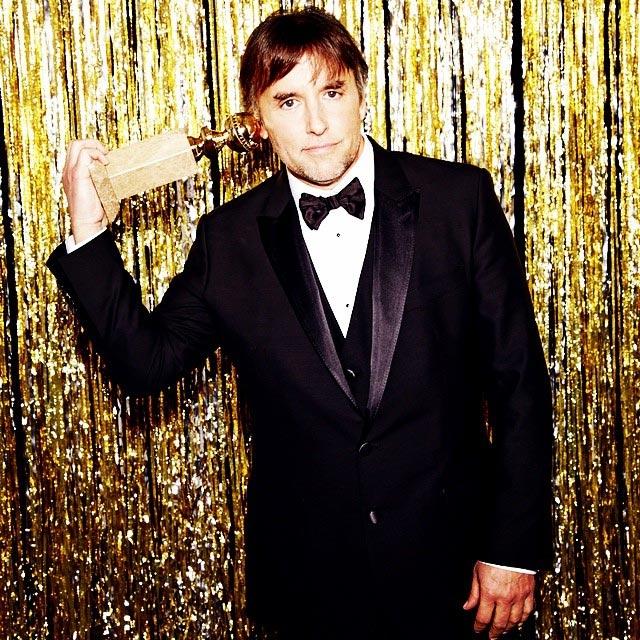 Image: Richard Linklater
The ladies then started riffing on their divergent taste in men, playing a round of Who Would You Rather, naming male celebrities and each picking one and explaining why.
This reached a hilarious climax when Fey offered up a choice between directors Richard Linklater and Alejandro Gonzalez Inarritu.
"I'm going to say Inarritu," Poehler stated, "One take, two hours straight, no stopping."
Fey countered with "No, see. Linklater. Five minutes, once a year."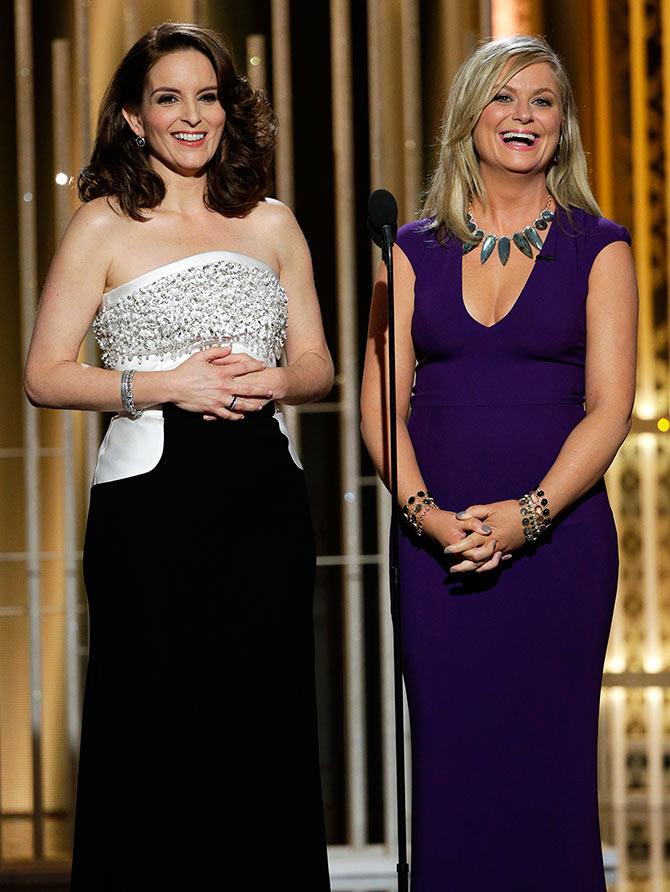 Image: Tina Fey and Amy Poehler. Photograph: Paul Drinkwater/NBCUniversal via Getty Images
And trust the two fearless girls to take jabs at iconic comedian Bill Cosby, currently under fire because of several rape allegations.
"Sleeping Beauty just thought she was getting coffee with Bill Cosby," smiled Poehler, bringing the house down as scandalously as possible, before both hostesses launched into suitably crude Cosby impressions while Hollywood sat there dumbstruck.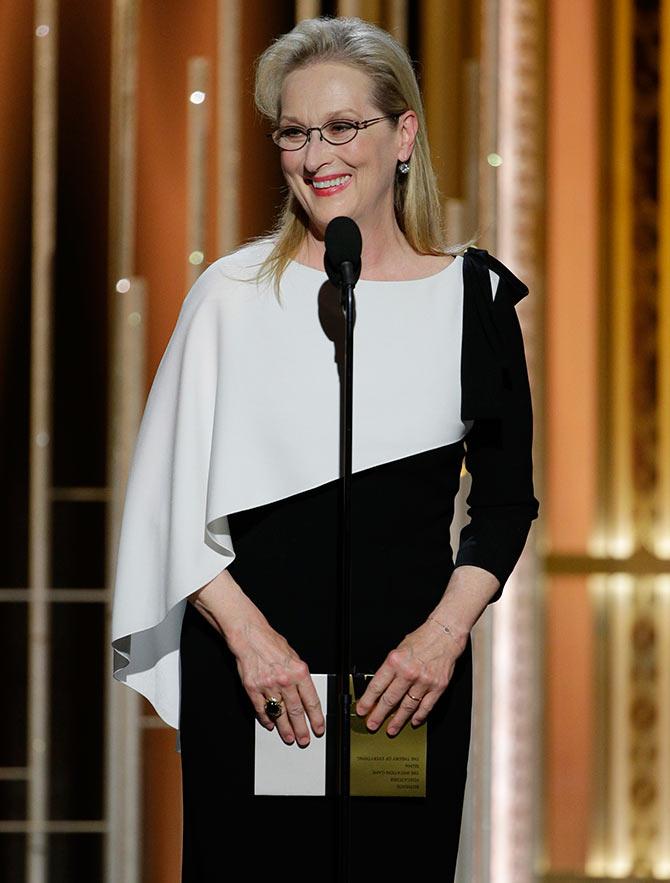 Image: Meryl Streep. Photograph: Paul Drinkwater/NBCUniversal via Getty Images
The time when the President of the Hollywood Foreign Press Association gives a speech is traditionally snoozetime at the Globes. But this year Tho Kingma really classed it up with a powerful statement condemning recent attacks of terror against creativity conducted by hackers and murderers.
"As international journalists, we understand the freedom of artistic expression. It is not only an integral part of the American fabric, but a beacon that is reflected across the globe. Together we will stand united against anyone that will repress free speech. Anywhere, from North Korea to Paris."
Led by Meryl Streep, the whole room rose to their feet for a thundering ovation.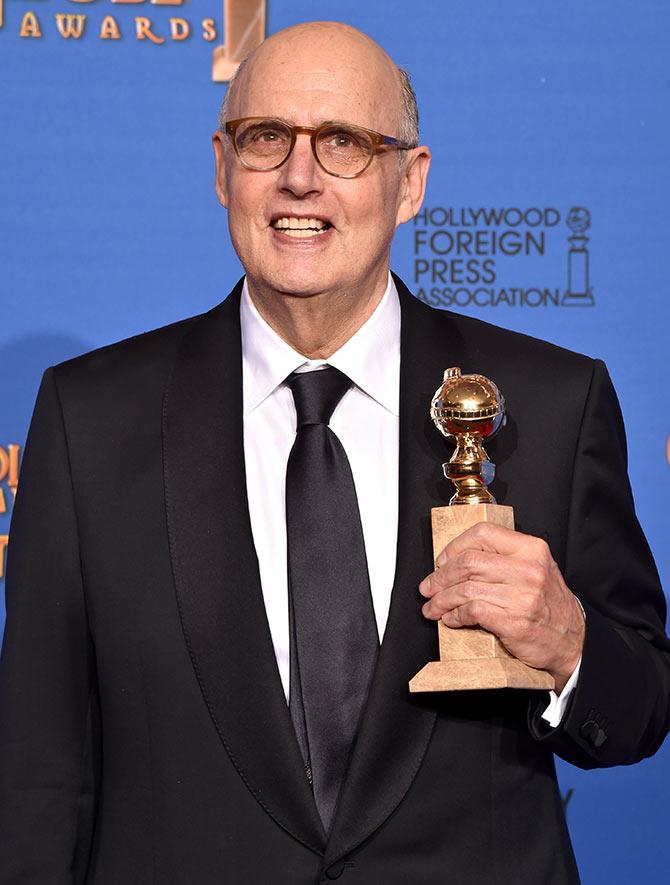 Image: Jeffrey Tambor. Photograph: Kevin Winter/Getty Images
One of the big winners of the night was the sensational new television show, Transparent, which won Best Television Series (Comedy/Musical) as well as Best Actor in a Television Series (Comedy/Musical) for actor Jeffrey Tambor.
A bold, brilliant show about a transgendered father coming out to his family and his world, Transparent deserves all its acclaim and great, touching speeches came our way from creator Jill Solloway and the marvelous Tambor.
In his acceptance speech, Tambor dedicated his performance in the show, and his award to the transgender community.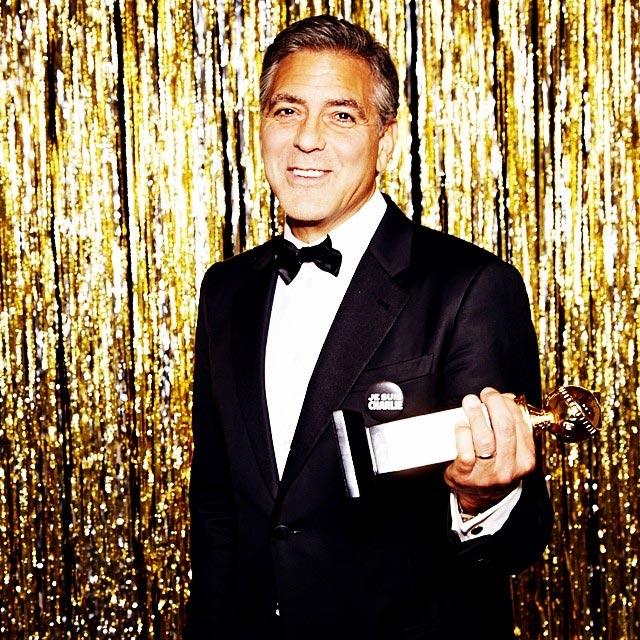 Image: George Clooney
It might be argued that, at 53, George Clooney is a tad too young to pick up a Cecil B DeMille Award for Lifetime Achievement. But the decision seems decorous looking at the incredible breadth of his work as an actor, director and producer, not to mention a true humanitarian.
Clooney, as always, poured out that natural charm overwhelmingly in his gracious acceptance speech, which ended with telling his new wife Amal how proud he was to be her husband.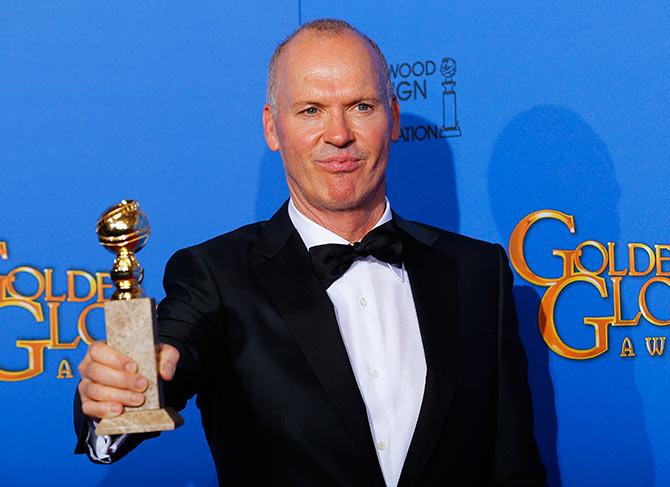 Image: Michael Keaton. Photograph: Mike Blake/Reuters
Another former Batman -- and far better at it than Clooney -- Michael Keaton picked up the Best Actor in a Comedy/Musical Award for his stunning work in Birdman. His speech was sincere and highly emotional and, at times, heartfelt.
Watching this former star take his place once again to the top rung of superstardom was a poignant moment, and we choked up almost as much as he did. Here is his speech, in full:
"Alejandro, there's not a person in this room who won't show up for your next gig, my brother. I'm telling you, just name the place, you name the time, and, not just me, there's not an actor or actress in this room who won't show up. Thanks for being a true artist. Thanks for letting me be part of this unbelievably gutsy, unapologetic look at human nature. Thanks. It's been a ride. This cast is tremendous. The crew is tremendous. Everybody was great.
"In the household in which I was raised, the themes were pretty simple: Work hard, don't quit, be appreciative, be thankful, be grateful, be respectful, also to never whine ever, never complain, and, always, for crying out loud, keep a sense of humour.
"My name's Michael John Douglas, I'm from Forest Grove, Pennsylvania. I'm the son -- seventh child -- of George and Leona Douglas. And I don't ever remember a time when my father didn't work two jobs. When my mother wasn't saying the rosary or going to mass or trying to take care of seven kids in a rundown farmhouse, she was volunteering at the Ohio Valley Hospital where I was born in the hallway.
I've got six wonderful brothers and sisters. I have some tremendous, tremendously loving and generous friends all over the world.
"My best friend is kind, intelligent, funny, talented, considerate, thoughtful -- did I say kind? He also... He also happens to be my son. I love you with all my heart, buddy. This is for 'all those people.' Sorry, shoot. Two things I said I wasn't going to do -- cry and give air quotes. Damn. I'm so grateful, honestly, from the bottom of my heart.
"You have no idea what this means to me. To come from the place where I come from, I'm proud of all of my friends and my family. Thank you very, very much. I'm extremely grateful," he concluded.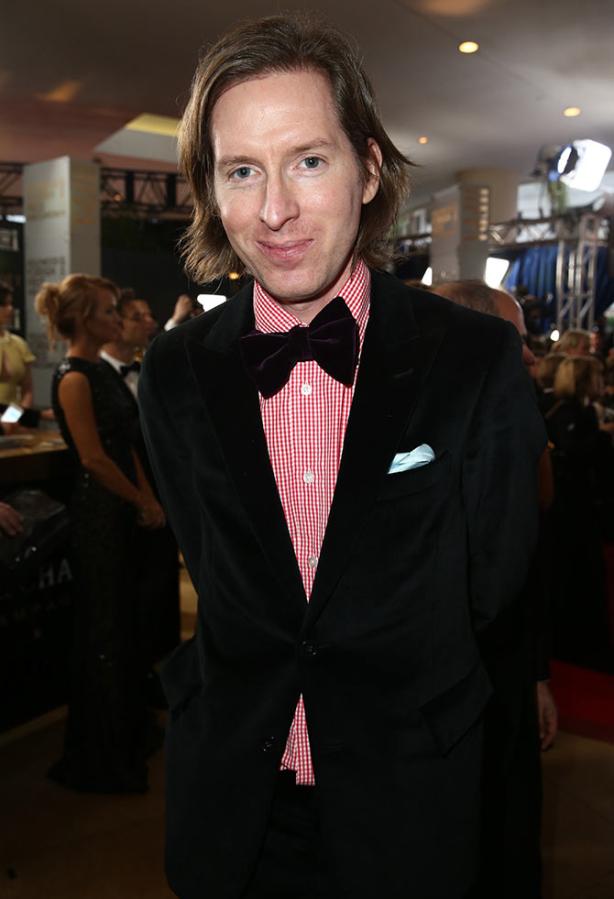 Image: Wes Anderson. Photograph: Imeh Akpanudosen/Getty Images for Aquafina
One of the big upsets of the night -- but one nobody is really upset by, given how delightful Wes Anderson's film is -- came when The Grand Budapest Hotel, away from all wins all evening, picked up the prize for Best Motion Picture (Comedy/Musical) ahead of Birdman.
Wes Anderson smirked his usual smirk and did a little routine about foreign sounding names. But what made this a special moment was watching that terrific ensemble storm the stage, from Ralph Fiennes to Bill Murray, with the freakishly tall Jeff Goldblum looming over them all.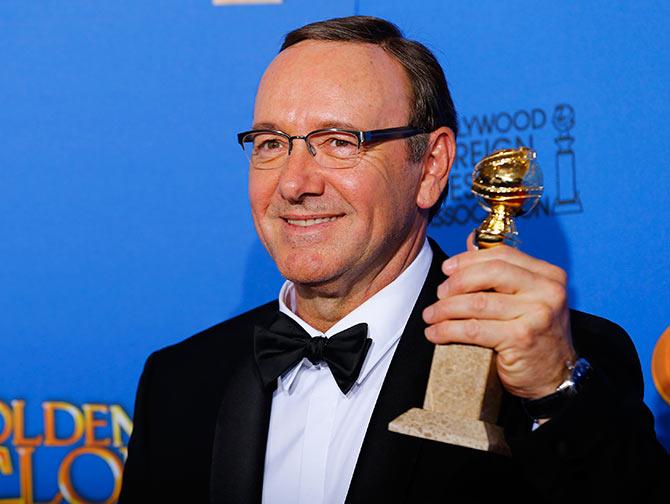 Image: Kevin Spacey. Photograph: Mike Blake/Reuters
Finally, here's to the upsets, and the smashing speeches they delivered.
Kevin Spacey may not have deserved the Best Actor in a Television Series (Drama) trophy this year for House Of Cards, but his win came after eight years of waiting, and his wonderful speech -- complete with a great Stanley Kramer story -- was inspirationally good.
As for Julianne Moore, who deservedly won Best Actress in a Motion Picture (Drama) for Still Alice ahead of frontrunner Jennifer Aniston, she bowled us over with her heartfelt candour. Look up their speeches now.