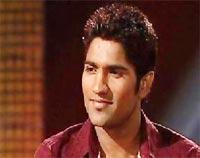 Raj Thakur, 26, is the first contestant to win Rs 50 lakh on the controversial television show Sach Ka Saamna.

The fitness trainer and ex-merchant navy officer from Meerut, son of a policeman, boldly answered all the questions posed by host Rajeev Khandelwal on the show, which requires contestants to answer the most embarrassing questions truthfully.

Thakur tells Rajul Hegde that the show was ideal for him because he has been waiting to confess all his sins for a long time!

Why did you audition for this show?

I have hurt many people in my life but didn't have the guts to confess. It was killing me for the last seven-eight years and I was getting frustrated.

I was looking for a medium through which I could admit my mistakes and ask for forgiveness from all. What better opportunity than Sach Ka Saamna?

Would you have participated in the show if there was no prize money?
Yes. I wanted to reveal everything on national television and feel light. 
Initially, I played for personal reasons but I felt happy once I started getting more money for giving the right answers.
After a few questions, I felt like quitting but the money was so tempting that I continued. I was getting paid to be truthful and so I played the game till my mind and heart gave the same answers.
Getting Rs 50 lakh for admitting one's sins is big money.
What were the questions like?
Have you ever locked your teacher in the bathroom? Have you seen pornographic DVDs and magazines on the ship? As an officer in the Merchant Navy, have you ever accepted bribes and also smuggled oil from other countries?
Which was the toughest question?
The toughest question was whether I have slept with a prostitute or any woman on the ship.
It was an embarrassing question to answer because my parents and brother were sitting right in front of me. My parents had the shock of their lives after they heard the answer. They thought I was the best boy with lots of values and strengths.
Since I had come on the show to admit everything on national television, I decided to give the right answer. Thank god my two elder sisters had not come on the show.
So, who was that woman?
That was my ex-navy colleague. I have a good body and most of the women used to have a crush on me. I would deliberately work out without my shirt and attract all the women.
The captain of the ship had a crush on this particular girl and I wanted to teach him a lesson because of some fight (between us) by snatching his crush. I managed to convince the woman that she needed a workout. After the workout we danced, spent more time together, and I took her to my room in front of my captain.
Don't you think she will get angry after the telecast?
I know she will. I have not given out her name but the team I worked with will know who it is.
Also I had a code word, to tell my friends that I have had a physical relation with her. Like putting an arm around the woman. I will start getting many calls from everyone after the episode.
Any other incident you want to share?
I was an all-rounder in junior cricket, won many matches also. Suddenly one day a guy enters our team who is equally talented and my coach (male) gives extra attention to him, massages this boy's wrist whenever required and so on. 
One day I noticed them entering a room; they came out after a few hours. I spread the rumour that they were having physical relations. The news spread like fire in Meerut and everyone started teasing them.
They were fed up of the rumour but were unaware that I had spread it. A few months later, when they were both together in a room, I barged in wanting to catch them red-handed, but what I saw was just a regular thigh massage, not what I had imagined. I regretted what I had done but didn't have the guts to tell them.
Do you think these people will forgive you or do you regret saying all this on national television?
I really don't know how they are going to react; some may not even look at my face. The cricket guy lives two buildings away from my place in Meerut. I might bump into him any time; just imagine, how am I going to face him?
I have accepted my mistakes very positively. After all, I went on the show to confess the bitter truth of my life. Victory and failure is all part of life.
My family is very supportive and encouraged me to play further and my heart said I must not quit, so I played. I am ready for any kind of outcome. I am glad that I got rid of the guilt.
How will your girlfriend react?
I have told her about my past pranks and ex-girl friends but never told her about physical relations. So I really don't know how she will react.
She is a dancer, and the worst part is she is coming to Mumbai on the weekend and is planning to watch the show with me!
We are compatible and I love her a lot. If she forgives me (chances are only 40 per cent), very soon we are planning to get engaged. I am just keeping my fingers crossed.
Any rift in your family after the show?
Not really. My sisters have called and appreciated my guts to admit and apologise on national TV. Relatives and friends have called me after watching the promos. Let's see…
How important is this prize money and what will you do with it?
After I left the Navy, I was into body building like my father and won a few awards. But after I hurt my collarbone in an accident I couldn't take part in any of the competitions. So I decided to work as a fitness trainer. I moved to Mumbai for better prospects. Now I freelance for fitness centres in Mumbai.
Fifth lakhs will definitely change my life; it will help me to start my own gym. I love my clients and hope the girls won't run away from me after watching the show (smiles).  
Any plans of getting into the glamour industry?
I have done theatre. If I get an opportunity, why not? But I would like to play the role of the villain not the hero (smiles).