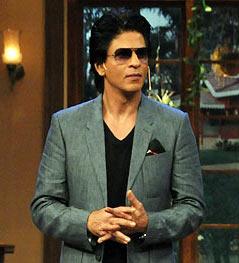 The Brihanmumbai Municipal Corporation (BMC) informed the Bombay High Court that it has conducted an inquiry and found baseless the allegations levelled against Shah Rukh Khan and his wife Gauri of conducting pre-birth sex determination tests of their surrogate son AbRam.

Justice Sadhana Jadhav was hearing a petition filed by social activist Varsha Deshpande of her complaint seeking action against the couple and others under the Pre-conception and Pre-Natal Diagnostic Techniques (Prohibition of Sex Selection) Act.

According to Deshpande, the metropolitan magistrate on August 8, had issued notice to the respondents and posted the matter for hearing on September 12.

Aggrieved, Deshpande approached the High Court seeking early hearing and disposal of the case.

BMC counsel M P S Rao told the High Court that the allegations levelled in the complaint are baseless. "The Corporation has conducted an inquiry and found the complaint baseless," Rao said.

The court was informed that the hearing into the complaint before the magistrate court will come up for hearing either today or next week following which Justice Jadhav adjourned the petition for two weeks.

The court also noted that the only basis on which the petitioner has filed the complaint is newspaper reports.
Deshpande had sought early hearing of her complaint on the ground that the Supreme Court had said that all cases under the PCPNDT Act should be heard and decided within six months.
Earlier, the High Court had issued notices to Jaslok Hospital and its doctor Firuza Parikh where the couple had their surrogate child.
Deshpande, in her complaint had alleged that the child's gender had been determined before birth, thereby violating the sections of the Act.
The complainant alleged that the civic officials had failed to take action against the couple and hence she moved the magistrate's court with a fresh complaint.
Earlier, the 47-year-old superstar had rubbished allegations over the pre-natal gender tests on his third child. The couple already have two children -- Aryan and Suhana.