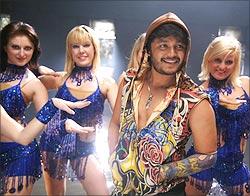 Kannada actor Ganesh's solution to his fans this hot summer is his tanda tanda film Kool. The film is in its post-production stage, and is expected to hit theatres soon.

Kool is Ganesh's first directorial venture, and fans and industry people are very curious about the film.
Kool is a breezy college love story. It is about a guy who manages to remain cool in any situation. To fit into the role, Ganesh has lost oodles of weight.

Sana Khan, who has acted in Tamil films, is his leading lady.

What is said to enrich the story is the songs composed by Harikrishna. There are five songs in the film and the title track is slowly moving up the chartbusters ladder.
With cinematographer Ratnavelu at the helm of affairs, it won't come as a surprise if these songs are a visual treat.

The songs have been shot abroad, including Jordan and Dubai. This location offers a view of five surrounding countries according to the team. They also say that it was for the first time that an Indian film was shot there. 

An old British bungalow in Sakleshpur, Karnataka, was also used to shoot a song.

The Lawrence School, Ooty, also features in the film. The environs of the school are said to be akin to Scotland.

Kool is Ganesh's second home production. His first home production Maleyali Joteyali ran for over a hundred days.
Ganesh stepped into director's shoes following his producer wife Shilpa's disagreement with Mahesh, who was initially roped in as the director. But he now claims that his wife always wanted him to direct the film. It was his commitment to other films that had stopped him from calling the shots this early, he adds.

Hits have been eluding Ganesh for a while now. Both his recent movies Ullasa Uthsaha and Eno Onthara were duds. With Maduve Mane, a future project stalled and the remake of Tamil film Myna is yet to go on floors, Kool seems to be Ganesh's only respite from a lean phase.

It now remains to be seen if the director in him will rescue the actor in him? At least Ganesh seems confident. He says after all, he started his film journey as an assistant director and thus has a hang of the medium. And there is rain (his lucky charm) to the rescue this time round too.
Will Ganesh then strike gold again?