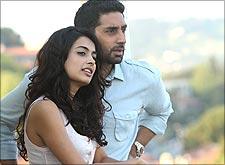 Sukanya Verma reviews Game.
Post YOUR reviews here!
When I was a kid, my mom would make up all sorts of bedtime stories to put me and my tediously inquisitive mind (Where did tomatoes originate from?) to sleep.
She'd weave a yarn of implausible possibilities that got more and more ambitious with every turn. New characters would appear from nowhere while old ones would acquire unnatural strength. But because of her animated narration and continuous conviction, the impractical twists would only inflate my curiosity and make these late night story sessions supremely fun.
Point behind this nostalgic nugget? A skilled storyteller can turn the ridiculous into extraordinary. An ordinary one simply makes a fool of himself.
Debutant director Abhinay Deo's Game is one such dim effort. While Deo conveys a visible flair for creating visual drama out of every scene, he also overuses this talent to a point where it all appears superficial and staged.   
Gloss overkill, however, isn't one of Game's only issues. The purported thriller is mostly let down by Althea Delmas Kaushal, responsible for its outlandish story and screenplay. In place of building a sleek whodunit around dark objectives and premeditated interlinks, Kaushal is preoccupied in magnifying the scale by picking a random bunch of exotic/mainstream countries – Turkey, Greece, Thailand, England and India and forcibly enmeshing its hand-picked inhabitants in a crime labyrinth against a dated motive (we're talking Bhoot Bangla-old here) and inevitability.
So there's an Istanbul-based drug dealer (Abhishek Bachchan), a Prime Ministerial candidate from Bangkok (Boman Irani), Mumbai's reigning superstar (Jimmy Shergill), a troubled journalist from London (Shahana Goswami) and a stinking rich industrialist from Samos (Anupam Kher). Also filling up the frames are a gritty International Vigilance Squad officer (Kangana Ranaut) and a bootylicious club dancer (Sarah Jane Dias). It's almost as if Deo developed a dry sense of humour to say, 'Indians, they're everywhere.' Alas, Game and wit have nothing to
do with each other.
I don't have anything against such extensive global presence in a plot. Country-hopping is marvelously justified in 007's adventures. Except here, what's the point if none of these stunning backdrops lend any personality to the story or the protagonists except by way of sharp glamour or manipulated tourism? How is this scenario any different from the much-lampooned dream song sequences in Swiss Alps? At least the latter is more honest in its approach.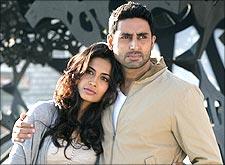 There was a time when limited exposure made us lap up anything gorgeous or hip, which explains the undeserved success of a whole lot of self-professed gurus of filmmaking. But with time and options, viewers have smartened up and will not fall for every pretty carrot dangled its way.
Despite Game's passive first half and dull soundtrack (Shankar-Ehsaan-Loy), its little-above-two hours running time makes the ordeal a lot less painful than it could be.  And though it could do with a spectacular leading man -- Bachchan Jr is neither Bond nor Poirot nor impressive -- Kangana Ranaut makes up for one's lack of dynamism and sparkling teeth with an attitude that is as tidy as her perfectly knotted bun. Additionally for her, realism is never a prerequisite of this far-fetched endeavor and the actress appears to be genuinely enjoying playing a fashion-forward cop whose idea of contemplation is a furiously flickering ball pen.  It's so amusing; you almost forgive her dialogue delivery. Almost.
On the side, Shergill, Kher and Irani do their bit nicely enough providing Game some of its rare menacing moments. Too bad Shahana Goswami's potential is squandered away in yet another of 'my eyeliner-makes-more-sense-than-my-presence' roles. In a movie shot like a catalog, model Sarah Jane Dias makes for one hell of a photogenic sight. It's hard to judge the first-timer beyond that because she's barely got anything to say or do.
For its entire obsession with ambiance, Game is, at heart, a frustratingly old-fashioned murder mystery. If you're the kind who follows the genre keenly, by second act, you'll have figured out the wild card and the culprit. Question is do you want to?
Rediff Rating: