No one can make the audience laugh like Govinda, raves Syed Firdaus Ashraf.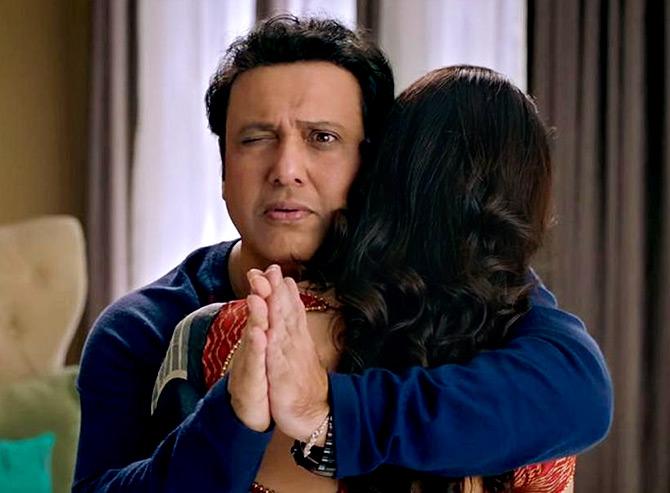 What does a husband tell his wife when he is caught cheating?
Lies.
What does a wife tell her husband when she is caught cheating?
Lies.
And what does a married couple do when both are caught cheating?
More lies.
FryDay is a comedy of errors where stage actor Gagan Kapoor (Govinda) feels that when it comes to acting skills and comic timing, no one can outdo him.
Watch him deliver the dialogue, 'Pehle National toh milney de,' when Varun Sharma's Rajiv comments that his acting skills are Oscar-worthy.
Gagan is approaching 40, and his wife is no longer interested in him. She's too involved in her NGO work.
He finds comfort in Bindu (Digangana Suryavanshi), who is also not interested in her husband, as the only places he takes her on holiday are archaeological sites.
One day, Gagan's wife goes to Shimla for a day and the plot moves to a bungalow in Delhi.
But even before Gagan and Bindu can get busy with each other, their hopes get dashed.
The housemaid turns up and refuses to leaves until Gagan shoos her away.
Next, a thief lands up and kills their joy again -- followed by a purifier salesman (Rajiv, played by Varun Sharma) and then his assistant!
Worse, Gagan's wife lands up, catching them red-handed.
Then, Bindu's husband, an inspector with the Delhi police, arrives.
It's here that Govinda proves once again that no one in Bollywood can entertain the way he does; no one can make the audience laugh like Govinda can.
Rajeev Kaul writes a story and screenplay with only seven characters, and it's so well done!
He has written quite a few Govinda movies, including Shola Aur Shabnam, one of the actor's biggest hits in the 1990s.
Manu Rishi Chadha's dialogues are so good that you won't feel bored even for a minute after the action shifts to the bungalow.
Director Abhishek Dogra has made a crisp movie, and it's well worth a watch.
Unfortunately, the film starts slowly when it tries to build the story and the drama.
Was Varun Sharma a good casting choice? Perhaps not, but then again, it's tough to match Govinda's amazing comic timing.
If you are a Govinda fan, FryDay is a must watch.
Rediff Rating: