If these instances are any indication, stories featuring twins have seldom failed at the box office. But will Bipasha manage to cash in on the ageless trend?

It's a straightforward formula.

Twins separated at birth. One is naughty. Another is nice.

Reversal of roles leads to much hilarity and chaos. Ultimately, of course, all's well that ends well.
From Dilip Kumar in Ram Aur Shyam to Salman Khan in Judwaa, the shtick seldom fails.
There are occasions when Bollywood's has walked on the not-so-pleasant side of this premise as well, namely, the evil twin.
Take a look.
Alone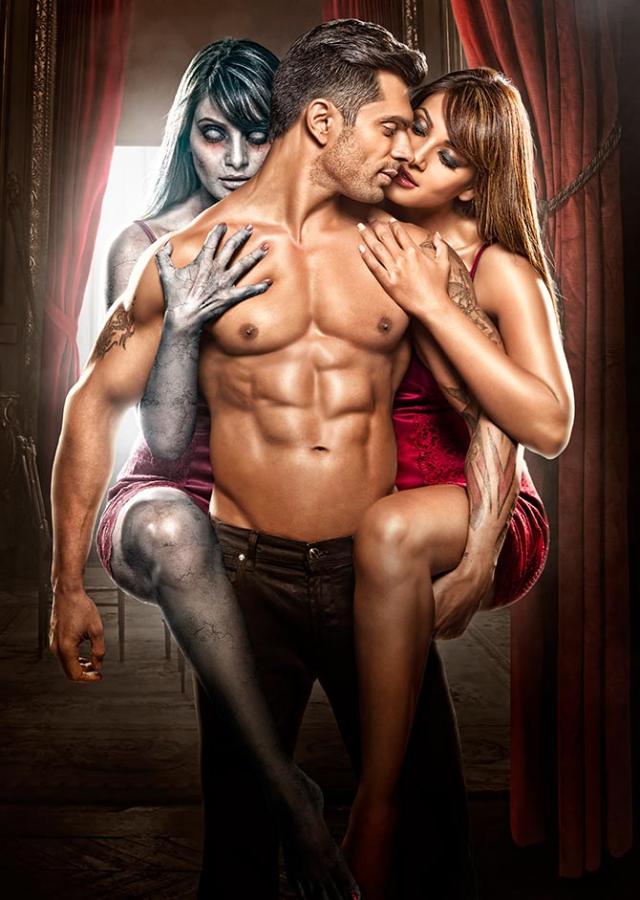 Image: Bipasha Basu and Karan Singh Grover in Alone
In the soon-to-release Alone, an official remake of a 2007 Thai horror of the same name, Bollywood's resident Scream Queen Bipasha Basu plays conjoined twins where the vindictive dead one returns to haunt her surviving sister.

Dhoom 3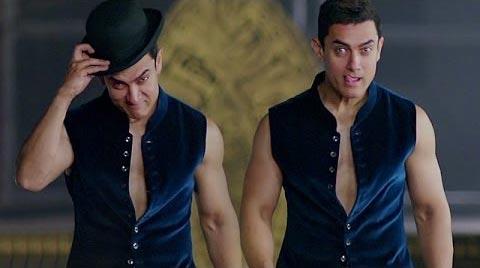 Image: Aamir Khan in Dhoom 3
From alien to acrobat, Aamir Khan has done it all.

The perfectionist with three of the biggest blockbusters to his credit plays a pair of brothers running a circus in Dhoom 3.
While one sibling demonstrates a childlike innocence, the other is very calculating.


8 X 10 Tasveer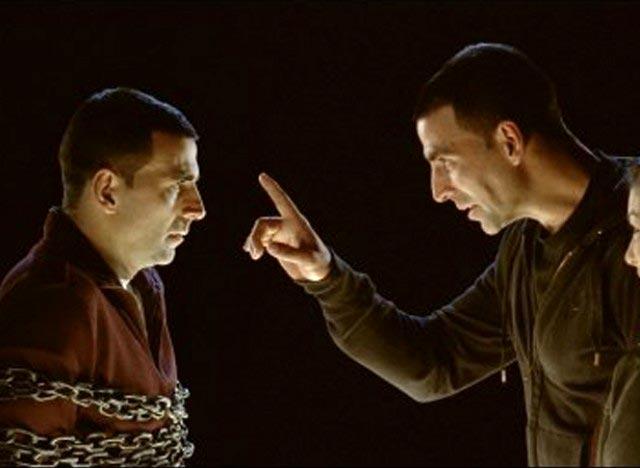 Image: Akshay Kumar in 8 X 10 Tasveer
Torn to shreds by critics, shown the door by audiences, Nagesh Kukunoor's 8 x 10 Tasveer disappeared without a trace.
Few of you may, however, recall the climatic bizarre twist wherein noble Akshay Kumar's not-so-noble twin turns out to be cause of all the trouble.


Abhay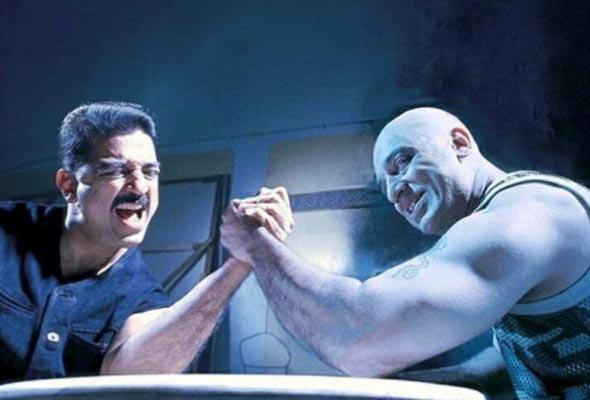 Image: Kamal Haasan in Abhay
In the dark, experimental Kamal Haasan psychological thriller, the actor plays a gruesome product of an abusive childhood as well as his stable armyman twin brother.
It's easy to tell them apart since the wicked guy takes his psycho description a tad too seriously what with a clean-shaven head and severely tattooed look.
Khiladi 420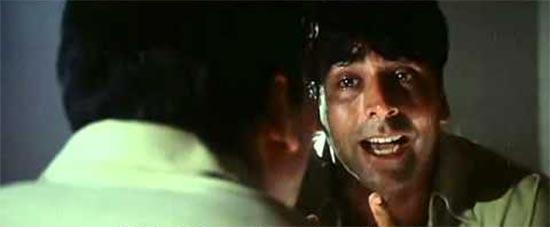 Image: Akshay Kumar in Khiladi 420
From Jai Kishen to Rowdy Rathore, Akshay Kumar has played quite a few double roles.
In the whodunit Khiladi 420, the martial arts hero essays lookalike twins -- one sane and sensible, the other a demented con man courting a rich heiress.


Rajkumar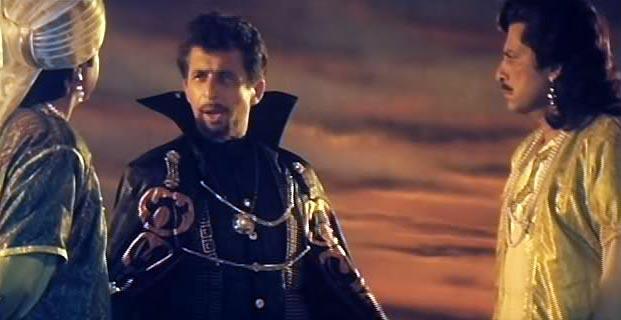 Image: Naseeruddin Shah in Rajkumar
Despite elaborate production and Anil Kapoor-Madhuri Dixit's magical pairing, the 1996 costume fantasy was no box office smash.
The usually reliable Naseeruddin Shah's turn as an over-the-top scheming wretch as well his daft but harmless twin couldn't salvage it either.
Andaz Apna Apna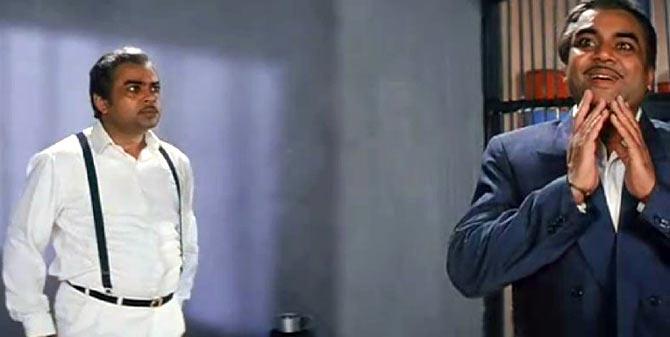 Imgae: Paresh Rawal in Andaz Apna Apna
Who can forget Paresh Rawal's hilarious performance as a wealthy businessman Ram Gopal Bajaj and his roguish brother Shyam Gopal Bajaj aka Teja who kidnaps the former to extort some money in Rajkumar Santoshi's comic gem, Andaz Apna Apna?
Sharmilee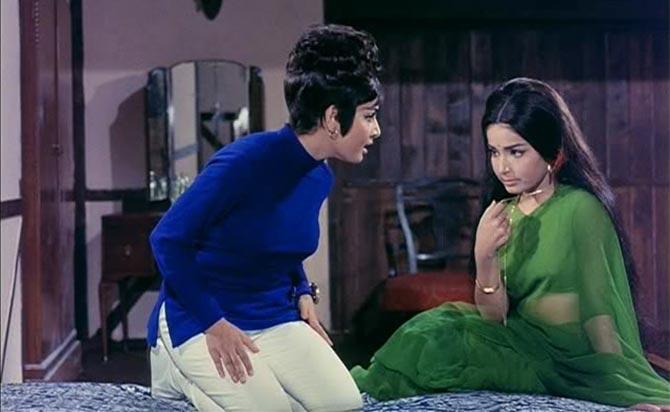 Image: Rakhee in Sharmilee
The free-spirited Raakhee of Sharmilee is self-seeking and betrays everyone.
Still it's easy to root for the sassy, glamorous sibling over her other sari-clad, sobbing and falling-over-the-pati parmeshwar's feet avatar.
Mera Saaya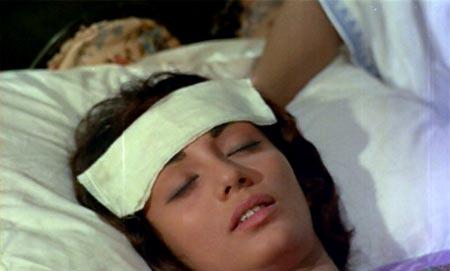 Image: Sadhna in Mera Saaya
Even though the said immoral twin's deeds are restricted to teasing a crowd with her come-hither moves in Jhumka gira, the decent Sadhana goes through great lengths to convince the court, her husband and the society that she's not her debauched, bandit-bound sister in the vintage suspense Mera Saaya.
Interestingly, the fringe-famous star's Woh Kaun Thi? also relied on a similar 'twins' twist.