'Vishal sir said he would sign me only when I accept to gain 10 kilos.'
'No matter what, I was ready to accept if I was getting an opportunity to work with Vishal sir.'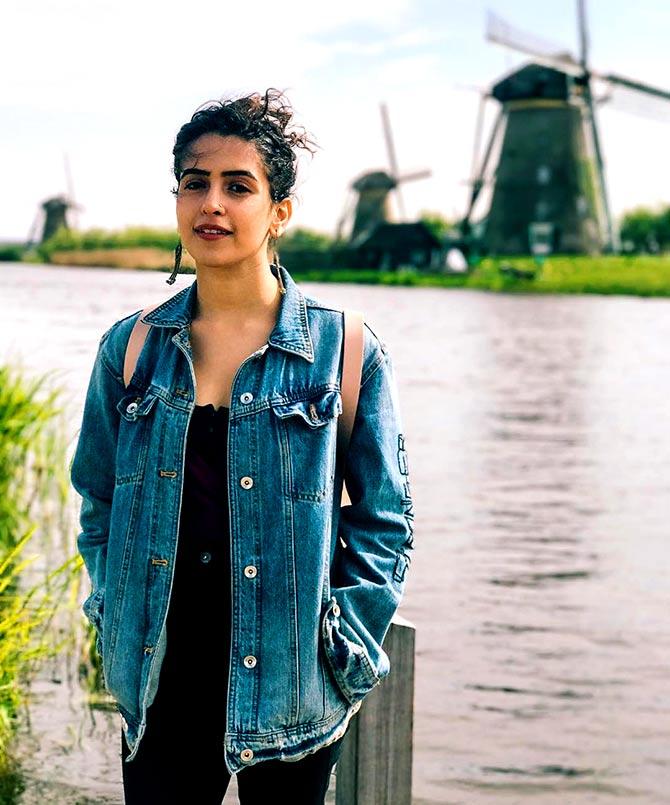 After the blockbuster Dangal in 2016, Sanya Malhotra takes centrestage in Vishal Bhardwaj's Pataakha, along with Radhika Madan.
The actress takes on a rustic look, and does everything from smoking bidis to gorging on pizzas to get it right.
Sanya tells Rediff.comcontributor Ramesh S that her character Genda is the "complete opposite of Sanya Malhotra!"
Tell us about Pataakha.
The story is about two sisters who share a difficult relationship with each other.
I play Genda Kumari, also known as Chutki.
She is very spiteful, aggressive, an extrovert, but also cute, and she hates her sister Champa Kumari aka Badki.
She is the complete opposite of Sanya Malhotra. I am not spiteful or aggressive. I am also quite an introvert.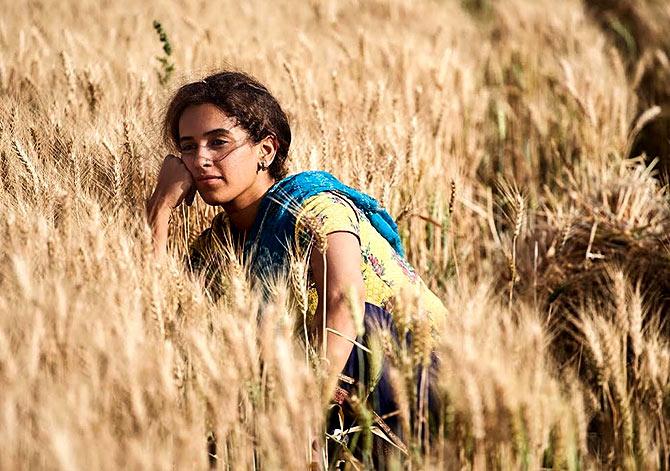 A lot of actors auditioned for your role, including Kriti Sanon. How did you bag it?
I was approached for Pataakha during the shoot of Badhaai Ho, and I auditioned for it.
The most important part for me was to work with Vishal Bhardwaj sir.
After three days of my audition, Vishal sir called me up and said he would sign me only when I accept to gain 10 kilos.
No matter what scenario would have been, I was ready to accept if I was getting an opportunity to work with Vishal sir.
How did you gain 10 kilos?
For Dangal, we gained muscles.
For this, we gained fat.
We had a deadline of one month, so I ate a lot of unhealthy things.
My mornings would start from eating a tablespoon of ghee, a banana, and an ice cream or a dry fruit shake.
Then I would have six pancakes with Nutella, a pizza... the list goes on.
Normally, one consumes 1,200 to 1,600 of calories per day. But I was consuming about 3,500 calories per day.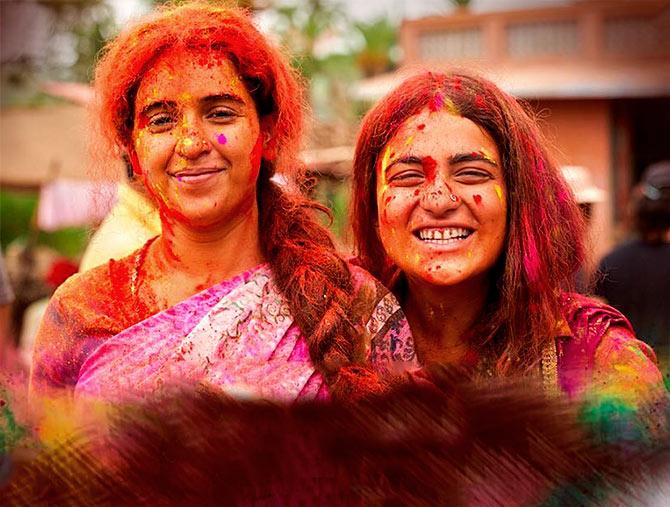 What was your experience of shooting in a village? How did you prepare for your role, from the dialect to your look?
We went to Charan Singh's village (called Ronsi), which is about three hours from Jaipur.
We met the real life sisters, Chutki and Badki, whose lives are shown in the film.
Since they are 60 plus, they were very shy and didn't open up much.
But the people close to them revealed a lot, like how they fought on top of buffaloes!
We learned about milking buffaloes, thatching roofs, plastering the walls with dung and walking for long distances while balancing matkas of water -- one on the head, and one on the waist.
This helped us shape our characters.
The dialect is more-or-less similar to Haryanvi, so that was not an issue, at least for me.
The look was set up amazingly by make-up artists and costume designers.
We smoked bidis in the film, and got our teeth stained. People thought we ate chocolates during that time!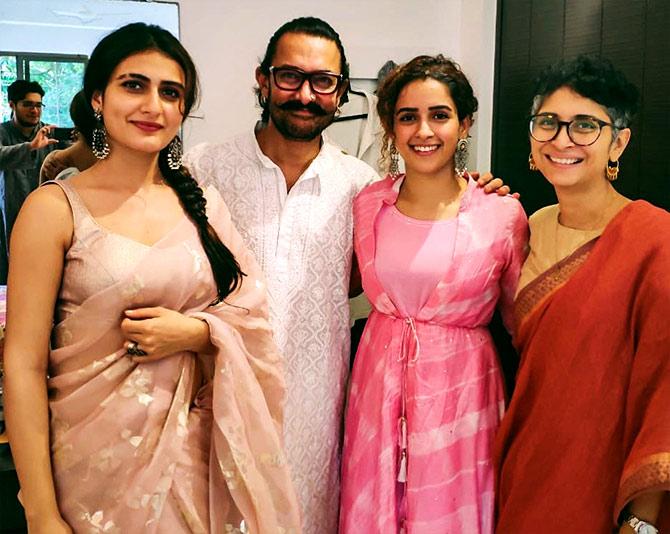 Pataakha comes two years after Dangal. Why such a long gap?
I was offered Photograph immediately after Dangal. That took time to go on the floors.
I also wanted to take some time off from work because we had given two good years to Dangal.
Although I learned a lot during the whole Dangal process, I truly wanted a break.
Life became very nice and smooth, so I didn't mind the wait.
I went for a vacation with my friends and read books on acting.
I learnt a lot during my seven-eight month break.
I became patient about work and was not in a hurry to be anywhere or become something in life.
Although Pataakha is releasing after two years, I have been constantly working for more than a year now.
Last September, we shot for Photograph, which is directed by Ritesh Batra and starring Nawazuddin Siddiqui. It got over in November.
Immediately after that, I shot for Badhaai Ho with Ayushmann Khurrana.
I shot for Pataakha after that.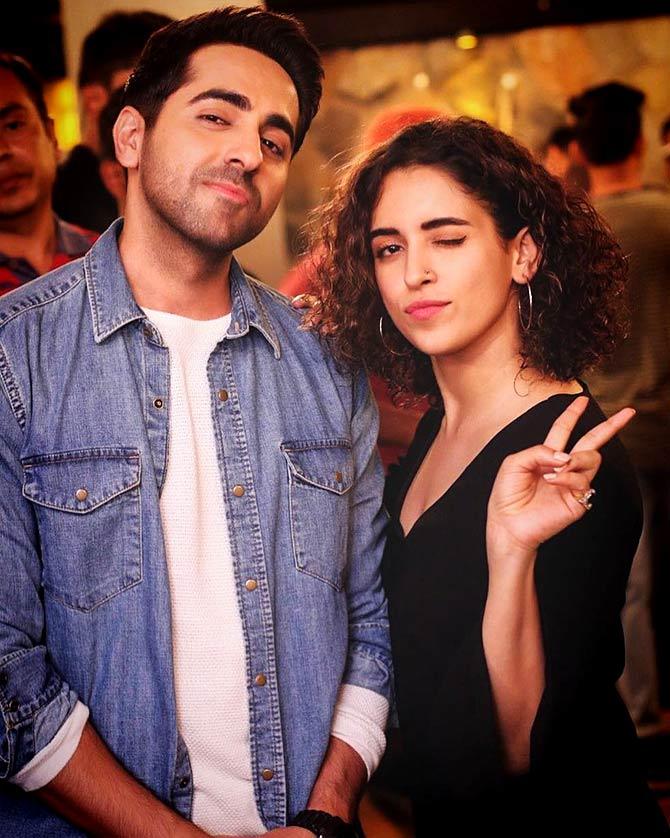 What feedback did you receive for Dangal, especially after its super success in China?
The feedback was crazy; the whole China thing happened about two years after its release!
It was a kind of re-union for me and Fatima (Sana Sheikh).
It feels really proud to be a part of a film like Dangal.
The kind of love we are still getting is insane!
I still get messages on social media, saying they have seen Dangal on television, that they loved my character of Babita, that they are inspired from the movie...
I feel honoured to be a Dangal girl!