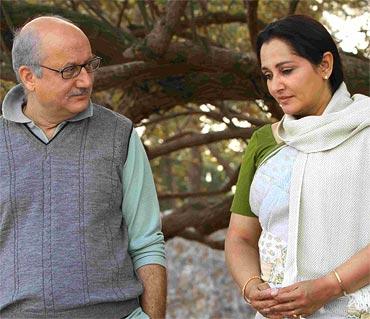 Malayalam writer-director Blessy, who has made some finely crafted movies like Kazhcha, Thanmathra, Palunku, Calcutta News and Bharamaram, has started shooting his latest film titled Pranayam (love).

The film has made it to the headlines with its rather spectacular lead cast -- Mohanlal, Anupam Kher and Jayaprada.

The second schedule of the film is going on at Kochi right now. Blessy doesn't give away much when he says, "All I can say now is that the film is based on the love between a woman and two men. Love in any

form is perhaps the basis of every story and I have handled such themes in my earlier films."

The grapevine has it that Mohanlal looks altogether different in the role of a philosophy professor. "The three roles are highly important in the film and we thought Anupam Kher and Jayaprada would be suitable to play the other two. They agreed to do the film once they heard the storyline," says Blessy.

Produced by Sajeev under the banner of Fragrant Nature, Pranayam will be shot on location in Haryana and Dhanushkodi. The cinematographer is Satheesh Kurup, who earlier wielded the camera for Amal Neerad's Anwar.

ONV Kurup's lyrics have been set to music by M Jayachandran.