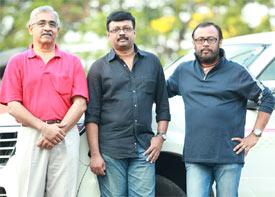 Malayalam filmmaker Lal Jose has started a road trip to London, covering 27 countries en route!
Suresh Joseph, the former general manager of Dubai Ports World, who traveled to all the state capitals of India in a solo expedition, and automobile journalist Baiju N Nair have joined hands with Lal Jose for this adventure trip that covers 24,000 km.
Lal Jose is known for his penchant for travelling and has travelled widely.
The trio will drive through Nepal, China, Kyrgyzstan, Russia, Latvia, Lithuania, Poland, Czech Republic, Germany, Denmark, Sweden, Belgium, France, Ireland and the United Kingdom.