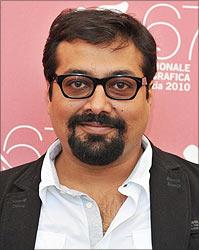 Sustained exposure to global cinema helps the extraordinarily successful director push the envelope in a conservative Indian film industry.

It is 3 pm on a Sunday afternoon when I walk into The Westin, a hideous grey-and-glass monstrosity in Gurgaon.
This meeting has been delayed by four hours and my Sunday is ruined. So, I am really not looking forward to interviewing Anurag Kashyap.

My wait in the lobby ends when Kashyap, who's just turned 40, walks in. He apologises with a little boy grin and offers to take my husband and me for a film to make up. I smile, the ice is broken.

Kashyap is a star among the new breed of filmmakers that the new film industry is spawning. From Black Friday and No Smoking to Dev D and Gangs of Wasseypur (1 and 2), he has attempted to push Indian audiences to accept and enjoy different kinds of films. You can say that, arguably, for a dozen other film-makers. The big difference is many of them, such as Bejoy Nambiar or Gauri Shinde, are just that: new film-makers.

Kashyap has been around for 19 years. He scripted television shows and wrote screenplays for films in the old days. The buzz is that he has ghost-written some of the biggest hits in the last decade. So, he was the insider before he broke free to find his inner storyteller with Paanch (2003). The film, which was denied release by the censors for glorifying violence and drug abuse, is now part of the industry's folklore. Paanch, quip insiders, is the most widely watched Hindi film that has never been released.

Kashyap has been swimming for two hours and is very hungry. He spends a long time trying to figure out the buffet before giving up. He comes back with a few shrimps and mussels on his plate. The waiters are hovering. Not surprising, since Delhi is a star-struck city, we have attracted stares from the moment we entered. Kashyap asks for three grilled lobsters and a couple of beers. I settle for a pot of black tea with honey and lemon to battle a bad throat.

He is very excited about becoming producer with his own firm AKFPL, set up in 2010. It has produced The Girl in Yellow Boots, Shaitan and Udaan, among others. Almost all its films are by new, unknown film-makers.
"We want to encourage film-makers to do whatever they want to do, but be aware of how much money it will cost and will make (in revenues)," he says. Most AKFPL films have to be made within Rs 4 crore.

How does he get the money to fund all this creative freewheeling? From a variety of sources. AKFPL chooses not to load its full costs onto the India market. Only 30 to 35 per cent of the funding for most of its films comes from India. The rest comes from film funds, television stations or distribution deals in Europe.

Kashyap is an ardent believer in the global market and the festival circuit as means of connecting with other cinemas as well as showcasing his own work. Most of his films have been screened at festivals abroad, long before their India release. Gangs of Wasseypur was the toast of Cannes earlier this year and the international markets are expected to bring in a lot of its revenues. Ugly, for instance, has been funded by DAR Capital, a London-based private equity firm. To balance the books and make up for the shortfalls, AKFPL does films such as Aiyya for Viacom18 Media and Luv Shuv Tey Chicken Khurana for UTV.

Then, there is Phantom Films, a company that Kashyap has set up with Madhu Mantena (producer, Ghajini) and Vikas Bahl (director, Chillar Party).

Kashyap, however, doesn't run any of these. His partners or his family do. For him, Phantom and AKFPL are the structures around his main passion -- cinema.

His lobsters arrive and he attacks them with gusto. I hold my tea in my hands, warming them in the cold restaurant, and watch him. It is not clear why fate singled out Kashyap to be the torchbearer for envelope-pushing work in the Indian film industry. There are millions of people with similar stories. Kashyap landed in Mumbai from Banaras in June 1993 with "the film bug" as he calls it.
"I just wanted to be around where work was happening." He started writing for whoever would take him. He wrote dozens of episodes of daily soaps, screenplays for films and whatever else came his way. That is how he continued for years, till "I met Ramu".

Ramu, or Ram Gopal Varma, is the maker of films like Kaun, Raat, Company and Satya. In the late-nineties and early part of the last decade, he was the man to go to if you were a maverick and wanted to do different stuff. Among other things, Kashyap co-wrote the screenplay for Varma's award-winning Satya (1998), with Saurabh Shukla.

Of the three things that have influenced his life and journey deeply, says Kashyap, Ramu is the first one.

The second was his passport which he got in 2004. That is when he went to Locarno for a film festival. It opened a whole new world of cinema that still enthrals him. Ever since, he has made it a point to travel all over the world for film festivals. He tries to watch all the films he can and meets and, if possible, works with some of the people whose work he likes.
"Till then, I was in the system and trying to experiment. When I started travelling and watching films, the possibilities of cinema and meeting film-makers, it liberated me," says he.

The third thing that changed his life, not surprisingly, is his DVD player. It allows him to watch as many films as he wants and absorb all kinds of cinema. His current favourite -- Scandinavian cinema. He refers to it several times during our chat.

His third lobster is being decimated and I am on my second cup of some wonderful tea. This is a good time to ask him what kind of stories appeal to him. His range of films does not follow any pattern -- any Kashyap mark a la Ramu or Yash Chopra or anyone else. There is some angst, drugs, violence, sex and lots of self-obsession. Is he into existential stuff like a many film-makers who love to intellectualise cinema? "I am into character studies. Characters drive existentialism," says he.

He thinks for a bit. "I don't have a style. I don't even know the technicalities. If you stick to the story, the style comes automatically. It is content that dictates form," says he. He reckons the biggest change in this industry has been in the way a director is defined. From the guy who knows how to compose a shot, a director is now "someone who has a story to tell and knows how to say it. He has a visual mind. That is why most good writers don't know how to talk".

We have moved to the tables outside because Kashyap wants to smoke. The interview starts becoming difficult. Several groups come up to get themselves photographed with him. He obliges with the same charming grin he gave me. One gentleman, a senior police officer, gushes over Gangs of Wasseypur and its realism. He gives Kashyap his card and tells him to call him whenever he wants any help of the police for his films. That should be useful. Kashyap's films usually dip into journalistic work, news stories and real life.

As we settle down after half-a-dozen such interruptions, I move to business. Earlier that week Kashyap and I had had an argument on the sidelines of an event about how European cinema is so cutting edge and why Indian film-makers can't get it. My argument -- European cinema is subsidised and state-funded. That India is among a handful of markets in the world where cinema is a robust business and no subsidies are needed. You can import anything, yet only Indian films work.

Kashyap has a "different" take.
"Our biggest strength is that we don't need to sell a single ticket to a non-Indian. That is also our biggest weakness," says he. Maybe.
I leave him to the pleasant task of deciding what movie he would watch at the neighbourhood multiplex that Sunday evening.
In the picture: Anurag Kashyap. Photograph: Pascal Le Segretain/Getty Images