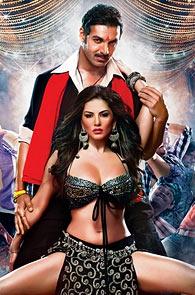 Ever since the release of his film last week, Shootout At Wadala director Sanjay Gupta has been busy trying to soothen frayed nerves in Punjab over two dialogues in the film regarding the author of the Ramayana, Valmiki.

Revered in Punjab and elsewhere, Valmiki supporters were up in arms against the film until the offensive lines were removed.

"We had to remove the film from theatres in Punjab," says Gupta. "We've made the required cuts and now the film will be back in the theatres from Monday. On Sunday, there was a law-and-order situation in Ludhiana, Moga, Jullandhar, Bathinda and Amritsar. The line, 'Har chor Valmiki nahin hota' had Punjab up in arms. We have knocked it off. To get it done in all prints across Punjab on Sunday was a killer."

Gupta admits the film's content is potentially volatile, and is unfazed by the critical criticism against it.

"That's just one section of the media. To them, it's not cool to praise a Sanjay Gupta film. Maybe it has to do with my track-record as a filmmaker," he says. "It will take more than just one film to make my critics realise I am now making original films."
Tell him that Shootout At Wadala seems to working more at single screen theatres, and he replies, "I don't buy that. Multiplexes are just as happy with the film. Yes, there are over-the-top dialogues and aggressive action. Why presume multiplex audiences don't enjoy it? The thing is, audiences in single-screen theatres are a little more uninhibited and demonstrative but the best part of Shootout is that even hoity-toity multiplex audiences are enjoying it."
Retired cop Iqbal Shaikh has vocally opposed the release of Shootout At Wadala and accused Gupta of maligning the police force.
Gupta counters: "This particular ex-cop is an old friend of another cop, who has a problem with our film (Gupta is referring to Isaque Bahgwan, the cop on whom Anil Kapoor's character is modelled. Bhagwan first collaborated with Gupta and his writer Hussain Zaidi on the film but finally disowned the project completely). The funniest part of this cop's outburst is that he spoke against my film on Friday. So he must have gone and seen the film as soon as it was released. He says he had a problem with the first Shootout film (Shootout At Lokhandwala) where we showed a phone call from Dubai. But that information was given to us by the cops only! Likewise, there was much information regarding the police force that we kept out of the film because we wanted to keep Anil Kapoor's character on the right side of grey."
About the violence in the film, Gupta says, "Those were the times in Mumbai when gangs were chopping one another on the streets. I didn't write their history. They wrote it themselves. I've shown exactly what happened. My only regret is that I had to remove my announcement at the beginning which said, 'Everything you're about to see actually happened.'
"Every incident that is seen in the film has been researched. FIRs were recorded, cops and gangsters' statements were studied. A few scenes made me uncomfortable. The scene where Anil Kapoor's son's tiffin box has a bomb seemed like a South Indian potboiler in the 1980s but this incident actually happened. That's why I treated the sequence as cinematically as I could," he says.
About John's character's gruesome end, Gupta protests, "People want to know why John Abraham was shown being shot so many times. The fact is Manya Surve was shot 11 times. That's recorded in his FIR and post-mortem. My questions to the cops is, 'Maara kyon? Why did you kill Manya Surve?' No answer is forthcoming. Hundreds of 'encounters' have happened after Manya Surve. Why? Who ordered these encounter killings? There's no answer. I don't think any recent film has shown the Mumbai police as heroically as I have."
Gupta admits that he had to fictionalise the names of the real-life cops and gangsters to avoid threats and litigation. "That certainly diluted the impact of the film. There's a certain power that comes with artistic authenticity. But authenticity comes with social responsibility. The legal system in this country leaves much to be desired. I spend Rs 50 crore to make a film based on a non-fiction crime chronicle. All it takes is someone to get a lawyer for Rs 500 and get me embroiled in a legal situation. I have a co-producer (Ekta Kapoor) to answer to."